The John R. Thompson restaurant on Randolph Street in Chicago became a temporary hospital during the 1903 Iroquois Theater fire.
Like hundreds of other fathers,

John Thompson was frantic to learn if his two children were safe. more
~~~~~~~~~~~~~~~
Ruth Smith was orphaned eighteen months before losing her life at the Iroquois Theater. She was buried in Benzonia, Michigan with her grandparents and parents.
Carrie came from a devout Congregationalist family that relocated from Ohio in the mid 1800s to help found a religious community in Michigan. more
~~~~~~~~~~~~~~~
Carrie Leavenworth went to the theater by herself, to see the play recommended by her teenage son back home.

Carrie came from Decatur into Chicago to spend some time with her mother-in-law. more
~~~~~~~~~~~~~~~
Mary Lutiger survived the Iroquois Theater fire but lost her career, senses and her mother.
Eleanora Lutiger spent over sixty years overcoming obstacles and protecting her children but was defeated by the Iroquois fire. more
~~~~~~~~~~~~~~~
Abba Breed Morris was the mother of five children and the wife of a Chicago police officer.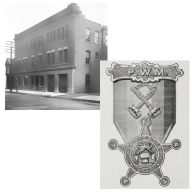 Abba, nicknamed Libby, and her youngest child, Mabel, were among over six hundred victims of America's worst theater fire. more
~~~~~~~~~~~~~~~
Charles Dalby James was the third generation in this Detroit family to enter the hardware business.

In January, 1904, Charles and Sarah James buried their sixth child. Their son was a victim of the Iroquois Theater fire in Chicago on December 30, 1903. more
~~~~~~~~~~~~~~~
Winthrop Spring brought his wife and daughter from their small town home in Iowa to Chicago.

Toddler Marjorie Spring lost her mother in 1903 at the Iroquois Theater fire, her husband in WWII when he became a Japanese POW and died in the sinking of the Arisan Maru, and her own life from spinal injuries incurred in an auto accident in Grants Pass, Oregon. more
~~~~~~~~~~~~~~~
William Rattey had seconds in which to make a decision with no good options.

Four-year-old LeRoy Reinhold survived for five days but his uncle Willie passed on before him. more
~~~~~~~~~~~~~~~
Emma Mann was a music teacher for Chicago public schools, known by hundreds of students. Her niece Olive Squire was a student at the Blaine school.

Wilhemina Squire lost her third child and sister. more
~~~~~~~~~~~~~~~
Nellie Padgitt had just celebrated her first wedding anniversary and was looking forward to the birth of her first child.

Frank Folice lost his wife and unborn child. He spent the last seventeen years of his life in an asylum. more
~~~~~~~~~~~~~~~
Presence of Ghouls at Iroquois disaster exaggerated

Despite newspaper hyperbole, just five stories were at heart of body robbing claims more
~~~~~~~~~~~~~~~
Domestic servant, Gertrude Fitzpatrick

Gertrude Fitzpatrick worked as a housekeeper for insurance broker, George Elias Shipman and helped care more
~~~~~~~~~~~~~~~
Uncertainties about fire alarms

There are discrepancies in reports about alarms connected with the Iroquois Theater fire.
more
~~~~~~~~~~~~~~~
Mr. Bluebeard chorus girl Ethel Lytle

Dancer Lytle survived the Iroquois Theater fire but her mother was a tougher challenge. more
~~~~~~~~~~~~~~~
Winnetka thirteen-year-old-Linda Bolte

Granddaughter of an industrialist and daughter of an early feminist, Linda would have led an interesting life. more
~~~~~~~~~~~~~~~
Pharmacist Humma saves future wife and stepdaughter

Osmond saved Martha and Anita Lawrence from the Iroquois Theater fire. more
~~~~~~~~~~~~~~~
Everyone thought he was dead - until he returned from his honeymoon

Erie and Western Transportation Company railroad man Will Ahern did not die at the Iroquois. more
~~~~~~~~~~~~~~~
Iroquois Theater defense and prosecution attorneys

There were three trials, seven prosecuting attorneys and thirteen defense attorneys. more
~~~~~~~~~~~~~~~
Birdie Dryden just wanted to give the school boys a nice ending to their Christmas break

Robert Caldwell was visiting from St. Louis and went to the theater with his hosts, the Dryden family. more
~~~~~~~~~~~~~~~
More is known about her son than about seventy-eight year old Minnie Christopherson

He was co-owner in the Larson picture frame manufacturing company. more
~~~~~~~~~~~~~~~
Animosa and Cedar Rapids, Iowa girls Bessie and Nina Chapman set out for a carefree theater excursion

Bessie was a college student and Nina was a stenographer more
~~~~~~~~~~~~~~~