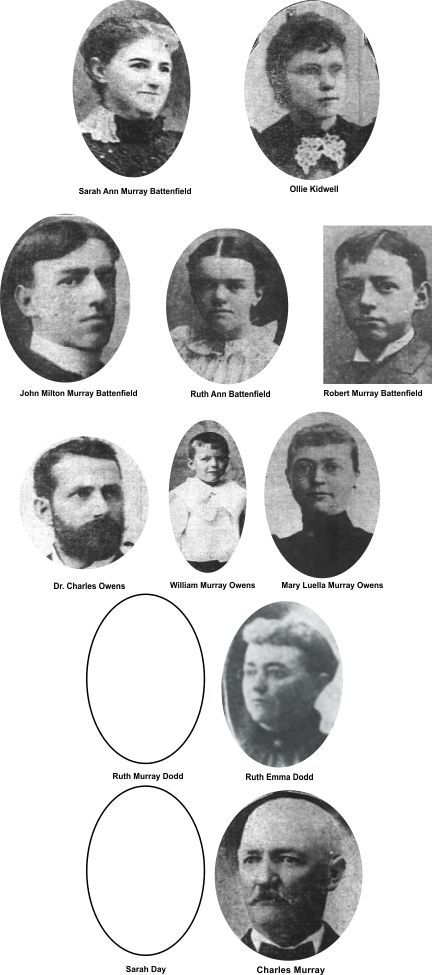 Christmas of 1903 was a family filled holiday for the four Murray siblings: Charlie, Mary, Emma and Sarah. It began with a long train ride of fifteen hours for Sarah's family who came from Delaware, Ohio, and eighteen hours for Emma's family and Charlie who came from Martinsburg, Ohio. When they were all gathered at Mary's home in Wheaton, Illinois, west of Chicago, there were at least twelve, including a family friend and nursemaid. It is not known if Sarah's or Emma's husbands were part of the gathering in Wheaton. Emma's oldest daughter had a new baby that year, her first, so probably stayed in Ohio.

Sarah Murray Battenfield, Emma Murray Dodd, Mary Murray Owens and Charles Murray* were all that remained of the ten children born to the late Simon and Ruth Cochran Murray of Delaware, Ohio. Simon had passed in 1889 and their mother in 1880. Charlie had lost his wife Carrie in 1899
The culmination of the holiday was a matinee in Chicago's glamorous new theater, the Iroquois. During their last Christmas together there were thirteen in the Murray family. By January 9, 1904 only three remained.
Four Battenfield family victims
Fifty-year-old Sarah Ann Murray Battenfield (1853-1903) of Delaware, OH.


Twenty-three-year-old John Milton Murray Battenfield (1880-1903) of Delaware, OH.


Twenty-two-year-old Ruth Ann Battenfield (1881-1903) of Delaware, OH.


Fifteen-year-old Robert Murray Battenfield (1888-1903) of Delaware, OH.
Battenfield family remaining (not known to have been at the Iroquois): Husband and father, Ohio native David Holmes Battenfield (1851-1933). David was a cigar maker early in their married years and later became a bookkeeper. In 1908 David married Della Miranda Jackson (1863-1916).
Three Owens family victims
Forty-year-old Mary Luella Murray Owens (1859-1903) of Wheaton, IL.


Nine-year-old William Murray Owens (1894-1903) of Wheaton, IL.


Forty-five-year-old Dr. Charles Owens (1853-1903) of Wheaton, IL.
Last in the party to die, eight days after the fire, Charles Owens in his last days described his Iroquois experience either to a newspaper reporter or to one of his two brother in laws who in turn described it to a newspaper at Charles death.

"He showed great presence of mind by telling the people around him to keep their seats. His words had a quieting effect upon his neighbors in the audience, but when the heat became unbearable Dr. Owens stood up and said: 'Fly for your lives now, every one for himself and may God help us all.'

"With these words the aged man picked up his little boy in his arms and rushed with him up the center aisle. He fought his way toward the door, until partly overcome by the smoke and partly by the crowds of terror stricken people he fell to the floor. He regained his feet and joined the struggling humanity.
"Again he was overcome and sank to the floor, unconscious. The cooler and purer air of the floor revived him and he arose for the second time, but this time could not find his son. He stayed behind to look for the boy when he fainted again and was carried from the building by a policeman.
"After regaining consciousness Dr. Owens walked unaided to a near-by drug store where he procured bandages and restoratives. With these he hurried back to the scene of the disaster and resumed his search for his family. Despite his will he found himself too weak to work, and despairingly called a cab and was driven to the Chicago Homeopathic hospital, of which he was formerly the house physician.
" The physicians at first expressed hopes of his recovery, but when the doctor was informed by his brothers-in-law, J.F. Dodd and D.H, Battenfield, of the death of his entire family, including his wife and only son, his grief was unbounded and he gradually declined until last Friday afternoon death came to the relief of the grief stricken man."
Owens family remaining: none known
Four Dodd household victims
Forty-six-year-old Ruth "Emma" Dodd (1857-1903) of Martinsburg, OH.


Thirteen-year-old Ruth Murray Dodd (1890-1903) from Martinsburg, OH. Reportedly Ruth's body was identified by Identified by Dr. E.S. Coe.


Fifty-five-year-old Sarah Day (1848-1903) from Martinsburg, OH. Some newspapers described Sarah as a nurse and others as a maid. Nothing was published indicating that a family member was in poor health and there were no children young enough to need a nursemaid. One newspaper reported that she was "colored." Her body was found on the stairs in the Iroquois lobby and carried out by police officer Albert F. Simsrott.


Thirty-nine-year-old Viola "Ollie" B. Kidwell (1864-1903) from Martinsburg, OH. Reportedly Ollie grew up with the Murray siblings and was in 1903 employed by the Dodd family, in an unknown capacity. Ollie was a dressmaker, as was her younger sister, Kate Kidwell (b. 1863). Ollie, Kate and their brother, James Norman Kidwell (1859-1923) were the children of Samuel Kidwell (1820-1907) and Mary Nellans Kidwell (1830-1912).
Dodd family remaining (none known to have been at the Iroquois): Husband and father, James Foster Dodd (1858-1926) and daughter Mary Anna Dodd (1880-1962). Mary Anna married a newspaper publisher in Danville, OH in 1901 and had a daughter the year of the Iroquois fire. James was the son of Dr. Stephen Baldwin Dodd (1820-1863) and Sarah Ann Sinkey Dodd (1818-1891). As a young man James was a traveling sewing machine salesman but soon turned to inventions. In 1880 & 1883 he patented two envelopes, in 1888 a mechanical pencil, in 1908-1910 two adjustable hats, in 1915 a perpetual calendar and in 1922-1925 several devices for use at gasoline stations to display amount and price. James Dodd's great grandfather fought in the American revolution.
Charlie Murray
Murray name carrier, sixty-four-year-old retired grocer & widow, Charles Murray (1839-1903) of Martinsburg, OH., was brother of Sarah, Mary and Emma. Charles's late wife was Caroline Lawman (1842-1899). Charles and Caroline didn't have children and Charles was the last Murray descended from Irish immigrant, Adam Murray, Charles's grandfather. In his later years Charles accumulated several farms. Charles served in Company K of the thirty-second regiment of the Ohio volunteer infantry.
Story 1035