Eighteen-year-old Henrietta Christian (b.1885) worked as a clerk and lived with her mother and four siblings at 6748 Normal Avenue. Her father had passed away two years earlier.
Henrietta's mother, New York native, Elizabeth Cooper Markoe Christian (1859-1923), must have felt she'd been given more than her fair share of troubles.
She
lost one of her six children sometime before 1900. At her husband's early death (he was John St. Clair Christian 1858-1901, a salesman) she was left with five children aged six to fifteen in a time when there was no social security, food stamps or other public assistance. Then in December 1903, came the Iroquois Theater fire and Henrietta's death.
Elizabeth knew there were dozens of families in Chicago who had lost more to the Iroquois Theater fire, and that she was lucky to have four children remaining, but Henrietta was her oldest and a breadwinner.
Henrietta's clerking job was in room 1107 in the new Merchants Loan and Trust Building at 135 Adams at the corner of Clark. I failed to learn the name of her employer.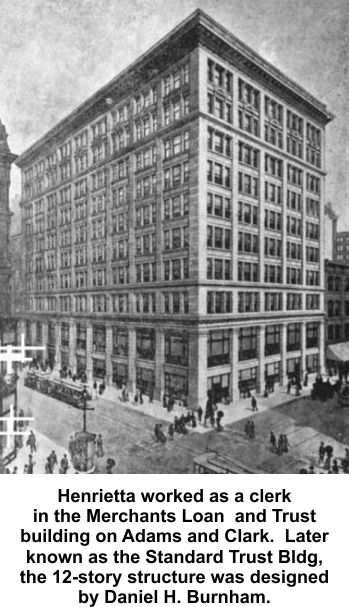 Henrietta's parents named her after her paternal grandmother, Henrietta Henrietta S. Meanley Christian. Five years after the fire one of Henrietta's sisters, Irene (1888-1927), named her first child after Henrietta: Henrietta Sproul (1908-1971).
Henrietta's uncle, William A. Douglas (1852-1935), husband of her mother's sister, Eva B. Markol Douglass (1854-1911), identified her body. Services were held at St. Bartholomew Episcopal church on 68th and Stewart (today's Truevine Missionary Baptist Church) in Englewood.
Henrietta was buried in an unmarked space in the family plot at Mount Greenwood Cemetery in Chicago.