To celebrate the upcoming birthday of her niece, Sadie Wolf organized an afternoon theater party for her three young nieces at Chicago's newest theater. The Mr. Bluebeard pageant with flying ballerinas and a cast of hundreds in exotic costumes was sure to please.
Sadie brought along her domestic employee, Bertha Herger, to help keep track of the girls and their winter wraps.
In the Iroquois Theater party:
Fatality - hostess, Sadie Leopold Wolf

Fatality - guest of honor, Pauline Mossler, who would have become a teenager in a week

Fatality - Sadie's niece Alice Kaufmann, the five-year-old daughter of Sadie's husband's brother

Fatality - Sadie's domestic employee, Bertha Herger, twenty-two years old

The only survivor in party, niece Selma Leopold, nine-year-old daughter of Sadie's brother Simon
Sadie's sister presumably traveled to Chicago from she and Pauline's home in Rensselaer, Indiana to spend a few days in Hammond but there was no indication that she attended the theater. It was a girl's trip but perhaps she stayed home to look after her son Phillip and Sadie's toddler, Helen.
For some families with multiple victims, Iroquois losses blasted a crater that left survivors white-knuckled at the edges. For the Wolf-Leopold-Mossler group, with each of four family units having lost a member, the loss was spread around a bit. Much agony but a network to share in grief and comfort. Sadie's widowed husband, for example, married a sister who had lost a child in the fire and they raised their children together.
Retail was the family business, for at least three generations. Dry goods and clothing, wholesale, small shops and big stores. From the 1880s to the 1930s the family remained in Indiana and Chicago but by the 1940s subsequent generations began moving westward to Nebraska and California. The generation of which Sadie, Leo and Rachel were a part, along with their parents and siblings, are mostly interred in the Westen Cemetery in Rensselaer, Indiana with another group in Chicago's Oak Woods Cemetery.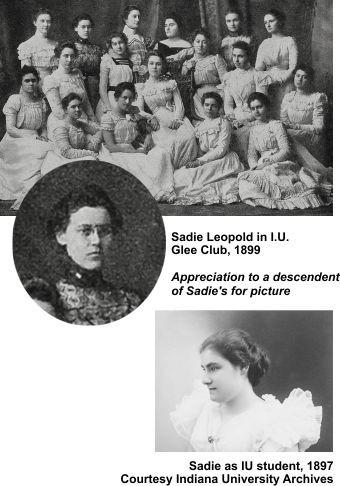 Twenty-five-year-old Sarah "Sadie" Leopold Wolf (b.1878) was the wife of Leopold "Leo" M. Wolf (1868-1939), a prosperous merchant in Hammond, Indiana, south of Chicago. Leo and his brother in law, Carl Kaufmann (see below) owned the Lions store, employing over two hundred employees.
Sadie attended Indiana University where she was in the Pi Beta Phi sorority* and participated as a first soprano in a glee club. Sadie's father had also been a successful merchant, and landowner, in the small town of Rensselaer, Indiana about seventy miles south of Chicago. She was born and raised there, one of ten children born to Abraham Leopold (1833-1921) and Emilie Eltzbacher Leopold (1844-1930). Rensselaer then had a population of around 2,500, about half what it is today. Sadie and Leo married in 1901 and had Helen the following year.
It was reported that Sadie's body was found clutching that of her niece, five year old Alice Kaufmann. The newspaper reporting that information was rather loathsome, publishing photos falsely identified as the Iroquois and wringing every possible drop of pathos from stories, even making it up if need be. In this case, however, there may have been truth to the story because both Sadie's and Alice's bodies were found at St. Luke's hospital while other members of the party were found elsewhere. The Indianapolis newspaper also reported that Sadie was still alive when found but died after reaching the hospital. She may have been one of the many victims taken to Thompson's Diner initially, then transported to a hospital. So either Sadie or Alice may have lived for a brief time. A gruesome likelihood is that Sadie's grip on the child was remarked upon because it was difficult to separate the bodies.
Leo, Sadie's husband, identified her body. A few years after the fire Leo Wolf married Sadie's widowed sister, Rachel "Ray" Leopold Mossler (1867-1937), mother of another victim, Pauline, and her younger brother Phillip. At Rachael's death in 1937 Leo married a third time.
A joint funeral for Sadie and Alice was held the Sunday afternoon after the fire, conducted by Rabbi Hirshberger of the Chicago South Side Synagogue. He had also conducted Sadie and Leo's wedding. Burial was at the cemetery in Hammond, Indiana.
~~~~~~~~~
Fiv
e-year-old
Alice Kaufman
n

(b.1898)
of Rensselaer

was the youngest of Sadie's nieces in the theater party. She was one of two children born to Leo Wolf's sister, Clara Wolf Kaufmann (1865-1942), and Carl Kaufmann

(1868-1946)

.

Carl and Leo Wolf immigrated to America from Germany the same year, 1892, and were partners in the Lion Store in Hammond, Indiana. Clara and Carl married in 1895. Alice was born three years later and Alfred in 1902.
At just over a year old, Alfred and his caretaking needs may be why Alice's mother Clara was not part of the theater party. Alfred grew up, married a woman named Florence and in 1933 named his daughter after Alice, a sister he knew only from pictures.
~~~~~~~~~
The body of twenty-two-year-old Bertha Heriger or Herger (b. 1881) a domestic servant who worked for the Wolfs in Hammond was identified by Mr. or Mrs. Thomas Weisman, relationship unknown. I did find a Bertha Herger working for the Wangershein family in Chicago in 1900, which would make sense because Sadie and Leo were not yet married in 1900, but Bertha then disappears.

The correct name of the person who identified Bertha may instead have been Wiedemann, a more common name in Chicago in 1903; either way, I failed to find a Bertha Herriger, Heriger or Herger in 1903, in Chicago, Hammond or Rensselaer, nor a Thomas Weisman, Weismann, Wiedeman or Wiedemann in Chicago, Hammond or Rensselaer. Could a clerk have heard Weisman and written Wangersheim? Or read and interpreted handwriting that said Wangersheim as Weisman? In 1903 there was a Bertha Wangersheim, widow of Louis Wangersheim, living at 406 Center in Chicago, while the David Wangersheim who in 1900 employed a servant named Bertha Herger continued to live at 694 N. Park. Did Bertha marry a Wangersheim and go to work for the Wolfs?
~~~~~~~~~
Twelve
-

year

-
old
Pauline Mossler
(b.1891)
of Rensselaer

was named after her great grandmother.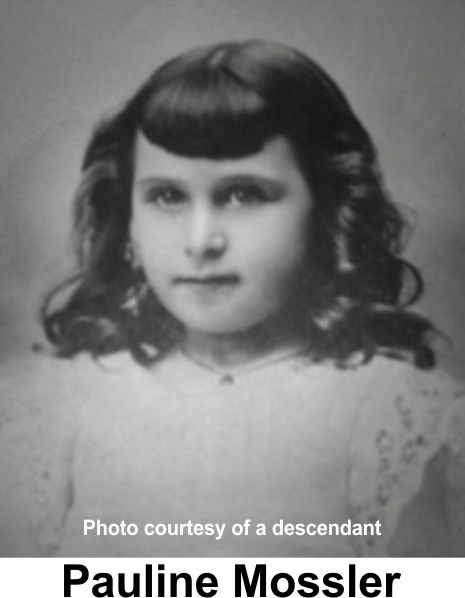 Sadie's niece, Pauline, was the daughter of widow Rachel "Ray" Leopold Mossler. Her father, William Mossler, had died five years earlier. Pauline had one brother, Phillip Mossler (1896-1948), age seven. Newspapers did not report whether Rachel was in the party or even in Chicago. What with Bertha Herger being at the theater, Rachel may have stayed home to look after baby Helen and Phillip. Seems like Phillip would have enjoyed the Christmas pageant but maybe it was an all-girls excursion.
After a day-long search by a group of six people Pauline's body was found at Sheldon's Funeral home and identified by her uncle. Moses Leopold was an attorney and judge in Marion, Indiana.
Pauline's funeral was held the morning of the Sunday after the fire in Lafayette, Indiana, conducted by Rabbi Feierlict, followed by burial in the Weston Cemetery in Rensselaer, Indiana. Pauline's grave marker photo found at http://rensselaeradventures.blogspot.com. A newspaper obituary incorrectly reported her year of birth as 1897.
In 1900 Pauline, Phillip and Rachel had lived with Rachel's and Sadie's parents, Abraham and Emelia Leopold. In the years after the fire, Rachel married Sadie's husband, Leo Wolf, raising her son Phillip with Leo and Sadie's daughter, Helen. Explaining their relationship to others must have been fun. They were stepbrother and sister and also cousins. To further complicate, Helen married a man named Phillip. She named her first daughter Sadie, after her late mother that she knew only through photographs. In the odd coincidences category another brother, Louis, would die twenty-five years to the day after the Iroquois Theater fire. Pauline's brother, Phillip, named has daughter Pauline Clare Mossler (1926-2006).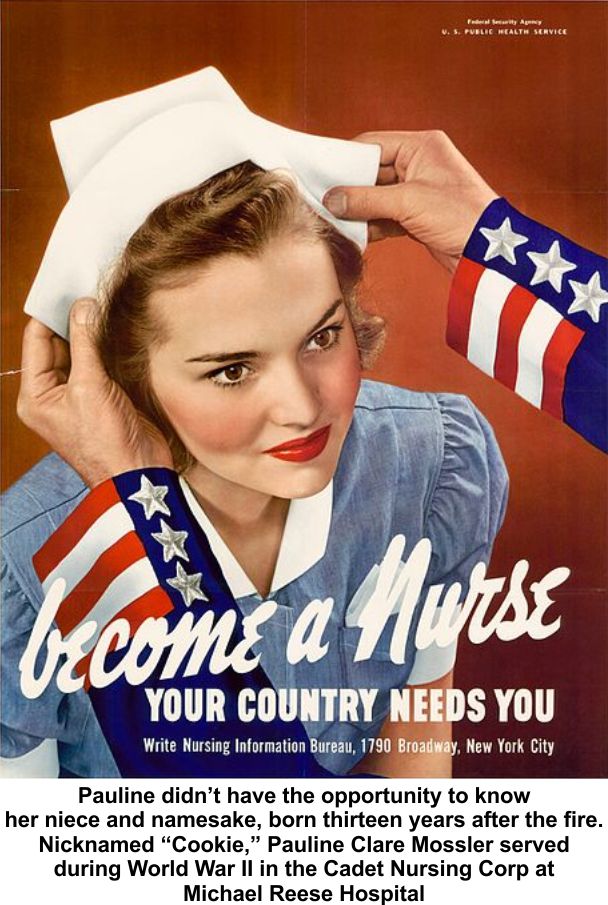 Selma E. Leopold (1894-1952) was the only survivor in the theater party. The nine-year-old was another of Sadie's nieces, the daughter of her brother Simon Leopold (1869-). In 1900 Selma and her family lived in the Lafayette area in Indiana, northwest of Indianapolis. By 1920 they moved to Denver, Colorado. Simons managed a clothing store. Selma graduated from the University of Michigan in Ann Arbor in 1914, became a teacher and in 1930 taught public school in Muskegon, Michigan.