Twenty-six-year-old civil engineer Clarence C. Blood (1877-1919) occupied half of a first-floor box seat on the south side of the Iroquois Theater. Maybe. In a lengthy newspaper interview, a young woman in the Keyes theater party of ten gave a detailed description of what she and her companions experienced in that same box (see link below). According to her, her party occupied both halves of the box. The newspaper story about Clarence Blood's seating and activities at the Iroquois, on the other hand, came from his father, Fred H. Blood, in Appleton, Wisconsin, a week after the fire. My best guess is that when proud father Fred and the Appleton reporter were shy of details, they did some speculating.*
The fire broke out within twenty feet of the box seat. The Keyes party, comprised of young women from wealthy Chicago families, remained in their seats for much longer than I would have. By the time they exited, they had to brush flaming shards from their hair and clothing. The newspaper story that appeared in Clarence Blood's hometown Wisconsin newspapers told of their local hero grabbing two little girls in that box, the daughters of an Evanston banker, one under each arm, and "with Herculean strength and as if prompted by providential dictation..." "remained unswerved in his giant-like efforts and after several minutes of nearly superhuman fighting, managed to get to the street." Reportedly Clarence then incurred a gash on the back of his head from a falling beam, became semi comatose, was taken to a hospital and was given restoratives until he regained consciousness.
Not so much
The story of Clarence's heroism is as problematic as the location of his seat. The "little girls" in the box were aged 16, 16, 19, 19, 20, 21, 21, 22, 25 and 48. The Keyes daughters, who best fit the description of his rescuees, were aged 16 and 25.† According to age/weight tables for women of that period, each would have weighed 90-152 lbs. That would mean Clarence hoisted and maneuvered two hundred pounds or more for sixty to seventy feet through an increasingly frenzied crowd, smoke growing thicker by the minute, while at the same time pushing and shoving others aside to clear a path. Herculean indeed. The whole scenario is improbable, including the ending: this is the one an only mention of a falling beam at the Iroquois. (This story motivated me to look into the popular scenario of adrenalin fueling superhuman strength, such as a mother lifting a car to free her child pinned beneath. It is called "hysterical strength" and it turns out it's in a category with hair turning white overnight from fright. No verifiable evidence to support it has ever happened. If I can ordinarily lift 40 lbs, I might be able to lift 60 if my loved one is endangered, but not 200. Neither love nor fear can triple a person's strength.)
The more likely story is that Clarence Blood, a two-hundred-pound red head who stood 5' 9" tall, helped two young women walk through the frenzied crowd, perhaps pushing and shoving those in their path, then was hit by someone who jumped or fell from the second floor, either from the dress circle inside the auditorium or, more probably, from a fire escape in Couch Place alley behind the theater.
It is telling that nothing about Clarence being at the Iroquois appeared in newspapers outside Wisconsin. Chicago newspapers did not mention his heroism, injury or presence at the fire. Names of severely injured were listed in Chicago newspapers but Clarence was not among them.
Had Clarence been capable of carrying two women from the theater, there was little reason to do so because first floor occupants had ample time to exit the auditorium. By period estimates, the seven 1st floor fatalities resulted from people landing on them after jumping or falling from upper floor balconies.
Escape paths
According to a newspaper interview with one of the young women in the party, Charlotte E. Plamondon, she and another woman in her party, Magdalen Elsie Elmore, climbed over the brass rail at the front of the box (see accompanying photo at right), though the fabric covering the rail had caught fire, ran north between the first row of seating and the orchestra pit, turned east up an aisle, south toward the auditorium exits (door nos. 6-8) and made their way through the crush into the main hall and eventually made it out the front entrance. (See my rough illustration below suggesting the congestion that awaited them in the main hall.)
The choice to escape by climbing the rail at the front of the box means they rejected the shorter and more obvious escape route through the curtained exit at the back of the box, though it was the way in which they'd entered thus the most familiar, and down a short flight of stairs, reaching the exact same position they reached by their circuitous path through the auditorium. That suggests the passage behind the box was filled with smoke and/or flames.

Others in the Keyes party, including Clarence Blood, may have taken the same path or may instead have crossed the auditorium and exited through the fire escape exits door nos. 2-4 on the north side of the structure, out onto Couch Place alley. Charles's head gash, possibly caused by caused by shoes, belt, jewelry or teeth of a victim jumping from a 2nd floor balcony or fire escape, makes a Couch Place exit more likely because there were more jumpers there than inside the auditorium.
Clarence Curtice Blood Bio
Clarence had been married to Jeanette / Jane Adele Koch (1879-1939) for over two years but that December she was only three weeks away from giving birth to their first and only child, Clarence Blood Jr. (1904-1945). It is almost a certainty that in December, 1903 Jeanette remained at their home in Iowa, her parents nearby, while Clarence traveled to Chicago for an unknown reason, presumably connected to his occupation.
During summers while in college and following his graduation from the University of Wisconsin in Madison, Clarence had worked as a civil engineer on railways. In 1898 he went to work for the Chicago and Northwestern Railroad (CNW) in Iowa, reporting to Hiram J. Slifer.‡ He worked his way up in railroad civil engineering from draftsman to surveying supervisor. In 1900 he led a surveying crew to investigate a Wisconsin railway line between Merrill and Antigo.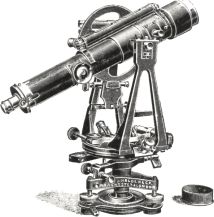 Having spent his boyhood in Appleton, Wisconsin, Clarence retained strong ties to the community through his parents – hardware store retailer Fred H. Blood and and Lillian Curtice Blood – and three siblings. Fred Blood was, as of 1902, the earliest Appleton, WI settler still living, having arrived there as an infant with his parents in 1848 after leaving his birthplace, Green Bay, WI. Before entering the hardware and lumber industry, Fred worked as a train conductor and coal dealer, serving as engineer on some of the first trains in Appleton. During his last decades, he kept the Appleton newspaper well apprised of he and his family's activities.
In the years after the fire
In 1905 Clarence and his family moved to St. Paul, Minnesota where he worked in engineering for Northern Pacific Railway. By 1907 the family lived in Seattle where they would remain, excepting a short while in Portland, Oregon with the Portland, Eugene and Eastern Railway ( PE&E) in 1913. He occasionally went by a spelling variation of his middle name - Curtis C. Blood. (This may have been to avoid confusion with another man in the railroad industry named Clarence Blood. Clarence A. Blood, sometimes identified as Clarence H. Blood, was from Lehigh Pennsylvania and in 1911 was accused of engaging in questionable trade practices.) Later in 1913 Clarence left civil engineering and became the roadmaster for the Northern Pacific yard in Puget Sound, Seattle, Washington. (A road master is part of a railroads "maintenance of way" system, maintaining track in a given division.)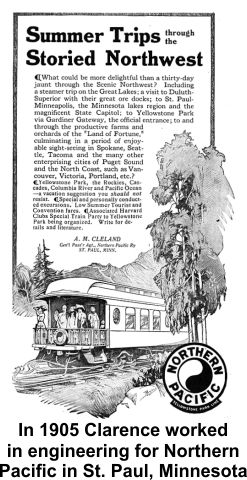 Discrepancies and addendum
* Augustus Eddy and Carroll L. Shaffer, the brother and friend of two members of the Keyes party, Josephine and Elizabeth Eddy, occupied row seats a few feet from the box. Shaffer was the son of prominent newspaper and railroad man, John C. Shaffer. Though a few years older than Shaffer, from a less moneyed family and a graduate of a midwestern university rather than Yale, Clarence Blood was a low level supervisor for a railroad but my newspaper searches looking for a connection between Clarence and Shaffer or Eddy were unproductive. However, Clarence almost certainly attended the theater with companions and I've failed to learn who they might have been. Augustus Eddy tried to reach his sisters in the box but was swept forward by the surging crowd. It is not difficult to imagine a scenario in which the Keyes theater party originally numbered thirteen and the ten women filled the loge so the three males – Eddy, Shaffer and Clarence – took seats in the first few rows in front of the box. Eddy and Shaffer were swept toward the exits while Clarence battled his way to the box. The head blow left Clarence "semi-comotose" when outside the theater and until after reaching a hospital, thus presumably unable to communicate with the women he escorted from the theater, yet he knew they were daughters of an Evanston banker. His knowledge could have come from newspapers or from prior association with their brother, Augustus.
† Charlotte Plamondon's father, Charles Plamondon, was an officer in a bank but the family did not live in Evanston, nor did Elsie Elmore, the girl who escaped the theater with Charlotte. Charlotte described having jumped into the arms of a man when she climbed over the box rail. She later guessed he might have been an employee of the theater, stating that he set her down in a row seat and told her to remain there for a moment. Presumably it was primarily his authoritativeness that led to her observation that he was an employee of the Iroquois Theater but more might be gleaned from that characterization. She had made other reference to a stagehand addressing the audience earlier in the sequence so in identifying the man who caught her as a theater employee, the debutante might have revealed that in her estimation though his dress and demeanor ranked him above a stagehand, he was not a peer. Could that man have been Clarence Blood? Could Clarence have intended that Charlotte remain seated while he got the Eddy girls out of the box? If so, Charlotte did not follow his instructions, instead following her friend Elsie to escape the building, the pair meeting on Randolph street in front of the theater.
‡ Slifer attended Clarence Blood's wedding in 1901. The same year that Clarence Blood died, 1919, Slifer would also lose his life. As a sixty-two-year-old lieutenant colonel in the Corps of Engineers he was serving in France during World War I while overseeing construction and operation of rails for the 1st Army during the St. Mihiel and Argonne-Meuse offensives, for which he received a posthumous Army Distinguished Service Medal. I found no evidence that Clarence joined his mentor in World War I.