Agnes Consilia* Byrne, nicknamed Cella, was born on April 26, 1887, to Francis "Frank" Michael Byrne (1861- 1902) and Mary Anne Doyle Byrne (1862-1918). She may have been named after her aunt, Agnes Cecelia Finnegan Doyle, wife of Mary's brother, Owen Eugene Doyle.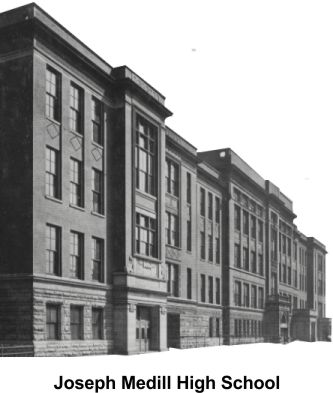 Cella was one of a thousand students attending the Joseph Medill High School (1898- ) in Chicago but was the only Medill student I've found so far who was an Iroquois victim.
In the late 1800s and early 1900s, the Byrne family lived at 616 W. 15th street in Chicago with two of Mary Doyle Byrne's three surviving brothers, Owen Eugene Doyle and Edward Doyle, and their families.
Frank Byrne, who worked as a printer, died a year and ten days before the Iroquois fire. Therefore the identification of Cella's body at Rolston's funeral home fell to his widow, Mary. She buried Cella in the Doyle family plot at Calvary Cemetery, where Mary herself would someday be interred. Though only forty one when she found herself a childless widow, Mary did not remarry. She participated in a committee that planned the memorial service for Iroquois victims that took place on December 30, 1904, a year after the fire, and at her death in 1918 worked for the Chicago Telephone Company, presumably as an operator.
Mary Doyle Byrne was the only daughter of four children born to Edward Doyle and Catherine Moore Doyle, both of whom she lost in 1907. She was close to the large family of her brother in law, Owen Eugene Bryne, and his wife, Agnes Cecelia Finnegan Bryne, and to her brother, Edward Doyle, until his death.
Cella's aunt, Mary A. Byrne was Frank Byrne's older sister. She taught school until 1898 but by 1900 was not working outside the home. Her body was also found at Rolston's and was identified by her younger sister, Katherine J. Byrne (1873-1922), with whom she lived.
Did Mary Doyle Bryne and Katherine Byrne search the morgues together? Not known but it seems likely.
At the time of the Iroquois Theater fire, Mary Bryne, Katherine Bryne and their brother, Patrick Byrne (1860- ), lived at 879 Kedzie Avenue in Chicago, along with a cousin from Canada named Vincent Pelletier (1870- ). Though Mary seems to have retired from teaching, Katherine taught at the John Spry school on S. Marshall Blvd. in Chicago. Patrick worked as a musician and Vincent sold insurance.
In the years after the fire, Katherine Byrne married a grocer, Joseph Larkin, and in 1908 they had a daughter -- named Mary, probably after Katherine's sister who died at the Iroquois. Sadly, the child died at age seven.
~~~~~~~~~~~~~~~~~
Discrepancies in period victim reports for Agnes and Mary made this story challenging and the only reason it came together was due to help from three fellow history lovers. Many thanks to Susan and Jessica at Find-a-Grave, and to Kathleen Strobel one of Cella's descendants. Susan scoured photos, records and Jessica was patient when my "Aha!" moment turned out to be a dead end. Cella's descendent was kind enough to let me use Cella's photo and shared a bit of family history, including Cella's burial information. From her, I learned why Cella went by her middle name, rather than by Agnes. Her namesake, her aunt Agnes Concelia Finnegan Byrne, so strongly disliked her first name that when one of her sons named his daughter after her, she insisted he head right back to City Hall to have it changed.