Thirty-one-year-old machinist, Albert Alfson (b.1872) brought his eighteen-year-old girlfriend to spend part of the 1903 holiday with his parents and siblings in Chicago. He and Margaret / Marguerite Love (b.1885) lived in McHenry County, Woodstock, IL, about fifty miles northwest of Chicago, where Albert worked at the Oliver Typewriter factory* and Margaret as a clerk at a clothing and dry goods store. Albert and Margaret were planning to marry but had shared their secret with only a few friends.

The Love family
Nineteen-year-old Margaret May Love (spelled Marguerite in some reports), nicknamed Maggie, worked as a clerk for Jurene M. Thomas in Woodstock. She was the daughter of Scottish immigrant Watson D. Craighead / Greighead Ronning Love (1853-1930) and Watson's second husband, Irish immigrant William A. Love (1832-1892), a veteran of the American Civil War. Maggie was nine years old when her father died, making her eligible to receive his veteran's pension.
Watson married William B. Henrie, a fresco painter and the couple lived in Delavan, Wisconsin, later returning to Woodstock, IL. Maggie lived with them in Delavan at least three years before her death. Through her mother's three marriages Maggie had five half brothers and sisters.

The Alfson family
Albert was one of eight children born to carpenter Alexander (1836-1909) and Fredericka Caroline Johnson Alfson (1840-1927), natives of Norway and Sweden, of which seven survived prior to Albert's death at the Iroquois. Albert's living siblings in 1903 were:
| | |
| --- | --- |
| Clara Alfson Hammersmark (John) | Ida Marie Alfson Phipps (Frank S.) |
| Ella L. Alfson Foster (Charles) | Hannah Alfson (d.1953) |
| Agnes Alfson Bingham (Theodore) | John Alfson (d. 1927) |
In 1896-7, before moving to Woodstock, Albert manufactured bicycles and was a member of a cycling club. By 1898 he described himself in the city directory as a machinist. In the accompanying photo from 1901, a group of cyclists gathered for a race. Albert was most probably not at this race because he had already moved to Woodstock by 1901. It is interesting that cycling clubs were hot at the dawn of the automobile in the same way that cassette boom boxes were hot at the dawn of the internet.
Probably standing at the back of the third-floor balcony
A story about the couple in the Woodstock newspaper was lengthy: one-third of the front page and another fourteen column inches on page four. According to the story, the couple purchased tickets in the front row but their floor was not reported and Albert's family knew nothing of what happened to the couple inside the theater. I conjecture that if Albert had purchased tickets before December 30, he would have known the floor and mentioned it to his parents when he told them of his front-row seats, that had his parents known the floor they would have shared the information with the newspaper reporter and, given the length of the story, if the floor had been known, the information would have been included in the newspaper story. If Albert waited to purchase tickets immediately before the opening curtain, as I suspect, he may have spoken of his plan to purchase front-row seats to one of the dozen Woodstock citizens at the matinee (see list in panel below), as they entered the theater or while standing in the foyer at the theater waiting to purchase tickets. When he got to the ticket counter, however, he may have learned, as did other Iroquois attendees who lived to tell of their experience, that front row seats were sold out. For Albert and Margaret, returning on another day was not a good option. The theater was closed over the holiday, Albert's devotion to his Methodist faith would have made attending the theater on Sunday verboten and they had to be back to work in Woodstock by Monday. If my many speculations are correct, the reason other Woodstock residents did not see Albert and Margaret inside the auditorium is because they were only able to get standing-room tickets at the back, and probably in the third-floor balcony.
The marked difference in the condition of Albert's and Margaret's bodies indicates they became separated, with Margaret escaping from the auditorium and Albert trapped inside and killed by the fireball. Margaret may have been one of around twenty-five people, including the Strong family, who ran toward the utility stairwell. Once the wood door there (door #40) was broken open with fireman Roche's ax, two or three in that group were found to be alive, if barely. They were first carried from the stairwell into the manager's office at the front of the structure (through door #34). To reach Dyche's Drugstore, Margaret's bearers would have carried her past Thompson's diner, which would become the busiest triage center.
Families search for bodies
First responders took Albert's badly burned body to Rolston's mortuary. After a two-day search his father, Alexander Alfson, matched the fabric of a vest to other clothing on his son's body.
Margaret's body, though free of burns or evidence of trampling, was more difficult to locate. Three from Woodstock took on the gruesome task: her half-brother, Charles Arthur Ronning (1879-1917),† Arthur Erickson (1884-1957), a co-worker of Albert's at Oliver Typewriter, and Jurene M. Thomas, Margaret's employer. For a short while the group thought a badly burned body at Rolston's was Margaret but decided not. Erickson kept searching and found her unmarked and unburned body at Boydston Bros. Funeral Home, over five miles south of the Iroquois Theater at 4227 Cottage Grove Ave. Sounds to me like funeral business was being spread far and wide.
Reportedly, Margaret was one of several Iroquois Theater victims carried to a drugstore where four physicians struggled for two hours to save her life. The largest number of victims were triaged through Thompson's diner with a smaller number taken to Dyche's Drugstore at Randolph and State.§
I was at first skeptical that the drugstore scene was connected to Margaret and the story shared with her family. Upon further reflection, however, I think it could have happened as described. A triage site less busy than Thompson's would have allowed physicians more time to spend trying to resuscitate the girl and to communicate their frustration to the wagon driver who carried Margaret's body to the Boydston's Funeral home. There too, fewer bodies and a less frenzied pace would have facilitated more communication. Unlike Rolston's, Jordan's and Sheldon's funeral homes, which took in 187, 135 and 47 Iroquois victim bodies, distant Boydston's took in only five. The mortician and his workers probably knew more about each of their five victims than was the case at busier morgues. Boydston was not alone in receiving only a token bit of the Iroquois fire business. Furth Undertaking at 192 W. 35th, also five miles away, and Postlewaite Undertaking at 322 Ogden (today's 1867 Ogden), three miles away, each received fewer than six. Boydston may have had particular reason to take note of the unblemished condition of Margaret's body - see below.
~~~~~~~~~~~~~~
Check out newspaper story about their 1896 experiments to invent an embalming fluid that would preserve corpses by turning them to stone.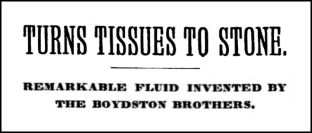 Just when I start thinking 1903 wasn't much different, something like this comes along to remind me that it was over a century ago.
~~~~~~~~~~~~~~
Funerals
Albert's funeral was held Sunday, Jan 3, 1904, at 1 pm in Chicago, conducted by Rev. Newton A. Sunderlin (1849-1935) of the First United Methodist Church in Woodstock. Two other pastors participated. reverends Loomis and Hanson were from the family's church in Chicago, the Second Swedish Methodist Episcopal Church. Two hundred guests attended, over half of them from Woodstock, IL, including his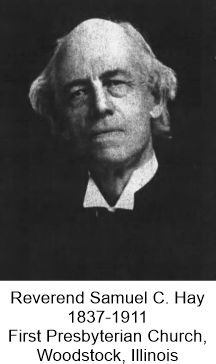 Sunday School class. Albert was described as religiously devout and newspaper references to his activities seem to bear that out. He was buried at Mount Olive Cemetery in Chicago.
Margaret's funeral service was conducted by Rev. Samuel C. Hay| at the First Presbyterian Church in Woodstock. The church choir sang "Saved by Grace," said to be a favorite that Margaret and Albert liked to sing as a duet.
In the years after the fire
In January 1909 Albert's family received a $750 (inflation-adjusted to $21,000) settlement from Fuller Construction, one of only thirty-five awarded. Margaret's family did not receive a settlement, perhaps because her mother did not pursue it. Watson and William Henrie remained in Woodstock, possibly making it difficult to oversee a lawsuit in Chicago. Albert's father, Alexander, passed away in November that same year. Margaret's employer, Jurene M. Thomas, closed her store in Woodstock, relocated and remarried. Arthur Erickson, who had persisted in the search for Margaret's body, married Mary Pierson in 1907. They had one child and settled in Belvidere, IL. Margaret's half brother, Charles Ronning, remained in McHenry County and raised four children.
Discrepancies and addendum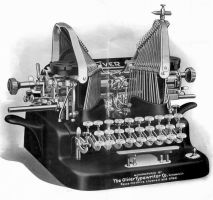 A story in a Woodstock, IL newspaper reported that the search for Margaret's body was made more difficult because their was another Miss Love among Iroquois Theater victims. If so, she did not die and was not mentioned in newspapers.
In the Odd Occurrences category: In 1896, plaster fell from the ceiling in Alexander and Fredericka's house as a result of blasting for the northwest tunnel in Chicago (!)
* Woodstock was known as "Typewriter City" in the early 1900s. Home to Oliver and Emerson, by 1922 the community boasted of building over half the world's typewriters.
† Charles was born to Watson and her first husband, Norway native Peter Ronning 1851-1881. Five years old when Maggie was born, Charles was closest to her in age of her half siblings. Her only sister, Nellie, was married and possibly living in Milwaukee.
§ William A. Dyche founded the drugstore in 1900 but in December 1903 he was serving as business manager for his alma mater, Northwestern University. He later served as mayor of Evanston, IL and today's Ryan Stadium at Northwestern was named after him from 1926 to 1997.
| Samuel Cox Hay (1837-1911) served as reverend of the First Presbyterian Church in Woodstock for thirty-three years.