Thirty-nine year old Ragna Anderson* lived at 229 Grand Avenue and worked at the Iroquois Theater. Her job was described as "scrub woman." That probably meant cleaning restrooms and perhaps mopping all those white marble floors and stairs at the Iroquois. No small task when winter precipitation got together with 1903 coal smog.

On December 30, 1903 Ragna took her daughter, Carrie B. Anderson (b. c.1890) with her to work so Carrie could see the season's Christmas pantomime, Mr. Bluebeard. Carrie lived with her grandparents, Theodore and Ida Anderson, father, Albert Anderson, and older sister, Ida Anderson, at 352 W. Erie.
Even the least expensive ticket for a standing space would have cost about a third of Ragna's pay for the day so she may have gotten a free pass for Carrie's standing space in the third floor balcony. I found a reference to the death of an unnamed Iroquois Theater restroom attendant and suspect that it was Ragna. That would have put her on the third floor when the fire broke out.

Ragna would probably have run north on the promenade toward the auditorium, intending to find Carrie in the balcony. She may even have passed by the group that included James Strong and his family on their way to the fateful utility stairwell. Ironically, Ragna may have carried a pass key that could have opened the locked door at the bottom of the utility stairwell and freed the twenty-five or so people trapped there.
The stairways were impassable. Ragna may have become ensnared in one of the struggling groups of people on the stairs as she fought to get to the entrance to the balcony to find her daughter. Whether or not she made it into the balcony, when the fireball hurled into the auditorium, she would have been killed.
Meanwhile daughter Carrie was out on the fire escape platform, crawling across a plank to Northwestern, urging others to follow her lead.
Five months after the fire a benefit choral performance at the Vendome Hotel by the Amabilita Club for Carrie's education accumulated $697 on her behalf (over $18,000 in today's dollars). It was at that time reported that she was living with her grandfather, Alexander Anderson at 392 W. Erie.
The only Anderson in 1904 city directories at that address was a bricklayer named Theodore so Alexander may have been his middle name and he may have gone by Axel.
Did Carrie walk across or crawl, across the plank, I wonder? Crawling in a floor length dress would require bunching the dress up around the hips and keeping it there, not an easy task when on hands and knees. If the skirt slipped below her knees, crawling forward would have quickly become all but impossible.
If she leaned all her weight on one arm so as to use the other hand to pull the dress back up and out of the way, the plank might have tipped and she would have fallen. On the other hand, if she crossed standing upright, balancing might have been made doubly difficult by that same dress becoming like a sail.
Whomever positioned the plank, stories of flames licking out the fire escape door and burning Carrie before she started across were probably true because she spent the next forty days at the Samaritan hospital recovering from her injuries, including burns and a broken arm. It was reported that she suffered from burns and trampling. Carrie was released in time to testify at the grand jury proceeding but reportedly did not yet know her mother had not survived. Questioning her without revealing that her mother was deceased was not fruitful and she was instead taken home to be told the truth about her mother.
It seems very odd that Carrie accepted an excuse about her mother not visiting during the girl's forty-day hospital stay but the explanation might be related to Ragna not living with her daughters. I failed to find confirmation that Ragna and Albert Anderson were married, or divorced. In general, I wore out the web trying to learn more about Ragna or Ragne Anderson. According to the 1900 census there were twenty-five women by that name living in the United States, none in Chicago, and none in 1903 Chicago city directories.
In the years after the fire
Further education must not have worked out for Carrie. At age 20 she still lived with her grandparents, working as a sales clerk in a dry goods store. She may have been engaged in assembly work a decade later.
Mea culpa! A lesson for yours truly about assumptions.
For a couple of years now I've dismissed reports of Carrie having wrestled a fifty- to seventy-pound wood plank. I've just reread testimony from one of the painters at Northwestern, Charles Cubbon, before the coroner's inquest in January, 1904 and am forced to correct that assumption. Not only did Carrie successfully wrestle with the plank but she was of small enough stature that the painter estimated her to be an eight-year old.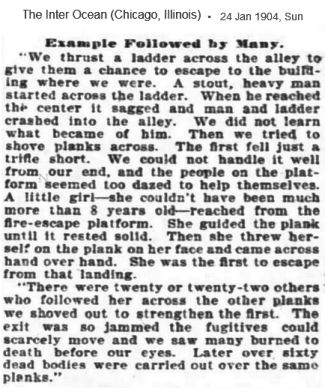 She was hailed as a hero and two months after the fire was a featured speaker at an Iroquois Theater fire memorial, describing her experiences. (Note to fellow WD fans: Judith would have done that :) )