Iroquois fire experience another fabrication?
Peter Apkins claimed to have attended the Iroquois Theater with a friend (identity not reported) after arriving in Chicago the day before the fire. The friend reportedly died at the Iroquois and Peter spent nearly a year in the hospital recovering from head injuries. Some 1911 newspaper stories reported his scalp had nearly been torn off, others nearly burned off. Cranioplasty and an implanted plate suggest skull fracture such as might have been incurred by falling from a fire escape into Couch Place or from being landed upon by another person jumping from a fire escape or an upper balcony. (Web tromping surprised me with the info that cranioplasty employing non-organic materials, i.e., metal skull patching, has been around since 7,000 BC.)

The problem with Apkins' claimed Iroquois experience is that his name did not appear in any Iroquois Theater related newspaper stories 1903-1907. Dozens of other severely injured victims were cited in newspapers, but not Apkins. Nor Apkin, Apkens, Apken, Adkins, Adkin, Adken, Adkins, Appkin, Appkins, Appken, Appkens, Abkin, Abkins, Abken, Abkens, Apking or Appking. So I looked at Iroquois references to Peter, Pete, Pieter, Petri, Paul or P., at victims linked to Germany or Russia, and for connections to pianos. Nada.
Since Apkins had no relatives in Chicago who might have been interviewed by the press, the omission would be understandable – had his injuries been modest. It is odd, however, for a victim so grievously injured not to have been discovered by reporters who were stalking hospitals looking for Iroquois stories. Unless he was never there. Could the Iroquois injury story have been another Apkins con? Yup, coulda, but am guessing the truth is lost to history.
Curiously, Chicago newspapers did not cover his 1911 criminal adventures. Naturally the story received the most coverage in states that made home to his victims - Indiana and Kentucky – but the story was picked off the wire by editors in Philadelphia, New Orleans, Des Moines, Detroit, Omaha, Pittsburg, Winston-Salem and Little Rock, among others, so why not Chicago? The omission of a victim's story in 1904 papers can be attributed to the chaos of the disaster and an accompanying news surplus but omission of such a juicy story in 1911 Chicago newspapers is harder to understand. A piano tuner turned bigamist-forger-murderer who claimed Chicago as his address and blamed Chicago's most infamous disaster, eliciting comparisons to Chicago's most notorious serial killer, H. H. Holmes, would seem to be in the "gotta publish" category for Chicago newspapers. Instead, in July 20-25, 1911 when other newspapers published accounts of the arrest of a Chicago bigamist-forger-murderer, Chicago's Inter Ocean newspaper covered a bigamist in London. I toyed with the idea that piano manufacturers who contracted with Apkins for tuning services put the kibosh on the story in Chicago. Pianos were big business in the early 1900s. If Apkins counted Stegar among his customers, they may have been a big enough advertiser in Chicago newspapers to keep their name out of the story but probably not enough of a VIP to suppress the story altogether.
Apkins connection to Steger, Illinois
Apkins said he had relatives in the village of Steger, IL but they were not named. (One newspaper said it was his parents so I looked at all 2,000 residents of Steger. Lots of Russian Lithuanians, none named anything remotely similar to Apkins.) Steger is about thirty-five miles south of Chicago with a population today of around 10,000 residents. In 1911 it was only a twenty-year-old community with a few thousand residents, a large proportion of them employed in the piano manufacturing industry. Sometimes called the "Piano capital of the world," it was home to the Steger Piano company, a twenty-three-acre manufacturing facility with the capacity to produce sixteen thousand pianos annually. The company's founder, John Valentine Steger (1854-1916), was a German immigrant, as were many of its employees. The company recruited European craftsman, promising housing. It would not have been difficult for a relative to help Apkins get a job at the plant.
At his arrest a decade later, newspapers reported Apkins was associated with Starrs Piano; others that he worked for a group of piano manufacturers. In 1910, a year before his crime spree, he worked at Steger as a machine operator. He roomed then in a boarding house on 234th street with dozens of other Steger piano factory workers. In the 1910 U.S. Census one of his fellow borders described himself as a tuner but Apkins described himself as a machine operator. Sometime in the next twelve months Apkins became a tuner circuiting midwest piano retailers, including Starr dealers.
Starrs Piano and Richmond were key
The Starrs Piano connection no doubt contributed to his capture. Starrs was located in Richmond, Indiana, a city then with a population of around 20,000, directly east of Indianapolis on the Indiana-Ohio state line. The police chief in Richmond, Isaac A. Gormon, headed the forgery investigation and made the arrest. Two of Apkins' check forgeries involved a Richmond furniture dealer. Bertha Kohler, Apkins' first wife, lived in Richmond. Richmond's newspapers also published the most thorough and accurate stories about Apkins' misadventures.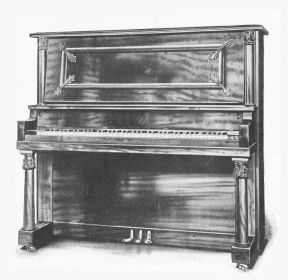 Even his nation of birth is uncertain
Some newspapers reported Apkins was from Russia but most reported the more probable Germany. On his 1918 WWI draft registration he reported Germany was his native country, with his father from Lithuania, then part of Russia. (His father might have been the Pieter Japkins from Lithuania who immigrated in 1891 and became a naturalized citizen of the U.S. in 1898, in Brockton, Massachusetts.) That said, in the 1910 U.S. Census he reported he was born in Lithuania Russia, came to the United states in 1884 and was a naturalized citizen.
System for romance
Apkins responded to and ran classified advertisements in lovelorn sections of newspapers in Indiana, Kentucky, Massachusetts, Connecticut, Denver, Toledo, and Des Moines.
"Wanted - To correspond with poor working girl or widow. One who needs a home and companion. Object matrimony. Address Lock Box 75, Stegar, Illinois."
It was reported that he spoke five languages, including Russian, German, English and Spanish (one paper credited him with six), but he did not spend time crafting original prose. Apkins copied romantic words from a book, Sheldon's Twentieth Century Letter Writer, signed his name and enclosed a picture of himself. Sheldon's book offered twenty-four love letters, including marriage proposals.
After his arrest, in Apkins two suitcases were found hundreds of letters from women responding to his letters and advertisements, along with newspaper clippings on which he'd noted the status of correspondence with twenty-one women (one paper said only nine). His belongings also revealed several aliases, including Peter Turamkis, Peter Turansis, Fred Snyder, Anton Miller, R. P. Apkins and Robert Schultz.

Amongst the letters were those from the two women married in May, 1911. Bertha Kohler was cautious, writing
"Yes, I would like to know you better. You may call." Bertha Rogers Kohler, May 2, 1911
Lizzie Young, his second known wife (more about Lizzie at right), had met him a year earlier and they'd corresponded for several months. She accepted his marriage proposal with a response that reads as if she might have had her own book of romantic letters:
"Yes, I will be your wife. It will be the pride of my life to shield you from all sorrow and give you all the happiness that there is in the world. It will be grand to bear the sorrows of life together. It will make them seem easier for both of us. Will we live in Richmond or Chicago?" Elizabeth Young
Reportedly the police contacted letter writers in Des Moines, and Petersburg, Virginia who had written to Apkins, telling them of his arrest and inquiring if they too had married the man. Presumably none admitted to marriage or it would have been reported.
Married two wives in a week. Bertha came first
Apkins and thirty-seven-year-old widow, Bertha E. Rogers Kohler (1874-1943) of Richmond, Indiana became acquainted via a newspaper advertisement and letters (see above), perhaps not meeting face to face until days or hours before their wedding. In Richmond Apkins stayed with the Darwin U. Atkinson family just prior to the wedding. Atkinson operated a second-hand furniture store that sold sewing machines and probably pianos as well. He cashed two of Apkins forged checks.
Bertha and Apkins married May 24, 1911. Daughter of George and Serena Rogers, Bertha had lost her husband, Harold C. Kohler (18680-1902), nine years earlier and was struggling to keep a roof over the heads of their two children, sixteen-year-old Harold Jr. Kohler and thirteen-year-old Mary Helen Kohler. Bertha had married Harold Sr. in 1894. He had immigrated to America in 1870 from Germany.
Prior to Harold's death the Kohler family lived in Butler, Ohio northeast of Columbus where Harold worked in a brewery. After his death Bertha and their two children relocated to Richmond, Indiana where she worked as a laundress. She would later tell investigators that getting a home was her primary objective in accepting Apkins' marriage proposal. Peter and Bertha traveled west across Indiana to Paris, Illinois, a city on the Indiana-Illinois state line with a population then of around 8,000. The marriage was performed and witnessed by a pair of Daniels – county judge Daniel V. Dayton and deputy county clerk Daniel Holloran.

The couple traveled east back to Indianapolis where Apkins left Bertha, saying he was going north to Chicago to make arrangements for their home and would be back soon. Instead he drove south to Lexington, Kentucky and married another women. When he hadn't returned two days later, Bertha headed back home to Richmond. Bertha never heard from him again. She spent the rest of her days in Richmond, living with her daughter and eventually enjoying grandchildren born to her son. Apkins' next wife was not so fortunate.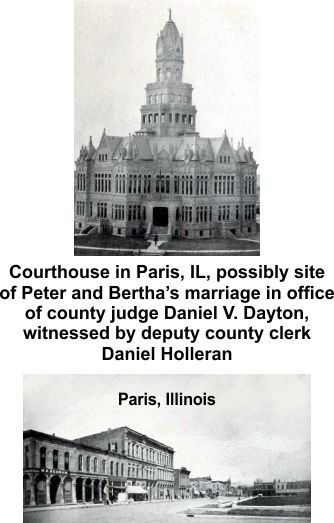 Then came Lizzie
Twenty-six-year-old Elizabeth Baxter "Lizzie" Young of Nicholasville, Kentucky (1883-1911) had met Apkins a year earlier while during a summer visit with friends in Milwaukee, Wisconsin. For ten months afterward the pair corresponded and in April, 1911 Apkins visited her in Nicholasville, KY where she lived with her aunt and uncle, Lizzie and James Baxter. Lizzie Baxter (1850-1924) was Lizzie's namesake and one of her many aunts. (Lizzie's grandfather, Harden Horston Hunter, was married five or six times and fathered over two dozen children.) Lizzie lived with the Baxters in 1910 and probably at the time of her marriage to Apkins. Her mother, Lucy Hunter Young Bryant (1855-1924), was living but doesn't seem to have played a significant role in Lizzie's adult life. Her father was deceased.
Lizzie and Apkins' wedding took place six days after his marriage to Bertha Kohler, on May 26, 1911. The service was conducted by reverend Isaac J. Spencer of the Central Christian Congregational church. Afterwards the newlyweds traveled north to Cincinnati, Ohio for their honeymoon.
Killing Lizzie
Around midnight on May 28, 1911, two days after their wedding, at the Burkhauser's Hotel in Cincinnati, Apkins pocketed $110 and $200 in jewelry from his bride, then beat, choked and poisoned her. Lizzie's screams as she tried to escape through a window brought police. To their credit, when Apkins refused to let them into the hotel room the officers climbed a fire escape to gain entrance, thus bringing an end to the beating. Apkins asserted that Lizzie's semi-conscious garbled accusations about drugs, theft and being beaten were brought on by hysteria at the imagined entry of a burglar, resulting in insanity. She was taken to the hospital where for a few hours she could not remember her name or that she'd married. According to Lizzie's later reports Apkins had persuaded her to drink a number of alcoholic drinks at the hotel until she lost consciousness. He wired Lizzie's family to tell them of her sudden insanity (a gesture that seems out of character) then traveled to Stirling, Connecticut, arriving May 31, 1911. An unidentified woman there escaped becoming his third wife by being away from home. She expected him on a later date.
Lizzie's last days
Lizzie Baxter and Irene B. Strode, Lizzie Young Apkins' cousin, traveled to Cincinnati and and checked Lizzie into the Grandview Sanitarium where physicians dismissed insanity and concurred she had been attacked and poisoned. Her lips were burned as if by something caustic, she bore cuts and bruises from being kicked and punched, and was unable to eat. Lizzie was taken home to the Baxter place on Tate's Creek Pike in Kentucky where her weight dropped from 120 to 80 pounds (one newspaper reported 160 to 80 pounds) and she spent the last month of her life in delirium. Her death on August 17, 1911 was attributed to brain fever with fright as the secondary cause. Speculation about the type of poison given to Lizzie was not reported in newspapers. Arsenic seems possible. As a piano maker Apkins would have been familiar with wood working products and arsenic is a wood preservative. Brain damage from alcohol poisoning is another possibility.
Capture
While Lizzie lay dying, Apkins traveled back to the Midwest from Connecticut, passing through Youngstown, Ohio, Gary, Indiana, Harvey, Illinois and landing in Connersville, Indiana. He sent Lizzie a postcard from Gary. Though not written in English, her relatives reported it to police, giving Gormon a clue as to Apkins' whereabouts. Richmond's Chief Gormon made the arrest the night of July 19, 1911 when Apkins stepped from an interurban bound for Richmond, possibly returning to Bertha.
The arrest in Connersville came after a two-month investigation said to have involved police in six states and sixty banks, police in Richmond, Indiana arrested Apkins for a $6 forged check. They had evidence of a dozen other forged checks, each for less than $25, using a half dozen names. Most of the checks were notated as being compensation for labor.
Investigation oddity
The first news reports about Apkins did not appear until July 20, 1911, seven weeks after the marriage to Bertha and four weeks after Lizzie's death. By that date most of the story was known to law enforcement. It was not reported how or when police connected the big pieces to the puzzle, that Apkins the forger was also Apkins the bigamist and Apkins the wife killer. Chief Gormon in Richmond knew Apkins was conning women before Apkins married Lizzie. How? The chief was concerned enough that he wrote to Lizzie to warn her (but his letter arrived a day after she'd left with Apkins) and he asked for help from two detective agencies, Pinkertons and William R. Burns, who searched in vain for Apkins for several weeks prior to his arrest. Bertha may have come home from her abbreviated honeymoon and gone to the police but she had no way of knowing about Lizzie. Clearly Gormon knew Apkins was guilty of more than forging a dozen checks totaling less than $150.
Chief Gormon's son, Elmer A. Gormon, was head of the Michigan division of the U.S. Secret Service and an up and comer with several major solves to his credit. He was busy in the spring of 1911 with a counterfeit coin case but I can't help wondering if he gave his father a hand.
Jurisdictional juggling
Richmond was just getting warmed up to prosecute when Lexington presented requisition papers to governor Thomas R. Marshall * of Indiana from governor Augustus E. Willson of Kentucky, asking to extradite Apkins to Kentucky. Lizzie's relatives there were bringing pressure on authorities to prosecute for manslaughter as well as bigamy. States attorney John R. Allen went for it.
Skull plate made him fuzzy
In the mid-January, 1912 bigamist trial, Apkin's court-appointed attorney, William Alpha Hubbard, two years out of law school, blamed his client's behavior on his Iroquois Theater fire injuries, asserting that the plate in his skull caused him to sometimes behave irresponsibly and suffer memory loss. Apparently the memory problems were intermittent. Though Apkins had previously told police that he didn't consider his marriages legal because they were not conducted by a Catholic priest, by trial his memory of marrying Bertha had disappeared altogether. Lexington's Dr. Edward Maxwell Wiley (1850-1915) testified that though Apkins' injury had been in a vital area of the brain, the plate could not effect Apkin's mental condition unless the brain was in some way reinjured. (Presumably Dr. Wiley was given an opportunity to examine Apkins' head with a magnet or some such to verify the presence of a skull plate but nothing was reported indicating whether the plate or Iroquois injury story was verified with Chicago physicians. Given Apkins' history of deceitfulness, he could have been injured by falling from a wagon.) Speculation about why he did not engage in serial marriage, forgery or violence for the eight years between the head injury and 1911 was not published, nor did stories appear suggesting that his crime spree began prior to 1911. It suggests that something happened after Apkins went on the road as a piano tuner, to change his perspective. Piano's sold for around $600 ($15,000 in today's money), well beyond his budget. Perhaps exposure to the more luxurious lifestyle of piano owners triggered a hunger.
Kentucky didn't own the dog
Jurors didn't buy the cranial plate defense. Apkins was convicted of bigamy and sent to the Kentucky State Reformatory in Frankfort, KY for two years. While there he awaited a verdict from the courts on whether the Jessamine county KY circuit court had jurisdiction to prosecute him for manslaughter. Lizzie had died in Kentucky but the poisoning and beating alleged to have caused her death took place in Ohio. His defense attorney's argument was that if she was beaten and poisoned, it took place in Ohio, not Kentucky, thus Kentucky didn't have a dog in the fight. (Attorney Alpha Hubbard bred pedigreed hogs so was probably fluent in both country and courtroom vernacular but that's yours truly's idiom insertion, not a quote.) The ruling came two months later. He could not stand for Lizzie's death in Kentucky, only in Ohio. If Ohio considered prosecution, it was not reported in the newspaper.
Michigan City state prison and freedom
Upon Apkins' release in 1915 from the Kentucky prison, Indiana got its shot. He was convicted of forgery and served two years in the Indiana state prison in Michigan City.
Ohio should have prosecuted Lizzie's death, Kentucky the bigamy and Indiana the forgery but Ohio was mum, Kentucky got grabby, Indiana bit his ankles and by 1918 Apkins was free, walking the streets of Chicago. According to his WWI draft registration he worked then for Edward J. Fogarty and claimed a Charles Carpus in East St. Louis, Illinois as his closest relative. No such person by that name in East St. Louis in the 1910 or 1920 U.S. Census. Color me not surprised.