Theresa Jane Baldwin, age twenty-one, had been performing in the chorus of The Billionaire in Chicago until the unexpected death of the production's leading comedic star, Jerome Sykes. Rather than attending his funeral the afternoon December 30, 1903, some of his fellow cast members, including Theresa, went to the Iroquois Theater to see a Mr. Bluebeard matinee. For Theresa the performance would have been especially fun because her sister, thirty-two-year-old Mary E. Baldwin Law, was in the cast.*
The real name of Mr. Bluebeard chorus girl Mona Baldwin was Mary E. Baldwin Law (1871-1944). In 1891 she had married Leonard L. Stephenson (1865-), in 1893 Alfred N. Law, with whom she had five children before his death in 1919. She then married William Craven, a widow.
Four of her children lived to old age.† She lived in Methuen, Massachusetts. Alfred worked as a section hand in a worsted mill such as Arlington Mills. (In 1901 he'd completed a two-year course in worsted spinning at the Lowell Textile School in Lowell, Mass, a member of the second class to graduate from the school.) William Craven was a carpenter.
~~~~~~~~~~~~~~~
Jane Theresa Baldwin (1882 - 1962),‡ married Rolland Rolla Lester Halsted (1877-1951) in 1914. He was an optometrist. His first marriage to Nellie E. Woodford in 1906 had failed. Sometimes Jane went by Jane, other times by Theresa. In 1908 she was performing as a comedienne in The Serenaders in Cincinnati. Her stage career lasted until at least 1913 (see news story at right).
Jane and Rolla spent most of their lives in Pekin, Illinois. In 1920 her widowed mother lived there with them. Jane and Mary Baldwin were two of nine children born to English immigrants, grocer Thomas Baldwin (1836-1917) and Anna Johnson Baldwin (1843-). Their siblings were Lottie, Margaret, Herbert, Walter, Sarah, Ann and Joseph.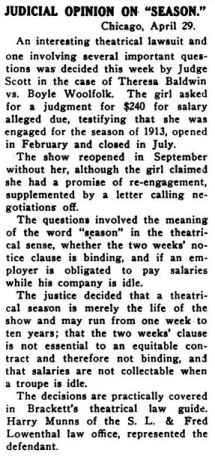 1913 story in New York Clipper
Discrepancies and addendum
* She may have been in a party with other Billionaire cast members, two of whom were not as lucky and lost their lives in the fire. They were Clarence Scott (aka Harry Hudson) and Arthur Caville.
† It is not known why The New York Clipper referenced Mary's prior married name, Stephenson, rather than Law. Perhaps the person who supplied the information to Clipper wasn't up to date on her marital status.
‡ Jane's obituary identified her as a surviving Bluebeard cast member rather than as a member of the audience but the 1904 NY Clipper story reverses that and puts Jane in the audience and Mary in the Bluebeard cast. Despite one error in the Clipper story (see above note about Stephenson/Law), other statements in the story, involving five individuals, have been verifiable with other records. Given a story composed within weeks of the fire versus a story fifty nine years later, probably based on the understanding by nursing home staff where ninety-one-year-old Jane spent her last days (since Alfred had been gone for eleven years by then and they had no children), I'm inclined to believe the Clipper story from immediately after the fire.