Bessie L. Herron (b.1883)
was one of twenty Iroquois Theater fire victims from Hammond, Indiana. For her parents
she was the fourth daughter they had to bury.
Two of Frank and Maria Herron's girls had died as toddlers, then two years before the Iroquois fire they lost twenty-five-year-old Cora. Left at home after the fire was eighteen year old James and seven year old Frances. James married and produced the only two grandchildren Frank and Maria would know before their deaths. He named his oldest daughter Bessie, after his sister.
Her body was found at Ryan's Funeral Home and identified by James. It was reported that she'd been trampled and crushed. Bessie was buried in the Monan Cemetery in Monan, Indiana.
Franklin (1852-1914) and Maria† Ginn Herron (1856-1913) married in 1873. Frank was a native of Ohio and Maria of Indiana. In Hammond the Herron family owned their home at 123 Condit St. (Today a parking lot.) Frank worked as a government meat inspector in 1903, later going to work for pioneer meat wholesaler, H. G. Hammond.

Twenty-two-year-old William A. Paulman (b. 1881) worked as a pattern maker and lived at 3738 State Street in Chicago, also the location of his father's barber shop.
William's body was identified by Fred Paulman, either his father or brother, based in part on a track and field medal found in his pocket. Will and his brother Harry were shot putters on the Chicago YMCA team.‡
Will was laid alongside his younger sister, Louisa, at the Oak Woods cemetery in Chicago. They would be joined there by their parents and brothers.
William was one of five children born to German immigrants, Frederich (1844-
1934

) and

Louisa

Sander

Paulman

n (1850

-

1

927

)

, in 1903 married for thirty-one years.

I

n an odd coincidence, like the Herron's, the Paulmann's also lost a daughter in

1

901

.

Their only daughter, Louisa was fourteen at death.
From Harry Paulman's (1874-1930) WWI draft card comes a clue about William's possible appearance. Harry described himself as tall, stout and with brown eyes and hair. During his 1898 Track and Field season, Chicago newspapers described Harry as "fat" and in need of weight loss to get into condition.
In the years after the fire
In the years after the Iroquois Theater fire Frank and Maria moved to Chicago and adopted a boy, Richard Sparrow, the son of one of Frank's cousins. Frank and Maria each passed before Frances, their youngest daughter, married and produced the daughter in accompanying picture. Frances was the only Herron girl to see her sixtieth birthday.
Harry Paulman married a girl coincidentally named Bessie. He owned Pierce-Arrow auto dealerships in Chicago, St. Paul and Minnesota for a decade or so and later went into real estate. Fred Sr. retired from the barbershop by 1910. Fred Jr. went to work selling cars for Harry for a time but eventually followed in his father's footsteps and took up barbering. In 1914 Harry's Bessie lost control of her electric car, drove onto the sidewalk and killed a sixteen-month-old baby in a carriage. The coroner's jury only censured her but recommended Chicago pass an ordinance requiring all drivers to be licensed – an idea applauded by Harry himself a year later as a way to reduce auto accidents in the city. The Kroskowski family sued Paulman for $20,000 (inflation adjusted to over a half million). Suit results not reported.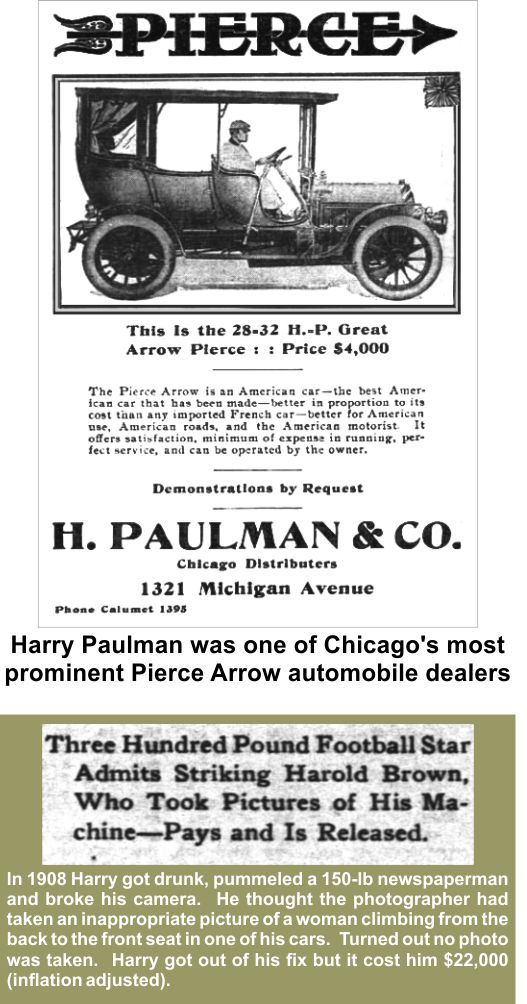 Discrepancies and addendum
* In one list Harry was inaccurately reported as a victim. The name Paulman was sometimes spelled with one n, sometimes with two.
† Sometimes spelled Mariah.
‡ Harry also played center for the Chicago Athletic Association until 1897 injuries in a game against Yale forced him to give up football and take up shot put.