Photos show Walter and Jack several years prior to 1903

Twenty-year-old Tessie Bissinger tried valiantly but failed to save her fifteen-year-old brother, Walter Bissinger (top), and ten-year-old cousin, Lafayette, Indiana resident Jacob "Jack" Pottlitzer (center).

Walter Bissinger was the son of realtor Benjamin Bissinger (1848-1930) and Leah Felsenthal Bissinger (1859-1911) of Chicago. He had three other sisters in addition to Tessie. The Bissingers lived at 4934 Forrestville in Chicago.

One newspaper reported that Walter was an usher who died at his post but that seems unlikely. He had attended the Morgan Park Academy in the 9th grade then gone on to Howe Military academy in Indiana and in 1903 was home for the Christmas break. Walter had begun writing poetry at age seven. His poems were published after his death.

Jack, also nicknamed "Jackie," was the only child of Max Pottlitzer (1867-1907) and the late Emily M. Felsenthal Pottlitzer (1873-1903). Emily had died from surgery complications in March, 1903. Max Pottlitzer was secretary-treasurer of the Lafayette Cracker Co., owned by his brothers. He also registered patents for several tools and engine components. Jack's body was recognized by a surgeon in the emergency treatment center set up next to the Iroquois Theater at John Thompson's diner, Dr. Daniel Eisendrath. He remembered the boy as the son of his former patient, Emily Pottlitzer.

In the years after the fire

Theresa "Tessa" Bissinger (1882-1960) married Signey Henry Bernheim three years after the fire. She lived in Kentucky for twenty years and died in Denver, CO.
~~~~~~~~~~~~~~~~~~
This poem was one of Walter Bissinger's last, written in November, 1903, a month before the Iroquois Theater fire.
The Spring at Eagle Rock*
A bubbling fountain from the rock doth leap,
From bold faced cliff doth rise a dainty spring,
Which ever to itself doth laugh and sing,
Unmindful of the mass of stone so steep,
Which towering high above it, guard doth keep.
From Horseshoe island do the wavelets fling
Themselves upon the shore; but hear the ring
And tinkling; 'tis as if around do peep
Invisible sprites and spirits, airy forms
Upon the brink of some pure fairy lake;
For in a hewn log basin it doth fall,
A tiny, shaded pool, a liquid mirror,
Where silver lights and shadows gleam and quake
From overhanging pines and birches tall.
Discrepancies and addendum
* A spring in northern Wisconsin
Story 1047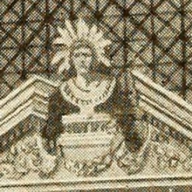 Iroquois chieftain sculpture by Joseph Dux on Chicago theater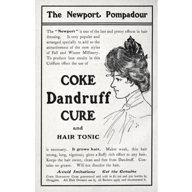 1903 Coke shampoo advertisement