Tragedy has a way of strengthing bonds and deepening chasms in family relationships. For the husbands of the Kavanaugh sisters it would be the latter.
In September, 1905, two years after the fire, a case made it to probate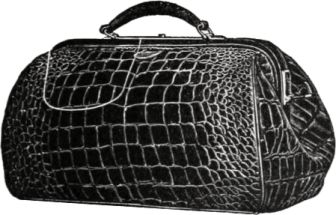 court, brought by Thomas Cantwell against his brother in law, Patrick O'Donnell.
Cantwell accused O'Donnell of having sent one of his sons to pilfer a key from Ella's purse in the hours immediately after the Iroquois fire (while the purse was held at the morgue or in the coroner's office -- reports varied). According to Thomas, Patrick then went to the bank and removed documents from a safety deposit box shared by Ella and Louise.
The bank manager was supposed to restrict box access to a court-appointed administrator to whom was given a password with which to identify himself and the box was marked so as to alert bank personnel that special access restrictions were in effect.
Cantwell claimed that the bank manager intentionally looked the other way for a short time, thereby granting O'Donnell unsupervised access to the box.
Patrick said Cantwell's accusation was fabricated but admitted that he had gone to the bank and attempted to access the box. He claimed the bank prevented him from doing so because he did not know the password. If he testified as to his reason for trying to access the box, it was not reported in the newspaper.
The bank claimed no knowledge of the situation but admitted that the manager who had been on duty at that time had been fired for drunkenness a year after the suspected box pilfering.
Newspapers did not report whether the dismissed bank manager, or another bank employee, testified as to whether O'Donnell had unsupervised access to the box.
In January, 1906, the judge ruled that since there was no proof the will or promissory notes existed, O'Donnell could not be held liable.
The missing promissory notes were written from Patrick O'Donnell to Ella Cantwell for $9,000 (or $18,000 – reports varied) and Ella's will reportedly left $20,000 in unidentified property to one of Ella and Louise's sisters who was described as "poor."
If Patrick was guilty of removing documents from the box, he might have grabbed Ella's will to be on the safe side, in case it made specific reference to the promissory notes. O'Donnell was said to be a millionaire, but $18,000 in 1904 would be nearly a half million dollars today, thus a tempting sum for even a wealthy man.
It seems possible that Thomas and Patrick may have had a combative relationship prior to the deaths of their wives, perhaps a by-product of their mutual past involvement in the brewing industry. If so, without the sisters to keep the animosity in check, conflict might have been inevitable.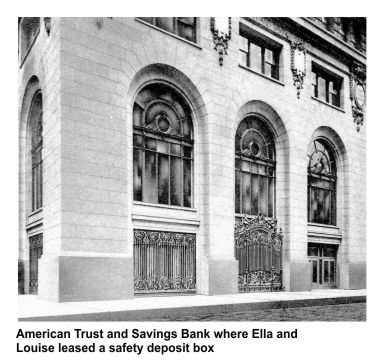 On the other hand, Cantwell and O'Donnell might have concocted the deposit box caper as a mutually beneficial solution. Cantwell's son, a celebrated defense attorney, was certainly capable of helping to craft a scenario that minimized the chance of prosecution. The disappearance of the will and promissory notes meant that Cantwell did not have to cough up $20,000 from Ella's estate to give the sister and O'Donnell didn't have to pay $18,000 to Ella's estate.
I was unable to learn how Ella Cantwell came to have such a large sum to loan her brother-in-law.
Pilfering the safety deposit box was obviously anticipated by Ella and Louise's sister, Emma Kavanaugh Riordan. Reportedly it was she who informed the bank that the box should only be opened by a court-appointed agent. As the sister who was slated to receive the $20K inheritance from Ella, her vigilance in protecting Ella's will is understandable.