"Mrs. Bibel is a hard-featured, dark-eyed and dark-haired woman from the South...her son Louis is as ill-favored, beetle-browed, dangerous-looking young reprobate as ever sought to stain his soul with a father's blood or was a candidate for the State's prison, where it is hoped he will speedily land, accompanied by all who aided or abetted in the most infernal, diabolical and villainous affair that has ever been recorded in McLean county."
The Pantograph, March 8, 1880

Louis Schwitalsky Bibel
Charles' father, Louis Bibel, was a man of many facets. He was a German immigrant who deserted the Confederate army to join the Union army (see footnote below) and became a proud veteran as well as a Marxist. His shoe-making shop in Bloomington, Illinois became a place for locals to debate politics and philosophy. He was a husband whose wife took a lover and conspired with his son to murder him.
Until autumn 1879, the Bibel family led an average middle-class life in Bloomington, Illinois. Louis sr. was a local tradesman, active in the Temperance movement, and an officer in the Grand Army of the Republic. His political views were so far left of center that the newspapers branded him a communist but being called a Marxist in the 1870s was like being called a crackpot. Insulting but not an accusation of treason. In a population of around 17,000, Bloomington had room for a few colorful characters and Louis fit the bill nicely.
William Osborne Davis (1837-1911) owned and published The Pantograph newspaper in Bloomington. Though a long-time republican, Davis was committed to preventing his newspaper from becoming affiliated with a political party. That independent spirit may have contributed to the paper's tolerant approach to the Town Communist, referred to in 1878 as "Louis Sedowski Apocalypse Bibel" and in 1879 as "the well known German communist, patriot, orator, shoe-maker, farmer and politician." (The characterization of Louis as a communist may have been inaccurate; as a proponent of the Greenbacks he probably supported organized labor and opposed monopolies.)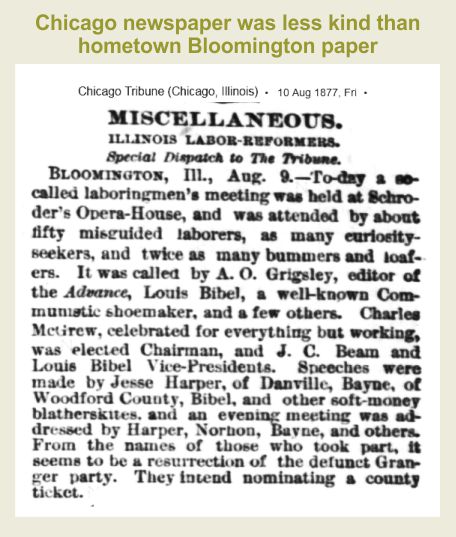 In reading Pantograph references to Louis Bibel I decided he must have been a likable guy, despite his political proselytizing. So much so that when he became the victim of a life-threatening conspiracy, there was no ambiguity in The Pantograph's condemnation of the "beetle-browed" perpetrators.
Signs of trouble. Newspaper takes note
In February 1879 Louis moved to the country to take up farming but in October reversed the plan, selling the 80-acre farm in Dry Grove township (for $55/acre, a $107k transaction today), purchasing 160 acres of farmland in Padua township for $4,800 ($116k) and announcing he'd soon be returning to shoemaking. The Pantograph attributed the reversal to the rocky Bibel marriage. They had divided their property (commonly referred to then as "making a partition") and were separating. Louis took up temporary lodging at one of several St. Nicholas Hotels in Illinois then (the best-known being in Decator, the closest in Urbana).
Louis decides to check out
In the early morning hours of Tuesday, October 7, 1879, Louis drank four ounces of laudanum. A boarder in the hotel, Samuel F. Dolloff, a retired civil war cavalry officer and former McLean county circuit court clerk, smelled the substance on Louis' breath but Louis refused an antidote. People at the hotel took him to the police department and forced him to drink an emetic to induce vomiting. He survived but his sons failed to persuade their parents to reconcile. Louis spent some time in the Soldiers home in Dayton, Ohio and they divorced a year later, Margaret citing cruelty as the cause.
The Freiberger factor
In January 1880, an Adolph Freiberger (also spelled Freeberger, Freyberger, Freeburger, Freyburger, etc.), a farmer who would later become a machinist for the Chicago & Alton Railroad, swore out a warrant against Louis, citing threats made on his life sometime prior. Judge Esquire Pancake (for real, that was his name) bound Louis over for trial, held on $150 bail. Before long, the victim and perpetrator roles traded places and the courts were awash in Bibels with Louis blaming Freiberger for the breakup of his marriage, accusing Margaret of trying to poison him and of carrying on an affair with Freiberger.
Sell the cows
When the Bibels continued to dispute ownership of a few items (two cows and a buggy) the court ruled the items should be sold at auction and the monies divided.
That auction was in progress on Saturday, March 6, 1880, with a good-sized crowd gathered in the Bloomington town square (one report estimated as many as 500 which seems crazy high).

Spice, whips and a gun
As trial witnesses would later attest, Margaret Bibel strode up to Louis, opened a large package of cayenne pepper and threw it in his face. She then brought forth a pair of cowhide whips and began thrashing him. Nothing is known of her size but Louis was short and 120 lbs. so she hadn't picked a fight with a giant.
Partly blinded by the pepper, Louis wrestled one of the whips from his wife's hands and gave her two licks. That's when their oldest son, seventeen-year-old Louie jr., appeared, about ten feet away, aimed a revolver at his father, proclaimed, "I'm going to shoot you," and did so. Tried to, anyway. Louis sr. dodged the first shot toward his head and grabbed his son as Louie tried to fire again, this time toward his father's heart. There was a struggle and the gun fell to the ground. Esrey Dodson, a house painter, grabbed it but Louie got it back again. Charles-the-future-trombonist, age twelve, arrived on the scene and began pummeling his father. Police appeared and arrested the lot, jailing Margaret and Louie jr. The police released Louie and granted custody of he and his brother William to a guardian, William Whitehead. Freiberger was arrested later for conspiracy to commit murder.
In the March 9, 1880 trial before judge Richard M. O'Connell, with an audience sympathetic to Louis, Margaret asserted Louis had spoken vile language to her. Eyewitnesses said otherwise. Townsman Joshua Sells had heard Louis say, "There goes the last of the Bibel estate," as they watched the cattle auction. Three witnesses testified to having seen Margaret remove the string from her package, throw pepper at Louis and wield the cowhide whips, and to seeing Louie shoot the revolver. One, Ed Willis, also heard Freiberger say, "Shoot the son of a bitch," when the first shot missed. And the coup de grâce: gunsmith/locksmith Charles Gmehlin testified that Louie came to his shop that Saturday morning with Freiberger and purchased a revolver and cartridges. Policeman Richard Carroll testified that he took that same revolver away from Louie. On route to jail, Louie worried he'd accidentally shot his mother when aiming at his father. Also testifying against the accused was state's attorney Joseph Fifer (whose assistant prosecuted the case) and attorney James S. Ewing, each of whom had watched the scuffle from their office windows.
On March 11, 1880 judge O'Connell fixed bail for the trio, with $1,500 set for Louis, $1,000 for Freiberger and $500 for Margaret.
A May 1880 grand jury brought true bills against Louie, Margaret and Freiberger for assault to kill. Police released Louie on bond in August after 135 days in jail His father raised the money to meet his bail and Louie was released into his custody. Newspapers did not report whether Margaret or Freiberger was bailed out but the following March Louis circulated a petition requesting that states attorney Robert B. Porter quash the cases against Louie and Margaret. One of those who signed the petition was state's attorney Joseph Fifer who had testified against the Bibels during the grand jury proceeding.
Porter fined each of the two Bibels $25 and six months suspended jail sentence, but only after they pled guilty.‡
Nothing was reported about Adolph Freiberger's prosecution. Margaret Bibel sued him for $14.50 for an unknown loss (a package of cayenne pepper?) and in 1887 he married Frederica Schmidt.
Post shooting
In 1891 Charles and his older brother William worked together as photographers in Bloomington, sharing a workplace facility with their father's shoe and boot making shop at the north end of Center St. in Bloomington (at corner with Market St., today home to a multilevel parking garage), but continued living at the south end with their mother and Louie (about where the Center street railroad overpass is today). Ex-wife Margaret described herself as widowed rather than as divorced, a common choice of divorcees at the time when divorce had a taboo-like stigma. The woman had confessed to attempted murder but, by golly, she was not a wicked divorcee. After Charles Jr. left Bloomington for Chicago, around 1897, brother William became a fireman and lived with his father for a while. Louis jr. continued living with Margaret until her death, then with his father until Louis went off to the Soldiers and Sailors home in Quincy in 1900. (At admission to the S&S home Louis filed a will leaving his estate to Charles.)
Son Louie G. Bibel remained in Bloomington. In the 1930s he lived with William and his family.
~~~~~~~~
After reading about the Bibels I had an image of 1880s Bloomington as something like Yoknapatawpha with Pantigraph editor Davis as the town's Gavin Stevens. This 1896 book changed that notion. Use arrows at bottom right on that site to see the city's residential architecture in 1896.