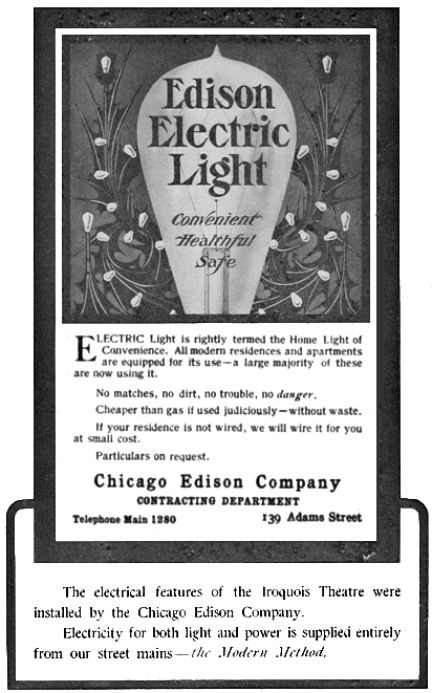 Chicago Edison was involved with the Iroquois Theater before and after the fire. The company wired the theater and installed light fixtures, then donated portable fixtures for first responders. In addition to the Chicago company, Iroquois Theater manager Will J. Davis had a business relationship with Thomas Edison.*
---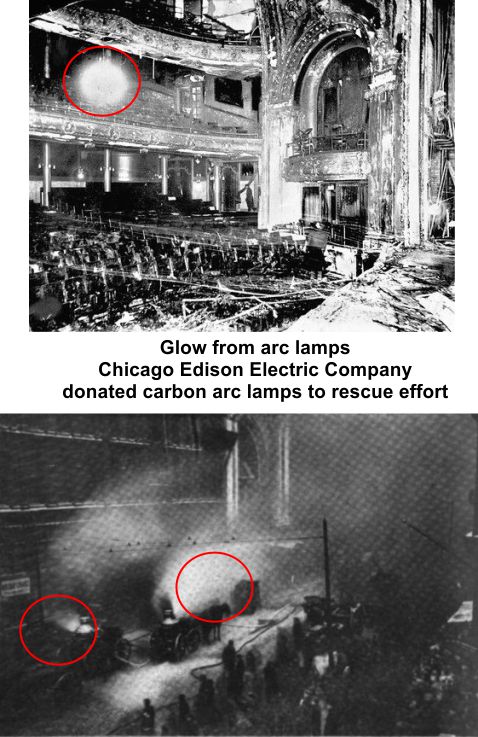 When lanterns were inadequate for firefighters and rescuers at the Iroquois Theater, the Chicago Edison Company donated carbon arc lamps for use inside the auditorium as well as in the street outside.
---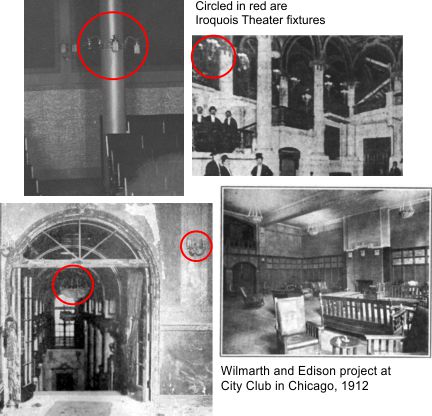 Sconce and "Etruscan crystal bowl" electroliers at the Iroquois were supplied by the T. W. Wilmarth Company, a wholesaler who supplied fixtures to several other Klaw & Erlanger theaters in Chicago and around the Midwest. The president of Wilmarth, Joseph H. Dimery, served as auctioneer for a promotional Iroquois Theater seat auction in mid November, 1903, and was a survivor of the Mr. Bluebeard matinee at the Iroquois Theater.
---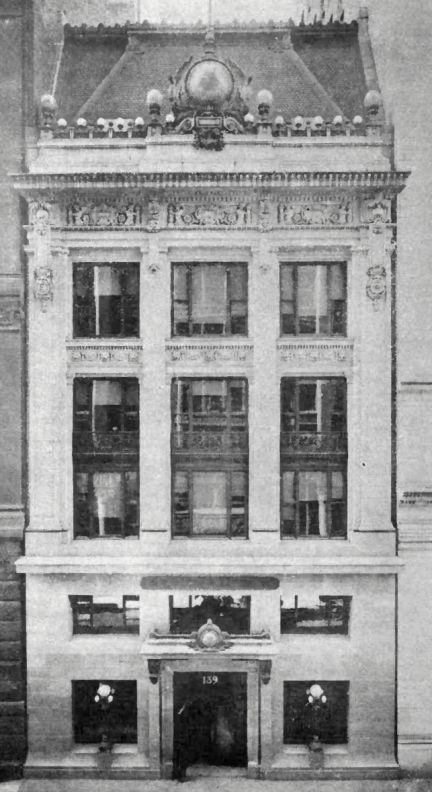 Chicago Edison building was located at 139 Adams. Chicago Edison sold hardware in its early days and went on to become Commonwealth Edison. The building pictured above housed the offices and a power house for 100,000 lights. The building was designed by Shepley, Rutan & Coolidge and built in 1887 or 1899.
---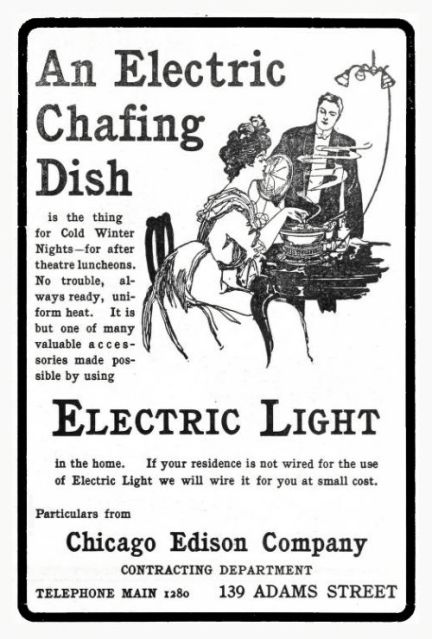 Chicago Edison appliance advertisement reveals interesting transitional period in technology. Not every residence converted to electric lights had wall outlets but there was usually a ceiling fixture.
---
Discrepancies and addendum
* In Iroquois Theater manager Will J. Davis' estate was one of Thomas Edison's personal business cards. Yours truly came across it late one night while sorting through a box of Davis' correspondence. It was just a business card, not worth a great deal, not important enough to wake up my sleeping spouse, but a wow moment nonetheless. I was holding something that had been touched by Thomas Edison, maybe carried in his breast pocket. There were other gems in Davis' papers but discovering that card is one of those unforgettable moments.
Story 1125