Charles J. Berkery
(1875-1942) Irish immigrant joined the department in 1903. Injured but blown to safety during December 1910 stockyard fire, sufficiently recovered to serve as pallbearer for captain Patrick F. Collins of the 59th who died in that fire. In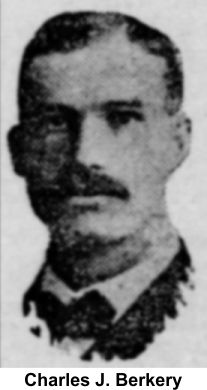 1912 Berkery's four-year-old daughter was badly burned and he donated skin grafts. He was promoted to battalion chief of the 11th in 1920, the 12th two years later, and the 17th in Pullman in 1925. Married in 1902 to Margarite O'Rourke, father of seven, all but one surviving to adulthood. Served thirty-nine years in the department.
Mathias Blaney
- Engine 13
Edward Buckley
- captain
John Campion
- 1st assistant fire marshal
Michael J. Corrigan
- Chicago fireman Engine 13
John Dohm (1879-1925)
- Spent the last years of his life as a patient in an state asylum in Kankakee, IL, according to his obituary having been driven insane by recollection of his experiences as a city fireman saving many lives at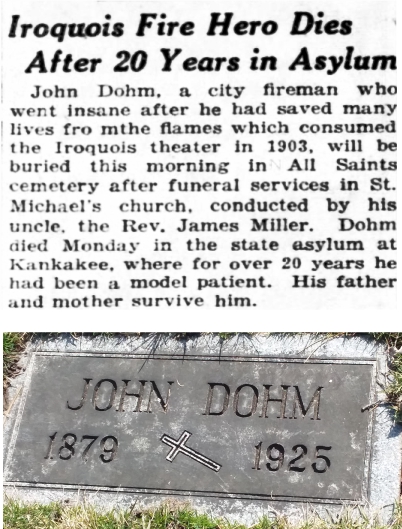 the Iroquois Theater. But for one fact, I'd have to discount most of that 1925 story. First responders saved few lives at the Iroquois Theater. When fire fighters arrived on the scene they found dead and fleeing theater goers, not trapped or surviving injured. Most survivors escaped on their own.
Firemen removed bodies, a ghastly task that certainly produced nightmares for years, but there were few opportunities for acts of derring-do. Other errors in the obituary suggest it may have come from acquaintances at the asylum, based on inaccurate recollections and story telling. The same newspaper story said he had been at the asylum for twenty years but his death certificate states he didn't arrive there until 1916, only a decade prior to his death. The death certificate also states he had been a steam fitter, rather than a fireman. I thought perhaps he'd worked as a steam fitter after the fire and until his hospitalization but the 1903 Chicago directory also reported his occupation as a steam fitter. Contrary to the obituary, I found no confirmation that he was a Chicago fireman or present at the Iroquois. Hundreds volunteered to help carry out victims, however, and few of those were identified. The story was not made up whole cloth. A descendant of Dohm's reports that family lore supports that he was traumatized by the fire.
He was one of many children born to Phillip and Margareta Koch Dohm, both of whom survived him. He did not marry and was reported to have been a model patient in the state hospital. Phillip Dohm, a German immigrant, operated a cigar and candy store from the family home at 455 Larrabee (that became 1658 N. Larrabee after 1909). The store remained in the family and was in operation until at least 1965 by John's older brother, Phillip Dohm jr.
Thomas Hacket
- Captain testified before the grand jury in February 1904.
John Hannon
- Engine 13
Martin Francis Henry
-
James Horan
-
James R. Hughes
(-) On truck #9, first hook and ladder to reach the scene. His five sons became firemen.
Patrick "Paddy" Jennings
- Engine 13
George Kelly Sr.
- son Leo Kelly was also a fireman
Anthony Leiber
-
James. W. McElligott (1873-1963)
- On job 1900-1936. Also worked stockyard fires.
Edmond D. McCahill (1874-1958)
- Also fought stockyard fire, worked Eastland disaster scene and helped found firemen's pension fund and was an originator of the two-platoon system
John C. McDonnell (1861-1941)
- Joined the Chicago fire department in 1885 to work as a driver, soon becoming a pipeman and promoted in 1888 to lieutenant. He trained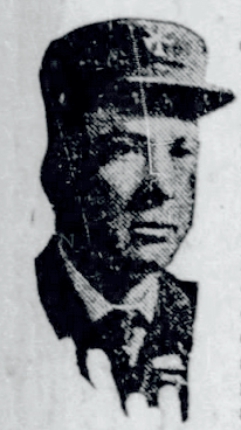 Edward J. Buckley on engine 14. In 1891 he was appointed captain, in 1904 battalion chief and in 1911 4th assistant marshal. Mayor Harrison appointed him head of the nearly
created fire prevention and public safety bureau and during World War I McDonnell served the War Dept as a fire protection expert in the eastern U.S. By the time of his retirement in 1924 he been cited for bravery four times and for devotion to duty at the risk of his life. "At a 1934 gathering of the Iroquois Memorial Association, John described his Iroquois Theater experience. He was off duty when the fire broke out but reached the Iroquois at 3:30 P.M., before the fireball hurled into the auditorium.
"It stands out as the most terrible experience of my life. Of all the persons I carried out, I know of none who recovered. The bodies were piled in stacks in front of the theater on the sidewalk of Randolph St. As fast as we could we took them to Thompson's restaurant next door. There doctors worked over them, putting them on marble-topped restaurant tables which became operating tables. Most of it was in vain. They had breathed in those gaseous fumes."
McDonnell retired in 1924 as a deputy fire marshal after thirty-nine years on the job. The Chicago Tribune described him as a nationally known fire-prevention expert. He moved to his twenty-acre fruit farm near Miami, Florida and looked forward to a cruise down the Mississippi in a 35-ft. motorboat. He and his wife, Catherine Daly McDonnell, bore three children.
Dennis McSweeney
- captain of hook & ladder company 9
William Henry Musham
- Chicago fire marshal
Benjamin F. O'Connor
- Engine 3
Michael Roche
- lieutenant who helped William McMullen and Strong family on utility stairwell
William J. Smith (1873- 1963)
- Retired in 1936 as a fire inspector after 33 yrs of service including five citations for bravery.
John P. Stahl
- Engine 13. Joined department in 1895, made lieutenant in 1902. One of first fireman to reach the Iroquois
William H. Townsend
- second assistant fire marshal
John H. Touhey ( 1876-1955)
- Also worked Eastland disaster. Retired as fire marshall. Joined dept in 1901 as a driver on engine 5. Chief of Fire Prevention Bureau in 1928. Son William Touhey became a police officer.