The Jackson Street Armory became vacant in 1891 when the First Regiment Illinois National Guard relocated to its new Burnham-designed facility on South Michigan Ave. The owners tried various activities and events in the building, from weddings to flower shows and a theater, but by 1900 were ready for a longer term tenant.
Will J. Davis and Al Hayman negotiated a ninety-nine-year lease with a sliding annual rent that reached $15,000 by year three – and was to remain there until the lease ran out in 1998. A group of investors paid over a quarter-million dollars for construction. The lion's share was put up by the Klaw & Erlanger corporation with small shares to Will J. Davis and Harry Powers. Davis managed the facility with help from his secretary, Mary Ellen O'Hagan, who would eventually become his wife. Davis kept his office at the Illinois Theater after the Iroquois was in operation.

The Illinois premier came on October 15, 1900, with Julia Marlowe performing in Barbara Frietchie. Illinois/Iroquois theater manager will J. Davis would retain an oversized photo of Marlowe for the rest of his life. He was proud to have a performer of her stature at the Illinois premier. She and her second husband, E. H. Sothern, exchanged Christmas cards and best wishes telegrams with Davis.
On December 30, 1903
The Billionaire was playing at the Illinois Theatre the week of Dec 30, 1903. It was a musical farce by Harry B. Smith and Gus Kerker, starring Jerome Sykes, Harry Macdonough, John Kennedy, Walter Percival and Josie Intropodi. Sykes died of pneumonia the day before the Iroquois fire, Dec 29, 1903, and Iroquois/Illinois theater manager Will J. Davis was attending Sykes funeral when a messenger came to tell him the Iroquois Theater was on fire. Several people in the audience at the Iroquois were Billionaire cast members, including two who lost their lives there.

There were many common characteristics between the Illinois and the Iroquois theaters. Benjamin Marshall and Fuller Construction designed and built both. Labor disputes dogged both during construction. The decors in both were featured white marble and brass, the asbestos curtains featured painted scenes by St. John Lewis, draperies and color schemes were provided by the Marshall Field store. A few differences: the Illinois had more boxes than the Iroquois and the men's smoking room was finished to look like a rustic cabin, complete with chinked logs. An abrupt change of pace from the French Renaissance effects that dominated the rest of the theater. The Illinois accommodated twenty-six dressing rooms, two at stage level, the rest in the basement. The stage, smaller than that at McVickers, was 46' deep x 70' wide and 84' high.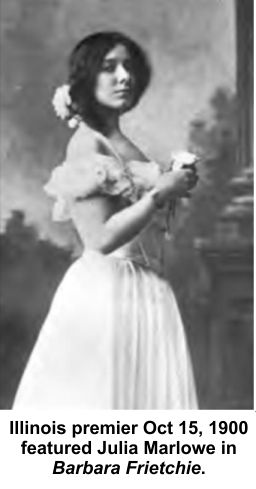 The Illinois Theater met the wrecking ball in 1936.