Over
400 stories about Iroquois Theater
audience victims:
Actors

and Mr. Bluebeard

Iroquois Theater
owners and
staff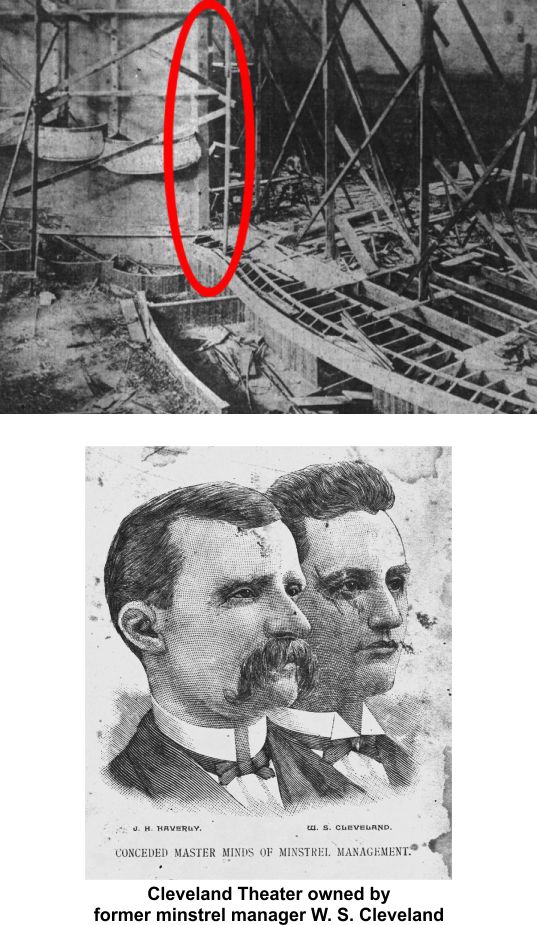 Construction of Chicago's Cleveland Theater at Wabash and Hubbard, a project of "minstrel man" Billy Cleveland, was interrupted two months before the Iroquois Theater fire. A mid-October investigation by the City Council into graft in Chicago's Building Department revealed that the Cleveland's proscenium wall failed to meet Chicago building code. The proscenium wall was required to be as thick as the outer walls of the building. The partition had been instead built using fireproofing materials provided by a former Chicago building department inspector, Timothy O'Shea. Mayor Harrison ordered alterations and vowed to made sure the ordinance was amended.

Construction was completed and while Mr. Bluebeard was playing at the Iroquois Theater, the Cleveland Theater was performing Winchester. John Barrymore made his debut in a small role at the Cleveland and in later years Will Rogers would make his debut performance there as well.

Beders lost daughters and grandchildren
Tuttle sisters and Pond children

George Schneider disambiguation