Samuel Thrall Cooper (1824-1892), father of Charles and Willis, followed his father into the Methodist ministry, serving for a time in Indianapolis as pastor for the Park Methodist Church. In 1878, retired from the ministry as well as a fruit basket manufacturing company, Samuel and his sons purchased six used sewing machines, hired operators and set up in a livery stable manufacturing stockings in St. Joseph, Michigan as S.T. Cooper & Sons.

Most mills then sold through jobbers. Samuel pioneered the practice of selling directly to retail merchants. The company prospered when it began producing high-quality wool socks for lumberjacks. Cooper's three sons, Willis, Henry S. (1858-1924) and Charles, were employed at the company as well, Willis in the office and Henry in the plant. Charles had graduated from De Pauw University (where Samuel had been a Trustee) in 1886. Willis attended but did not graduate from Valparaiso University.
West to Kenosha
In 1894, after Samuel Cooper's death, Willis sold the family interest to Abel Wells. Henry Cooper took a job for a time at Dow Chemical while Willis and Charles purchased a controlling interest in the Chicago-Rockford Hosiery in Kenosha. They remained involved in Michigan, however, spending time in St. Joseph, MI with relatives in the summer and for holiday reunions. As a founding member of the Epworth League, a Methodist Episcopal missionary program for youth, the family was instrumental in the development of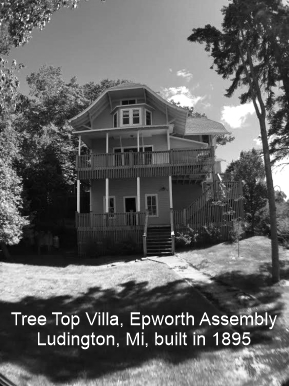 what is now called the Epworth Assembly, a seasonal resort in Ludington, MI. Their cottage there, built in 1895, was named Tree Top Villa. It remained a summer destination for the children and grandchildren of Willis and Charles into the 1950s. The family sold the Lake Michigan cottage, which remains intact and enjoyed by its current owners. See below.
In 1898 the company expanded into the men's underwear market, which proved successful enough that in 1900 the firm was incorporated as Coopers Underwear Company. Four years later came a new manufacturing facility for White Cat union suits at 60th & 23rd avenue in Kenosha that remains today as Jockey International's headquarters. Willis served as President and general manager while Charles was general superintendent. Business demands did not hamper Willis's sense of spiritual responsibilities. In '98, he ran for governor of Wisconsin on a Prohibitionist platform. He did poorly, coming in fourth in a seven-man race, but was so busy with Methodist Church activities that he may not have noticed.
By 1903 both Willis and Charles were respected for their wealth and generosity. Willis was instrumental in fundraising for Methodist Episcopal ministries, in 1897 writing a book on the subject, and Charles implemented a profit-sharing program for employees. Charles was a dedicated Mason and earlier in the year helped organize a Masonic Temple Association in Kenosha.
Willis and family relocate to Chicago
As of 1900, Willis and his family lived in the Sheridan Park neighborhood of Chicago, where he worked part-time for the corporation and part-time on behalf of the Methodist Church.

Charles remained in Kenosha, taking charge of operations, though Willis retained a title and handsome salary. Charles treated his employees with respect, and they turned out in large numbers to silently watch his funeral parade. Willis served as secretary for a new Methodist program called the Twentieth Century Revival Commission, for which he received no salary. By 1903 Willis headed a student study program for the church, spending three days a week on matters for Cooper Underwear. He retained his position as general manager at an annual salary of $10,000, inflation-adjusted to $300,000.
Willis and Charles were buried in the Green Ridge Cemetery in Kenosha.
In the years after the fire
Willis's wife survived him, along with one married daughter. They were Anna Goodenow Cooper of Goodenow, Illinois (1854-1928), and twenty-nine-year-old Maud Cooper Beachel (1874-1957). Maude's husband, Charles F. Beachel, became prominent in the Methodist Church and Epworth Heights in Ludington.
Charles' wife, the former Flora Yocum of Ohio, had died of pneumonia the previous year. He left behind two orphaned children, twelve-year-old Ralph Y. Cooper (1891-1958) and eight-year-old Carlotta (1895-1988). They were raised by their grandmother and an aunt. Ralph was chairman of the board at Jockey at the time of his death. Carlotta lived to ninety-three years of age and left behind a book of her life story for her two daughters and grandchildren.
The third brother, Henry Cooper, became head of Cooper Underwear after the deaths of his brothers.
The largest life insurance claim known to have been paid out for an Iroquois Theater victim was for Willis Cooper. Two months after the fire, the Philadelphia Casualty Company paid $10,000 to his estate, coincidentally the amount of his annual salary.
To-do about the will
Willis Cooper bequeathed approximately $80,000 each to the Methodist Episcopal Church Missionary Society and Lawrence University, an Appleton school associated with the Methodist church. In April 1904, newspapers reported that the church rejected the money because Cooper had died in a theater, and the Methodist Church was theologically opposed to theaters. The church disputed that claim, attributing its rejection instead to unspecified "hard terms" imposed by the inheritance. The church later explained that the will specified the entirety of the endowment be held untouched for the lives of Anna and Maude. They were to receive an annual allowance of 6% of the principal (in some newspapers estimated at $2,500), paid to them not from the principal but from interest earned. At the deaths of Anna and Maud, the church and university would gain full control of the endowment. The church's stance was that the money remaining after the Willis allowance was inadequate for the effort required to manage the fund (inflation-adjusted to $2.3 million). Anna Cooper exercised a Wisconsin law giving her the right to reject the allowance from the university and take the inheritance as a lump sum.