Brother and sister, Lester and Madeline Livingstone, and their aunt, Jean B. Livingstone, survived the fire, but Jean's sister, school teacher Daisy Livingstone, and two cousins, Adelle and Hazel Regensburg, did not.

Lester W. Livingstone (1892-1948) and Madeline Livingstone (b.1896) were the children of Indiana natives, Maxwell M. Livingstone (1862-1927) and Sarah Straus Livingstone (b.1869, ) of South Bend, Indiana, where they lived at 424 Michigan. A third child, Fredrick Livingstone (1898-1983) was only five and did not attend Mr. Bluebeard. Max Livingstone worked in the clothing industry in the early 1900s and later become an insurance agent in Chicago.
In memory of their lost family members, and in gratitude for the survival of others, Mr. and Mrs. Max Livingstone of South Bend, Indiana, established the Livingstone library at the Mishawaka Orphans Home.

Sixteen year old Adelle "Addie" Regensburg (b.1887) and her thirteen year old sister, Hazel Regensburg (b.1889), were the children of Samuel H. Regensburg (1860-1922) and Belle Straus Regensburg (1865-1949). Belle may have been at the Iroquois with her daughters and survived; a "B. Regensburg" was reported as a victim in some newspaper reports but the Chicago coroner's office did not issue a burial permit for a third Regensburg. Samuel and Belle were married in 1886. Samuel worked as a grocer.
Adele and Hazel's funeral was held on Friday, January 1, 1904, at 3440 Michigan Avenue. They were buried at the Rose Hill cemetery.
Belle Regensburg and Sarah Livingstone were sisters, the daughters of Frederick W. Straus and Madeline Goldsmith Straus.

Forty-two year old Jean "Jennie" Livingstone (b.1861) and her sister, Daisy Livingstone (b.1879) were the daughters of the late Thomas Bain Livingstone (b. 1840), a Chicago picture frame manufacturer who had emigrated from Scotland at age twenty and founded his business in 1892. Jennie worked as a bookkeeper and manager in her father's company, T. B. Livingstone Co., at 44-46 West Quincy in Chicago. The firm employed forty workers and offered retail refurbishing in addition to manufactured items.

Daisy taught at the Ray Elementary school. Her funeral was held on January 2, 1904, at her brothers home at 273 Oakwood Blvd. (Hope to learn more about Daisy later.) Another teacher from the May school lost her life at the Iroquois Theater, Florence O. White, and two students, Taylor Dryden and Bessie Boice.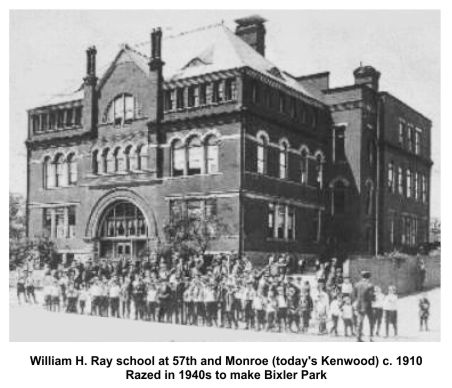 In 1914 the Ray school students and staff were moved a block away to the Ray school's present structure on South Kimbark Avenue (the former Hyde Park High School structure). Ray's original structure on 57th and Monroe was sold and in the 1940s torn down to make Bixler Park.

Jean and Daisy had three brothers, Dr. Archibald "Archie" T. Livingstone (b.1875), Thomas Livingstone Jr. (married to Mary) and John K. Livingstone (married to Flora), as well as a sister, Katherine Livingstone (b.1866), who was also a teacher. The Livingstone family lived at 358 40th St in 1900 and later moved to 1023 Chicago Ave. After her siblings married, Jennie operated the home as a small boarding house.