John Holland had married Mary Koenig Pelton (1842-1903) in 1889 following the death of his first wife, Cincinnati native, Evelyn H. Seever Holland (1838-1884) – his wife for twenty-five years and mother of his five children. Mary, died in September 1903, three months before the Iroquois fire. Before her marriage to Holland, Mary had divorced bricklayer Louis William Pelton (1842-1909).* Daughter Lillian, who died at the Iroquois with John, was named after Louis's sister, Lillian Pelton McFadden.
Among John's survivors were his children:
Charles A. Holland

, artist (see below)

John E. Holland (1861-

)

, Boston businessman

Iroquois survivor

Anna Bell Holland Whitcomb

, Chicago resident

(1867-)
Iroquois survivor

Ma

y

bel

le

Holland Sims (1871-1932)

, divorced† from Raphael William Sims, with one child, Evaline, named after her grandmother

Ruth Holland Merrill (1875-)

, Chicago resident
The Holland family home in Des Moines was at 1068 24th St. near the intersection with Cottage Grove. (During the Holland's 10-day 10-day visit in Chicago, D. H. Sleeper, a relative of Mary's, stayed there to keep an eye on things. Was possibly David Sleeper.)
John's Holland & New wallpaper and paint store in Des Moines was at 608-610 Locust St. The company claimed to be the largest such retailer west of Chicago. In addition to selling goods the company performed contract painting and decorating services. Product offerings including paint, wallpaper, picture framing, mirrors, sign painting and window glass. As a young man, John's first job in the decorating industry was as a fresco and sign painting artist. After the civil war, he had joined his father's business for a few years then relocated to Des Moines in 1878.
Funerals
A W. F. Wilson identified John's and Lillian's bodies, relationship unknown. Two diamond rings and diamond earrings were missing from Lillian's body. If recovered, newspapers did not report it.
A double funeral was held in Des Moines, Iowa the Monday after the fire. Services may have been held at the Methodist church where John and his late wife had been members. Burial was at the Woodland Cemetery in De Moines.
Lillian's marriage and divorce
From 1892-1901 Lillian was married to a St. Louis native, Leonidis "Lee" H. Cordry (1866-1944), vice president and manager of the Des Moines Dairy company for whom she worked as a clerk. City directories in 1897 reported that he and Lillian lived at the Iliad hotel in Des Moines. He later remarried.

They separated during the second half of 1900, Lee returning to Saint Louis and Lillian taking a clerking job. By 1901 they were divorced and Lee had remarried. Lillian continued to go by Cordry but retook her maiden name in city directories and Pelton was used in her estate settlement papers. The Cordry name was given to newspapers in the first few days after the fire, probably by relatives searching for her body, so she appeared twice in some of the early lists, as both Lillian Cordry and Lillian Pelton.
Lillian and her mother had spent the summer of 1902 in Colorado, then Lillian spent the winter in St. Louis. By 1903 she lived with her mother and stepfather on 24th St. in Des Moines.
Lillian's estate
At her death, Lillian's assets were estimated at $248 for a share and a third of the stock in her stepfather's paint dealership, valued at $223, and a single share in Nissly's restaurant in Des Moines worth $25. (Joe Nissly's restaurant was in the midst of union disputes around the time Lillian's estate was settled. He probably repurchased the share from the estate, as Holland family members purchased Lillian's share in John's decorating business.) $19.60 was deducted from Lillian's estate to pay her outstanding account at Younker Bros. for her last purchase there – a $5 hat, dress fabric and sewing notions. Also deducted was an undertaking fee of $225.50 for Charles O'Donnell (owner of Western Granite) and Henry Gray. See undertaking accompanying picture of the invoice submitted to estate. The administrator of Lillian's estate, attorney E. D. Samson attempted but failed to find her father and her estate was closed in early 1905. Her only known surviving relatives were two cousins, thirty-two-year-old F. P. White of Chicago, residing at 615 Monadnock Bldg in Chicago and forty-three-year-old C. H. White, living at 180 Claremont Ave in Jersey City, NJ.
Lillian's father, Louis Pelton, appeared in Des Moines soon after the closing of her estate. He and his family had been living in Wisconsin. He later moved to Chicago. Pelton brought with him $1,000 in cash he thought was part of Lillian's estate that was determined not to have belonged to Lillian.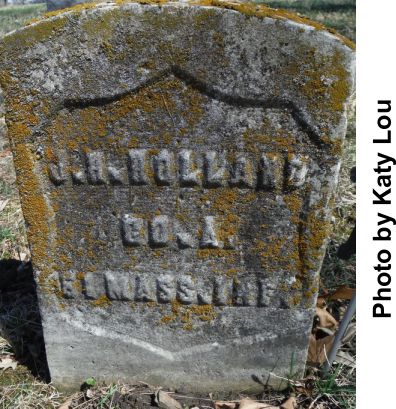 Discrepancies and addendum
In 1880 Lillian lived with her father and aunt Lillian McFadden's family in Chicago. Louis described himself then as widowed. If so, he married another woman after the end of his marriage to Mary and yet again around 1882.
* After he and Mary's divorce, Louis Pelton remarried a women who had several children from a prior marriage. They then had a couple children of their own so that at the time of her death, Lillian had nine step- and half-siblings. She may not have known them, however, as there is some evidence she and her father were not close. Louis learned of his daughter's death three months after the fact as a result of a small bequest from her estate. Her Des Moines, Iowa attorney contacted him.
† Maybelle (sometimes called Mabel) reported her marital status as widowed but some genealogy reports show her husband as remarrying and not dying until 1925. Maybelle was society-minded, reporting her vacation plans to newspapers, and may have chosen to claim widowhood to avoid the stigma attached to divorce in 1900.