"Revive the whipping post. Give each holdup man caught a hundred lashes and do away with the light punishment now meted out. The housebreaker should be treated the same as a murderer, for, if surprised when he is seeking to rob, it's ten to one he will shoot and in as many instances murder will result."
William A. Pinkerton Dec, 1899

In the six-degrees-of-separation category
The Doerr family was not the only one to cross paths with Davis relative to the driving club, then again at the Iroquois Theater. There was a dispute between Chicago's horse race tracks that impacted the horse racing community behind the Driving club. The attorney representing one of the factions in the conflict was Robert E. Cantwell. On behalf of his clients, Cantwell caused the issuance of dozens of warrants a day for various violations including child labor laws (bookies hired young boys as runners). On December 30, 1903, Robert's mother, Ella Kavanaugh Cantwell, and aunt, Louise Kavanaugh O'Donnell, were among the Iroquois Theater fatalities.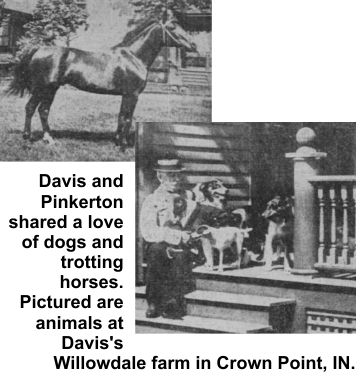 Between 1900 and 1904, Pinkerton ran four ads in Chicago newspaper classifieds, offering a reward of $20 for finding his dog. The breeds were a collie, Boston terrier, fox terrier and cocker spaniel. William and/or his wife also bred and showed field spaniels and Yorkshire terriers, in March 1890, winning third-place with Gypsy in a Chicago show.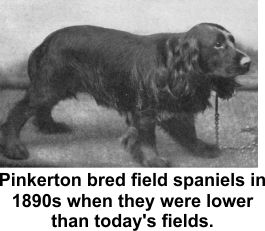 In 1914 when Davis retired from theater management, the occasion was marked by his attendance at Queen of the Movies at the Illinois Theater. William A. Pinkerton joined Davis in a box seat for the performance, along with Benjamin Marshall, the architect of the Illinois and Iroquois theaters.
Discrepancies and addendum
* In October 1889 Pinkerton bet $100 that telegrapher David Hyland could eat more lobsters than lawyer Dr. Benson. Attorney Alfred S. Trude (one of Davis's defense attorneys) put his money on Benson. I found nothing more about the contest. At death, Pinkerton left behind an estate estimated at $1.2 million ($18 million today)
† The Driving club purchased the property in July 1903 for $40,000 and remodeled and enlarged the structure to include a bowling alley, billiard rooms and a library. The goal was to attract 1,000 members, and they had 75% before incorporation. That winter, the club donated a trophy for a harness-horse ice-racing program at Washington Park to be held on Wednesday and Saturday afternoons. On March 19, 1906, a furnace fire destroyed the clubhouse for the second time in six months. In 1908 Edward Smith bought back the property out of foreclosure for $40,000. Scattered references to the Driving club and its namesakes reappeared once each in 1916, 1917, 1926 and 1934.