Clara Wood Mingins (1859-1917), a Pennsylvania native, was the last surviving child of six born to Elizabeth Wood and Scottish immigrant and Presbyterian minister, George J. Mingins (1828-1916). A prominent clergyman of his day, George founded the Union Tabernacle Presbyterian Church of New York and for fifty years served as a pastor in New York City.
Clara studied teaching under Mary L. Van Wagenen in New York, founder of Manhattan's first free kindergarten. In the mid-1880s Clara began training kindergarten teachers at the Camp School at the New Britain, CT Normal school and in 1894 spent two years in Newton, Massachusetts as a supervisor of kindergartens. By 1896 she'd relocated to Detroit where she served as superintendent of the kindergarten department at a teacher's college, the Washington Normal School. For a monthly salary of $180 she helped establish Detroit's first forty-two kindergartens with an enrollment of nearly 2,000 students and employing 99 teachers.

Eleanor "Nellie" Olive Periam (1861-1932), a recent divorcee, taught kindergarten at Chicago's Lincoln Park Congregational Church prior to her marriage in the late 1880s and returned to the profession when the marriage ended. In 1903 she taught at the Washington Normal School and became Clara Mingins' 2nd lieutenant in her battle with the Detroit school system, as well as her roommate and companion for the remainder of Clara's life. Nellie's only child, Purcell, had died in infancy in 1895 and her ex-husband had remarried six months prior. (He was a colorful character named Victor Hendrick who worked as a violin maker, artist and traveling salesman.) See below for additional information about Nellie's parents and siblings.
Earlier in 1903, amidst newspaper fanfare, Clara and Eleanor had jointly resigned from the Washington Normal School, citing inadequate funding and overcrowded classrooms. They soon assumed similar positions at a small Presbyterian liberal arts college in Alma Michigan.
Alma Academy and Alma College
From 1897 to 1913 Alma College also operated a college preparatory school for younger students, the Alma Academy. In 1903 one of those students was Eleanor's teenaged niece, Grace L. Dymond (1889-1974), who lived with Clara and Eleanor. Grace was the daughter of Eleanor's sister, Mary "Mamie" / Amy Periam Dymond (1856-1914) and Charles E. Dymond (1854-1918).* The Periams were a close knit family who looked after their own. In 1900, before relocating to Michigan, Eleanor lived with Mamie's family on Pratt Avenue, next door to Jonathan, Ida and Alice; at the end of her life, age 77 and the last surviving Periam sister, Alice lived with Grace.
Over the 1903 holidays, Clara and Eleanor were hosts to another young woman, as well: Clara's niece, a graduate in 1900 of the Trenton, NJ Normal School, Mildred Eliza Mingins (1880-1972) was visiting from New Jersey. Mildred was the daughter of Clara's late brother, Ernest, who had died in 1892, his wife, Susan Hill Mingins, following three year's later, each of them before their fortieth birthday.†
To Chicago for the holidays
On December 24, 1903, the foursome of four women (Clara, Eleanor, Mildred and Grace) traveled by rail from Michigan to Chicago for a four-week visit with relatives in Chicago. Living in Chicago then were Eleanor's three sisters – Mamie Periam Dymond (Grace's mother), Ida Periam (1858-) and Alice Periam (1863-1941) – and the family patriarch, the widowed Jonathan N. Periam (1823-1911).

An expert in animal husbandry, Jonathan Periam edited and published Prairie Farmer magazine and authored several books.‡
His wife, the former Mary Wadhams (1835-1897), had died in 1897.
Escape from Mr. Bluebeard
The afternoon of December 30, a party of seven gathered to attend a matinee of Mr. Bluebeard at Chicago's newest luxury theater, the Iroquois. The party members, with their ages:
Wife of Robert Smith Abbott (1858-1933) who was treasurer of a large Saginaw lumber and salt company. Probably a friend of Eleanor Periam who in mid 1903 lived in Saginaw, MI. The Abbotts lived in Detroit and Saginaw in this period. Both their offspring, a boy and a girl, had died in infancy two decades earlier. Margaret was the daughter of Jacob and Mary Ann Bell Hunt.
At the Iroquois, the group was not able to find seats all together so Clara and Eleanor sat in the second row from the stage on the north side of the ground floor, close enough to hear orchestra musicians turn pages on their sheet music. The other five members in the party sat approximately eight rows further back.
Clara and Eleanor survived by scrambling over seats and escaping out a north wall exit into Couch Place alley.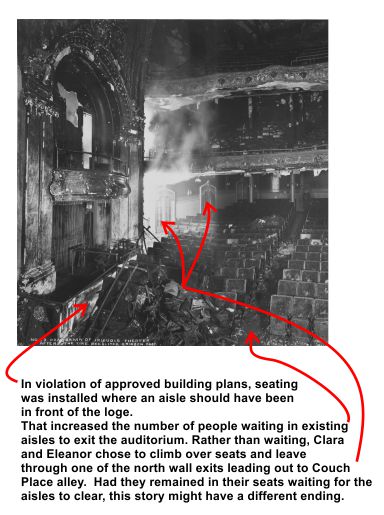 In the process, Eleanor fell twice and something dropped upon her from an upper fire escape, bruising her neck and back. (Probably not the full weight of a falling/jumping body or her injuries would have been more severe, but something weightier than a muff.) The backs of their dresses were badly charred but burns to their skin - Eleanor's shoulders and Clara's ears - were minor. Clara pulled Eleanor up off the ground and tugged her down the alley, probably west toward Dearborn St., where strangers herded the pair out of the cold and into a store.
Wrapped in borrowed blankets, Clara and Eleanor found all in their party except Mildred and eventually took a carriage back to the Periam home at 2017 Kenmore Ave (renumbered in 1908 to 4746 Kenmore Ave), probably fearing Mildred was hospitalized or dead.
She was there waiting for them. Though it was her first visit to Chicago and she was a small-town girl, Mildred knew her host's address and found her way there.§
In the years after the fire
Ten days after the Iroquois Theater fire Mildred Mingins announced her engagement to Paul Weyand (1874-1934), a Methodist-Episcopal minister. They married seven months later and would go on to have two sons, Paul jr. and James. James became a surgeon and served for five years during World War II, achieving the rank of major. Mildred became a school teacher after her children were grown. Her son Paul also became a teacher.
The name was sometimes missspelled Weyland. In some later records, Mildred's date of birth would be reported as 1881 but christening records show it as 1880.
On April 2, 1912 Clara and Eleanor returned to American shores following a European vacation. They had sailed out of South Hampton on the SS Prinz Friedrich Wilhelm (1908-1929). When the Titanic sank, they most certainly noted it too had sailed out of South Hampton, just one week after their own departure. The SS Prinz Friedrich Wilhelm was one of several ships in the vicinity of the Titanic when it went down.
Clara Mingins worked in Ypsilanti, MI for a time until physical limitations forced her retirement.
Eleanor Periam sometimes reported herself as the widow of Victor Hendricks – decades before his death and long after he'd remarried to another woman.
The Dymond family moved from Chicago to the Grand Rapids, Michigan area by 1910. In 1915, Grace Dymond married Charles W. Porter and in 1923 married William Shakespeare, a vocal coach who claimed to be a descendent of The Bard. Described as a "dramatic soprano," In the late 1920s Grace performed song medleys at local womens clubs, providing her own piano accompaniment, and in the 1940s gave music lessons in Chicago. Her aunt Alice Periam lived with her in the last years of her life.
Three of the Periam sisters –- Eleanor, Ida and Alice – became active in the Christian Science faith during the last years of their lives.
Margaret Abbott and her husband relocated to Green Bay, Wisconsin in 1908 when he became an accountant for Diamond Lumber Mill. They became active in the First Baptist church. She was an invalid for the last several years of her life.
Discrepancies and addendum
* The Dymonds had sold their livery stable on Ravenswood in Chicago the January prior to the fire and in July, 1903 purchased 90 feet of property on Kenmore Avenue for $55,000. It's possible they owned the flats they and the Periams occupied then on Kenmore.
† 1904 newspaper stories about the theater party's escape described Mildred as Clara's adopted daughter but when Mildred married seven months later it was reported that she had lived with the reverend James Mason family in Metuchen, NJ after her parents deaths. She was a teenager at the time, with several siblings.
‡ Concise Manual for Horse Owners, 1891 and Live Stock A Complete Compendium for the American Farmer and Stock Owner including Horses, Cattle, Swine, Sheep and Poultry, 1907.
§ Detroit newspapers persisted in referring to twenty-three year old Mildred as "little Mildred." One of several instances in which newspapers attempted to interject pathos when facts such as ages were missing.