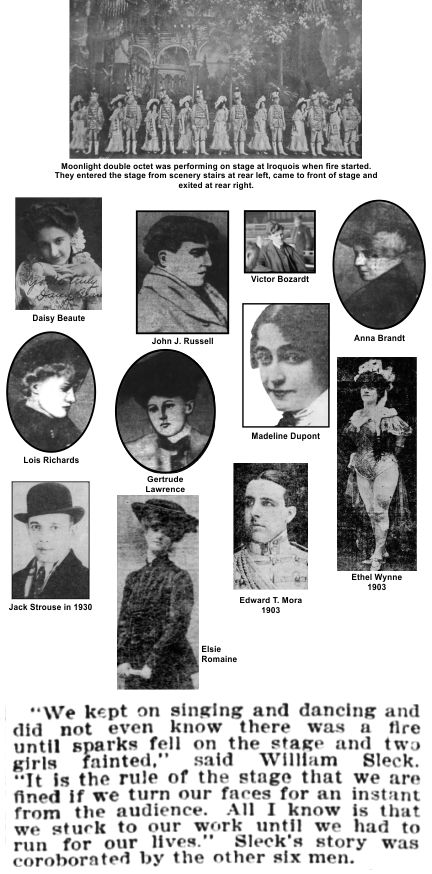 When Mr. Bluebeard played on Broadway, there were twelve dancers, six couples, in the Moonlight performance in Act II. On December 30, 1903, when a fire broke out on the stage at the Iroquois Theater in Chicago, there were sixteen dancers, eight couples. History refers to their act as the "Moonlight octet" or "Moonlight double octet."
The fire started seconds before the octet performers entered the stage. One of the female performers, Madeline Dupont, testified that she saw the flame while waiting in the wings for the cue. She also heard assistant stage manager William Plunket ring a bell to signal to the curtain man in the loft, John Dougherty, to lower the fire curtain. All but two lights were turned off on the stage to affect a moonlit nighttime scene, so the flame was instantly noticed by stage workers and performers. While performing one verse of Let Us Swear it by the Pale Moonlight (lyrics), the dancers tried not to look toward the fire. There was a fine for dancers who deviated from choreography. They had begun the second verse when bedlam cut loose as the fire spread to the loft above the stage, and flaming bits of fabric began to fall to the stage floor. Octet member Edith Williams fainted and her partner Jack Strouse caught her before she hit the floor. Eddie Foy appeared on stage to try to calm the audience. As burning shards fell into the orchestra pit and wood instruments caught fire, musicians began fleeing. One member of the octet years later spoke about the orchestra conductor raising his wand to give them a sign to escape. She was the only one to mention the gesture.
Most fled out the door at the back of the stage (door #1), but one dancer, John J. Russell, jumped into the auditorium and escaped out a fire-escape door. Left behind were their coats, street clothing and money. Headliner Herbert Cawthorne said his belongings were uninjured, but his dressing room was on the south side of the stage and not on the stage floor. Dressing rooms for chorus performers were in the basement below the stage. Though flames did not damage their clothing, fabric was smoke and water damaged. The day after the fire, steam pumpers spent hours at the Iroquois pumping water from the basement. Some in the company complained about police security at the Iroquois after the fire. "When we got a chance to go back after our clothes, we found that thieves had stripped our dressing rooms, and we were left with nothing to wear," said Grace Warren, a ballet dancer.
Hours after the fire, police arrested octet performers to prevent them from leaving Chicago before a legal investigation. Women were paroled on $1,000 bonds and men were jailed at the Central and Harrison street police stations. Those able to post bond returned to the Union Hotel on Randolph St. a few blocks from the theater where two police officers prevented them from leaving the city.
Klaw & Erlanger paid the company for a half week in wages, but all sixteen members of the octet had to remain in Chicago for a week, to testify in the coroner's inquest on January 6, 1904. Compassionate Chicagoans helped with fundraisers for the Mr. Bluebeard company. Some, like Mrs. Armour, donated large sums to ensure the performers had clothing, coats, transportation back to New York and money for food during their time in Chicago. Possibly shamed by Mrs. Armour's largess, Klaw & Erlanger eventually paid all or a portion of the transportation cost to return cast and crew to New York.
Nonsuits were filed for the octet members on January 11, 1904, immediately following their testimony at the coroner's trial, and they returned to New York, arriving on January 5, 1904. A crowd of relatives and friends met them at the train station.
Information about the Moonlight octet performers is listed below with links to additional information elsewhere on website. The use of stage names makes it difficult to find reliable information about these performers. Newly found information will be added.
Daisy Beaute (?-?)
See picture above. Additional information about Daisy Beaute.
Lived at 178 West 94th St. in New York City
Role in Mr. Bluebeard: Pretty wife Zara
Was arrested and testified at coroner's inquest
Real name unknown. Alternate name spellings sometimes appearing in newspapers: Beauty
Dance partner: unknown
Marital status unknown
---
Samuel P. Bell
(1870-1921)
See picture above. Additional information about Samuel Bell.
Role in Mr. Bluebeard: Hussar soldier in octet
Was arrested and testified at coroner's inquest
Dance partner: unknown
Marital status single
A barber before becoming an actor, Sam was thirty-three years old at the time of the fire. His family was from Beverly, Mass (reported as Beverly Mars in the Marshall disaster book). He married in 1906.
---
Victor Bozardt
(1885-1965)
Additional information about Victor Bozardt
Lived at 235 Bower St in Jersey City
Role in Mr. Bluebeard: Hussar soldier in octet
Was arrested and testified at coroner's inquest
Alternate name spellings sometimes appearing in newspapers: Bogart, Bozart
Dance partner: unknown
Marital status single
Eighteen years old and from Hudson, NY area. Continued to perform in the 1920s.
---
Anna Brandt
(?-?)
See picture above. Additional information about Anna Brandt
Role in Mr. Bluebeard: Pretty wife Zoli, octet
Was arrested and testified at coroner's inquest
Alternate name spellings sometimes appearing in newspapers: Brand, Bryant, Murial
Dance partner: unknown
Marital status unknown
Real name and birth/death dates unknown. She continued to perform until at least 1916, mostly in stock companies.
---
Madeline Dupont (1884-1959)

Lived at 145 Franklin Ave in New York City

See picture above.

Role in Mr. Bluebeard: Pretty wife Mizra, octet

Was arrested and testified at coroner's inquest

Alternate name spellings sometimes appearing in newspapers: Mary Dupont

Dance partner: unknown

Marital status single

At the coroner's inquest in January 1904, Madeline testified that she and Gertrude Lawrence (below) were the last girls in the octet to leave the stage.

Mr. Bluebeard was nineteen-year-old Madeline's first theater job. Her real name was Adeline J. Curtis, she was the daughter of Joseph (or Samuel) and Adeline Byers Curtis. In 1914, after appearing with George M. Cohan in Broadway Jones and in Humpty Dumpty, she married Herbert Terra Jones, a fellow theater performer. They performed in vaudeville until around 1916, had one child, and settled in Kingston near Wilkes-Barre, Pennsylvania, where he became a politician. See picture of Madeline above.

---
Frank J. Holland (1883-1950)
Role in Mr. Bluebeard: Ugly wife Passai & Hussar in octet
Was arrested and testified at coroner's inquest
Alternate name spellings sometimes appearing in newspapers: Chauncey Holland
Dance partner: unknown
Marital status single
Twenty-year-old Frank Holland would have been described by his mother as a "go-getter" and was described by a trade magazine as "wide awake." Before joining the Mr. Bluebeard cast in 1903, he was in a stock theater company in Buffalo, NY. After the Iroquois Theater fire, he settled in Brazil, Indiana. In 1918 he composed the fifth of a series of military songs, and the following year managed the Murray vaudeville house in Richmond, Indiana. He continued managing theaters for the rest of his life, including the Orpheum in Terre Haute, IN and the Victory in Fort Wayne, IN. Along the way, he appeared in over a dozen films, managed a circus and performed in a vaudeville quartet, the Singing Four. He traveled with minstrel shows, performed for troops during WWI, lived in Evansville, IN for a time and wrote the theme song for Don McNeill's Breakfast Club radio program. Frank attended several annual Iroquois memorial gatherings. In 1915 his mother, Ida Holland, was interviewed by a Terre Haute, IN newspaper and shared her scrapbook of son Frank's adventures. In her recollection, her boy was the first to see the fire, then tied a bell on the moon and scaled Mt. Everest.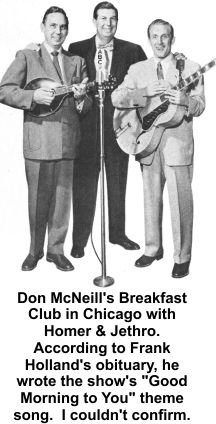 According to that 1915 report, she had in been swept down the street by the crowd in 1903. She was carried into a drugstore after fainting and Frank found her there. Not much question where Frank got his flair for drama. In 1927 the Richmond newspaper published an interview with him in which he claimed to have tried to help pull down the fire curtain at the Iroquois. (Several stage workers briefly gathered on the stage below the snarled curtain and Frank may have joined them; if so, there was no testimony in 1903/4 about his doing so.) His recollection of a tearful reunion with his mother after he escaped from the fire differed from hers. In his story she had been shopping in a nearby jewelry store and upon learning of the fire became hysterical – just as Frank, who had been running down the street in his Hussar costume, carrying his sword, was unexplainably drawn to enter the very same jewelry store. His obituary reported that he completed his book, "Trials and Smiles of Show Business," shortly before his death, but I've not found evidence it was published. He was buried in the Highland Lawn Cemetery in Terre Haute, IN. A wife named Mae survived him.
---
Gertrude Lawrence (? - ?)
Real name unknown

Lived at 5 West 125th in New York City

Role in Mr. Bluebeard: octet

Was arrested and testified at coroner's inquest

Dance partner: unknown

Marital status unknown

At the coroner's inquest in January 1904, Gertrude testified that she was the leader of the octet. In the years after the Iroquois Theater fire, Gertrude Lawrence appeared in Gingerbread Man with the Rice and Weaver Company in 1907-8, in Babes in Toyland in 1909 and for the next four years partnered with Eddie Redway (1870-1919), a skilled comic. They performed their vaudeville skits, "Texas and Rhode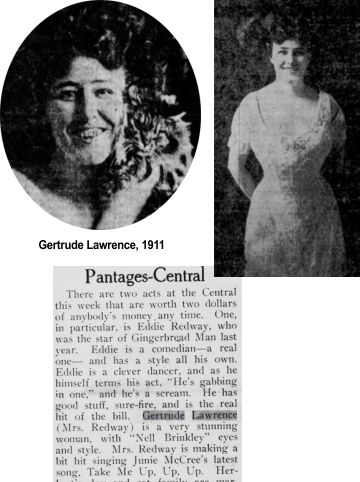 Island" and "Moon Flowers" in dozens of theaters around the country. Reportedly their comedy routine was enhanced by the eight-inch difference in their height. One 1909 theater trade magazine referred to Gertrude and Redway as married, but I failed to find verification, and she was not listed as a survivor at his death in 1919. His first marriage, to Katherine Pearl Smith, ended in 1908, so perhaps Gertrude was "the other woman." From Reading, PA, Redway's real name was Edward Percival Saylor. Newspapers described Gertrude as a statuesque beauty and mentioned her wardrobe more often than her singing skills. Around 1911 she began raising purebred cats as a hobby, specializing in Blue Persians. The last news blurb about the duo's performing was in May 1913. I've yet to find publicity about their breakup, but it's probably out there. Redway continued to perform and became involved in film production until his tuberculosis. Gertrude appeared in a vaudeville company that performed in Utah and Iowa in 1914 and as a chorus girl in touring companies in 1918. By 1919 the only theater news mentioning Gertrude Lawrence referenced a new starlet in London who, in 1924, would come to America and earn far more fame than Gertrude of Mr. Bluebeard.

---
Edward T. Mora (1876-1919)

Role in Mr. Bluebeard: Ugly wife Bacnum and Hussar in octet

Was arrested and testified at coroner's inquest

Real name: Erastus T. Morahan. Alternate name spellings sometimes appearing in newspapers: E. Z. Mora, Era Morahan

Dance partner: unknown

Marital status single

Mr. Bluebeard may have been twenty-seven-year-old Edward's first professional role; prior to 1903 he performed as an amateur in Buffalo and Brooklyn theaters, using his initials, "E. T. Morahan" and "Era Morahan" He would continue performing in musical comedy for the next fourteen years, in traveling companies such as the Baker Theater Stock Company. I found him in just four productions: Girls Will be Girls (together with his soon-to-be wife, Lois - see below), The Beauty Shop, A Romance of Coon Hollow, and Prince of Pilsen in which he spent a decade playing the role of prince Carl Otto, mostly in small markets. He tenor/baritone voice was often singled out by local newspaper theater critics. The most newspaper attention came not from his theatrical performance but as a result of a suspicious London hotel maid. In 1914 while spending the summer in Europe at the outbreak of World War I, Edward broke his eyeglasses while in Berlin. He sent a a telegram to his optometrist back in the states requesting his prescription so he could pass it along to an optometrist in Berlin to have his lenses replaced. The American optometrist sent the prescription by telegram. Weeks later in London, that telegram was spotted in his belongings by a hotel maid who reported it to authorities. He was arrested and jailed as a suspected German spy. The circumstances were soon cleared up and he was released and returned to America. The theater company for Prince of Pilsen the following season saw a promotional opportunity and the story appeared in newspapers where the company performed. A Brooklyn native, he was the son of Adele Morahan and the late Bernard Morahan of New York. A story published just after the Iroquois Theater fire described the Morahan family concealing news of the fire from his widowed mother until a telegram was received from her son assuring them that though his clothing was destroyed, he had escaped and was safe. In 1905, two years after the Iroquois fire, Edward married fellow octet member, Lois Richards (see below).
---
Lois Richards
(1882-1956)
Role in Mr. Bluebeard: Pretty wife Amina, octet
Was arrested and testified at coroner's inquest
Alternate name spellings sometimes appearing in newspapers: Richardson
Dance partner: unknown
Marital status single
Twenty-one-year-old Cleveland, Ohio native Lois Edna Richards was the daughter of a Rosanna Bader and the late William T. Hefferan. Her real name was probably Hefferan. Two years after the Iroquois fire, in 1905, she married a fellow octet member, Erastus Morahan (see above). Following the fire, they'd joined the Girls Will be Girls company. Three years after his death, in 1922, she married John H. Leroy, but the marriage did not last. She returned to identifying herself as Lois Marahan. According to the 1920 U.S. Census, she was still working as an actress then but had shaved a decade from her age. The marriage to Morahan may not have lasted as in 1917 Lois was living in the Cleveland area, her home base throughout her life, without him. She continued to identify herself as his wife then widow for the rest of her life. See picture above. The home at 2085 Olive in Lakewood, OH, where she spent the last years of her life still stands. She owned the home, suggesting she was frugal with her vaudeville earnings. She described herself as a performer until at least 1925 but no longer after 1930. She may have adopted a daughter that year. The 1930 U. S. Census cites an Irish born infant daughter named Rosemary McComes, McCooms or Mccrone, but ten years later the child no longer lived with Lois.
---
Elsie Romaine
(1876- ?)
Role in Mr. Bluebeard: Pretty wife Beca, octet
Was arrested and testified at coroner's inquest
Real name: Elsie Romain Winstone McCormack. Alternate name spellings sometimes appearing in newspapers: Clare, Romayne and Florida Bellaires - see below
Dance partner: unknown
Marital status married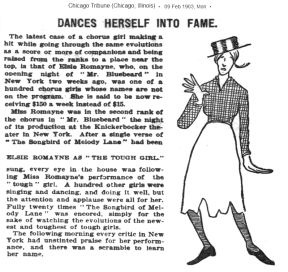 Elsie's performance on opening night of Mr. Bluebeard on Broadway won individual recognition in the January 22, 1903 New York Times review. "The evening was not without an individual success - an individual success of the first order. After day had dawned in The Castle Terrace and Garden" (being somewhat incongruously ushered in by a chorus of piano lamps) on rushed a chorus of Bowery girls singing "The Songbird of Melody Lane," with much flat-palmed gesture and open-faced mugging of the familiar type. A titter began in the audience that broke out into scattered guffaws and continued laughter, as recall followed recall. It was all occasioned by a slim, angular Lize in a pink-striped shirt and gray skirt, with wide vertical bars on a battered straw hat. Her name was not on the program and she was quite unknown to the audience, but in three minutes she had the house at her feet. Toward the end of the act her gestures became consciously exaggerated, so quickly are born the airs of the popular favorite. Will her success be repeated nightly during the run, or was it due to the quicker perceptions of a first-night audience? Will her fortune be made or will she be spoiled?" Interviewed about her sudden celebrity, Elsie was humble. She said that her inspiration came from a recollection of dancers once seen at Walhalla Hall.*
Elsie's real name was Elsie Romain Winstone McCormack. She was the only surviving child of James F. Winstone and Louise Romain Winstone who had married in London in 1875 and emigrated to the U.S. in 1888. Though Elsie sometimes reported her birthplace as Seattle, it was more frequently and accurately reported as England or Wales. She was around twelve years old when she came with her parents to the United States.
Elsie was an eighth grader at the Ranier School in Seattle in 1892 and was licensed the following year to teach third grade. I did not find evidence of her receiving a teaching assignment. In 1896 at age twenty, she married Frank McCormack (1875-1941), an actor-producer-stage manager. Her name first appeared in theater notices in 1899 in the Bride Elect Company. Six months after the Iroquois Theater fire, she was performing at the Grand Theater in British Columbia. In 1908 came a Fiske company production, Salvation Nel at the Hackett Theater in New York City, and in 1911, she and Frank performed together in a road company revival of Raffles. Frank continued to act and produce throughout his life, but Elsie's career seemed to stall in 1911. In terms of recognition, Mr. Bluebeard on Broadway in early 1903 was her theatrical high point.
When Mr. Bluebeard performers arrived back in New York on January 5, 1904, a newspaper reported their arrival. "Florida Bellaire, the Elsie Romaine of the play, was met by Mrs. Franklin Cornell of 246 West 129th St." Bellaire and Romaine were mentioned separately in various newspaper reports and I did not find evidence to suggest it was one performer. Mrs. Cornell was Florida's mother.
---
John J. Russell
(? - ?)
Picture of John in montage at top of page.
From Boston, Massachusetts
Real name unknown
Role in Mr. Bluebeard: Hussar soldier in octet
Was arrested and testified at coroner's inquest
Dance partner: unknown
Marital status unknown
John's testimony was similar to that of other men in the octet. He noticed the fire soon after the octet began performing the Pale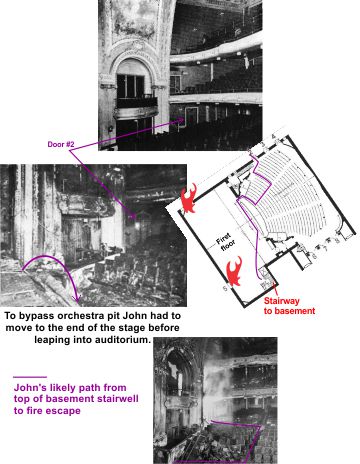 Moonlight skit, when the flame was tiny. He continued the performance until Edith Williams fainted. By that time, large pieces of burning fabric had begun falling from the flaming loft above the stage and the audience was showing signs of fearfulness. John said that he spoke to several in the audience to urge that they remain calm and seated. He said that several followed his direction. After Edith's partner (Jack Strouse - see below) picked her up and carried her off the stage, other octet members left the stage as well. John said he remained on the stage until he was the last of the octet present. (Too many performers and stage workers claimed to have been "the last one to leave" the stage, theater, orchestra pit, etc. Some were mistaken or embroidering.) He then left on the north side of the proscenium opening, crossed the stage, and headed down the stairs near the elevator into the basement. (The niche on the southern side of the stage - see floor plan at right.) He said he twice went down into the basement but did not say what he did while there. There were dressing rooms with children and costume workers in the basement. He may have tried to retrieve his possessions or looked after the safety of coworkers On his second trip up to the stage floor, flames prevented his exiting through either the north side stage door (door #1) or the door that led out to Dearborn Ave (door #5). He crossed the stage, jumped over the footlights into the auditorium, and escaped through the first fire escape exit (door #2). John was asked during his testimony at the coroner's inquest if he noticed whether the fire curtain was up or down as he escaped. "No, Sir, I was taking no chances, then."
A John Russell managed popular road company musical variety shows in the mid-1890s. He was married to a comedic performer, Amelia Glover, had two sons of the right age to have been the John Russell in the Mr. Bluebeard company but I failed to find evidence that the Iroquois performer was from the same family or even if "John Russell" was a real name or a stage name.
---
William Sleck
(1882? - )
Real name unknown. Alternate name spellings sometimes appearing in newspapers: Stack, Sleek, Sleke
Role in Mr. Bluebeard: Hussar soldier in octet
Was arrested and testified at coroner's inquest
Dance partner: unknown
Marital status unknown
William may have been the son of widowed carpenter, Charles Sleck, of Manhattan and the late Agnes Sleck.
At the coroner's inquest, he testified that there had been a small stage fire when the Mr. Bluebeard company was performing in Cleveland, Ohio. Large feathered scenery fans caught fire during the Triumph of the Fair skit in the second act. The Cleveland city electrician, however, had a different description of what caused the fire there. The only other theatrical involvement I found for William was in the fall of 1906. He was performing then as William the footman in The Rich Mr. Hoggenheimer, a Sam Bernard musical comedy produced by Charles Frohman at Wallack's Theater in New York City. I suspect the name Sleck was uncommon and often misspelled.
---
Jack S. Strouse Strauss (1886? - ?)

See picture at top.

Lived at 31 West 11th St in NYC

Real name unknown. Alternate name spellings sometimes appearing in newspapers: Strauss, Strousse

Role in Mr. Bluebeard: Hussar soldier in octet

Was arrested and testified at coroner's inquest

Dance partner: Edith Williams

Marital status single

Jack's partner in the octet was Edith Williams (below), the dancer who fainted while performing. In his testimony at the coroner's inquest in January, 1904 he said that Edith cried out that she was fainting but "braced up" and took a few more dance steps before becoming unconscious. He carried her to the stage exit (door #1) where they were blown out into Couch Alley by a gust of wind. Jack speculated the wind came when a screen hanging from the loft fell to the stage floor. He carried Edith to a restaurant where she regained consciousness. In 1957 a Jack Haskell, a retired choreographer, was interviewed about his experiences at the Iroquois. Haskell claimed to have been in the octet and performing when the fire started, catching Edith Williams when she fainted. He then rescued Bryan Foy by taking him to Thompson's Restaurant where they lay upon the floor until discovered. I found more to dispute than support Haskell's story but spent time trying to learn if Jack Haskell and Jack Strouse could have been the same man. Did he use the name Strouse for performing and the name Haskell for choreography work? Both individuals had very active careers. Based on advertisements for Strouse's acting schedule, it seems unlikely, but I didn't compare published reports of their appearances on a weekly basis to learn if both were frequently in the same city.

Jack Strouse achieved the greatest celebrity and longest-running acting career of the Iroquois octet performers. After the Iroquois fire he first turned to musical comedy then vaudeville and burlesque. A 1911 a Philadelphia newspaper described him as the "best-known character singer in the country." His singing acts often included impersonations and dialects; in the 1930s, he capitalized on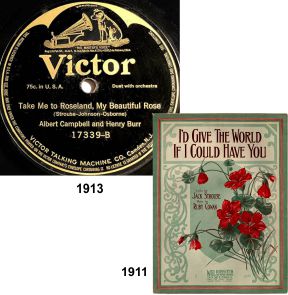 unfortunate racial stereotypes.
In addition to performing, he composed lyrics for sheet music and at least two records. Two of his early ones were You Can't Make No Fool of Me in 1906, and in 1911, I'd Give the World If I Could Have You. In 1913 he co-wrote the lyrics to Take Me to Roseland, My Beautiful Rose, with music by Nat Osbourne. In time for WWI came If You're a True American, You'll Fight for the U.S.A. with Edward Johnston and George Mack. In 1920 there was, There's Just a Little Bit of Dixie in your Eyes and the following year, on the Okeh label, O-Hi-O O-My! O! and They Called it the Dixie Blues.
In the 1920s he worked as a storyteller and comic in a Schubert vaudeville road company and he Music Box Revue. In the 1930s, he turned to burlesque in the Greenwich Village Follies as a blackface comedienne, sometimes billed as "The Al Jolson of Burlesk."
Jack married actress Grace Amelia Phillips, who went by Amelia Phillips†, in September 1909, and they performed for several years in an act known as "A Dark Night in Spain." Around 1922 she ran off with Aaron Unger, a wealthy candy, nuts and mushroom producer from Brooklyn. She and Jack continued to perform together for a time after they separated, but in 1927 she obtained a divorce to marry Unger. In 1930 Strouse brought a $100,000 suit against Unger for alienation of affection, but Unger died before it came to court. Amelia claimed to be Unger's unpaid nurse and denied allegations she was abusing the invalid, who had been declared by the courts to be mentally incompetent. She admitted he'd financed her trips to Europe and Bermuda and that'd he'd granted her power of attorney over his estate. Unger's widow contested his un-filed will that left a majority of his estate to Amelia and accused Amelia of having kept the dying man captive. The case made newspaper headlines throughout the summer of 1930. In the end, the widow got Unger's body and dropped the will fight, presumably because she and Amelia agreed to a split.
In 1932 Jack teamed up with Bert Goldberg in a newly formed company, Progressive Productions. His last advertised gig was in 1942 at the Flitch Cafe in Delaware.
---
Edith Williams (? - ?)

Real name unknown. Alternate name spellings sometimes appearing in newspapers: Edyth

Role in Mr. Bluebeard: Pretty wife Nadie, octet

Was arrested but fainted in at hearing before could testify.

Dance partner: Jack Strouse

Marital status unknown
"Falling backward to the floor from the witness stand in a dead faint just as the oath was being administered to her, Edith Williams, a member of the double octet in Mr. Bluebeard, startled the jurors and the 200 spectators present at the coroner's inquest into the Iroquois theater horror yesterday afternoon and almost caused a panic.
Wrought to a high pitch of excitement by dramatic stories of the fire tragedy told by preceding witnesses, this incident came as a sensational climax for those in attendance at the hearing.
"Deputy Coroner Buckley was closing the solemn oath with the words, "So help you God," when Miss Williams uplifted right hand dropped to her side and she swayed backward. Had she not struck the shoulder of a stenographer, breaking the force of the fall, it might have been most serious. The swoon came so suddenly that no one could reach the young woman and she fell full length to the floor, her head narrowly missing contact with one of the heavy mahogany desks of the council chamber.
"The spectators jumped to their feet and started to rush forward. In the gallery there was almost a stampede. Deputy Coroner Buckley spring up and shouted to the audience to be seated, ordering the police to eject all who remained standing. He waved back several actresses who tried to reach the side of their companion. While bystanders worked over the unconscious woman a physician was summoned from the health department. Miss Williams revived after being carried to the anteroom. She was the member of the octet in the moonlight scene who fainted on the stage when she saw the fire at the fatal matinee performance."

The Inter Ocean newspaper, January 9, 1904
It would be interesting if the Edith Williams of Mr. Bluebeard was Edith Barrett Williams, daughter of noted Shakespearean actor of the 1800s. The problem with that theory is that Edith Barrett Williams would have been thirty-three in 1903, making her the oldest woman in the octet. Plus, she had six children, so seems an unlikely candidate for swooning. Edith Barrett Williams did eventually do some stage work but used Edith Barrett as her stage name.
There were at least three other actresses named Edith Williams working in 1903, none in New York where the Mr. Bluebeard Edith Williams reportedly lived. One was born in 1888 so would have been only fifteen in 1903, making her several years younger than the other girls in the octet. One of the right age lived in Philadelphia and another in Chicago, but I can't find anything to tie any of the three to Mr. Bluebeard. She doesn't seem to have spoken of her experience in the years following the fire. Maybe afraid of fainting.
---
Edward J Wines (? - ?)

Real name unknown. Alternate name spellings sometimes appearing in newspapers: Edyth, Wyans

Role in Mr. Bluebeard: Hussar soldier in octet.

Was arrested and testified at coroner's inquest

Dance partner: Unknown

Marital status unknown

At the coroner's inquest Edward mentioned a stage fire that destroyed a large feather stage prop. He recalled that it was when the company was playing at the Century Theater in St. Louis November 1 to November 15, 1903, but it happened during the prior engagement, in Cleveland, Ohio, on October 24. His error is understandable given his recent history as a locomotive fireman on the Big Four rail system. He passed in and out of both cities frequently.

According to brief stories in several Indiana newspapers in early December 1903, Edward collected his last railroad paycheck on October 12, then vanished. His employer and wife wondered what became of him, considered foul play but suspected he'd "returned" to the theater. If Edward had a prior theater career or hobby, he used a stage name because I found nothing for an Edward Wines before 1903. He was described as tall and slender with a dark complexion.

In 1905-6 Edward appeared in the role of John Silver in The Pearl and the Pumpkin, another "musical extravaganza" produced by Klaw & Erlanger. The name Edward Wines then disappeared from theater notices. A couple Edward Wines turned up in Indiana in subsequent years but I was not able to verify that either was the same man.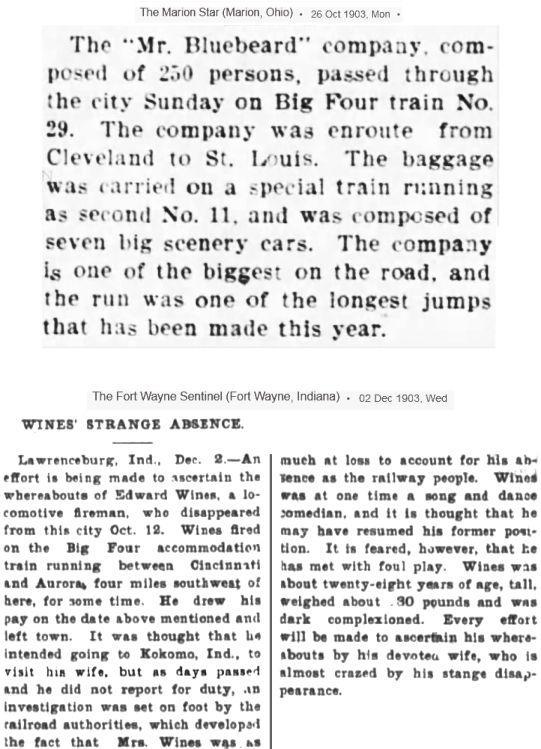 ---
Ethel Wynne (? - ?)

A resident of NYC

Real name unknown. Alternate name spellings sometimes appearing in newspapers: Ethal, Wyans

Role in Mr. Bluebeard: Pretty wife Zaidee, octet

Was arrested and testified at coroner's inquest

Dance partner: Unknown

Marital status unknown

Ethel appeared in the skit performed just before the Pale Moonlight number with the double octet, presumably in her role as Bluebeard's wife, Zaidee. After exiting from that scene, she had to make a minor costume change before joining the octet. In so doing, she noticed the fire when it was very small. She heard stagehands calling for lowering the curtain and watched William McMullen clapping above his head with his hands, unable to reach the flame. The 1930 U.S. Census includes an actress named Ethel Wynne in Manhattan. Her date of birth is given as 1896, making her much too young to have appeared in Mr. Bluebeard, but I've found other performers shaving as much as a decade from their age so it could be the right woman.

Before Mr. Bluebeard, Ethel had performed in the Katzenjammer Kids Company. After the fire she appeared in 1905 in the role of Anne Boleyn in a comic opera produced by Charles Frohman, A Madcap Princess and in 1907 with the Heisman Stock Company in Augusta, Georgia.

While in Pittsburgh, Ethel hosted an automobile party and took her friends to visit Highland and Schenley Parks.

See picture at top.

Another actress, of light opera, Ethel Wynne Matthison, is not the same woman.

Below see Ethel's interview with the Pittsburgh Press newspaper a few months before the Mr. Bluebeard Company reached Chicago, providing a pay range for chorus girls in 1903 roadshows. A second clipping demonstrates that road company performers had to be self-sufficient.
Music for the song performed by the double octet, By the Pale Moonlight, was composed by Benjamin M. Jerome (1881-1938) and the lyrics written by Matthew C. Woodward (c.1859- ?).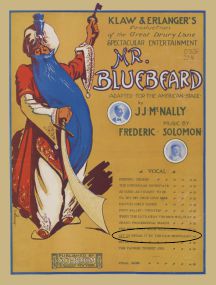 Other Jerome songs included Lamb, Lamb, Lamb, Melancholy Mose, Blooming Lize, Take Me Back to Chicago, I wonder Why Bill Bailey Don't Come Home and the Gumshoe Man. Musical comedy shows included He Came from Milwaukee, The Royal Chef, The Merry Whirl, The Yankee Regent, The Girl at the Gate, The Isle of Spice, Mr. Hamlet of Broadway and Louisiana Lou. He was married to a woman named Florence and the pair had one son.
Matt Woodward was a native of England, having emigrated to America in 1883. He married Carolyn Merrelies in 1896. He was the son of Matthew Woodward Sr and Rosamond Barrow. According to his 1923 passport, he had grey eyes and hair, a dark complexion and was 5' 9" tall. I did not find evidence of he and Carolyn having children. Matthew went to England in 1923 and that is the last of his activities I could find.
Other productions including Woodward lyrics including Ziegfeld Follies, Mother Goose, Step and Garter, Hip!Hip! Hooray!, The Gay White Way, George W. Lederer's Mid-Summer Night Fancies, Nearly a Hero, The Soul Kiss, The Kiss Waltz, Alone at Last, The Girl from Brazil, The Star Gazer and Over the Top.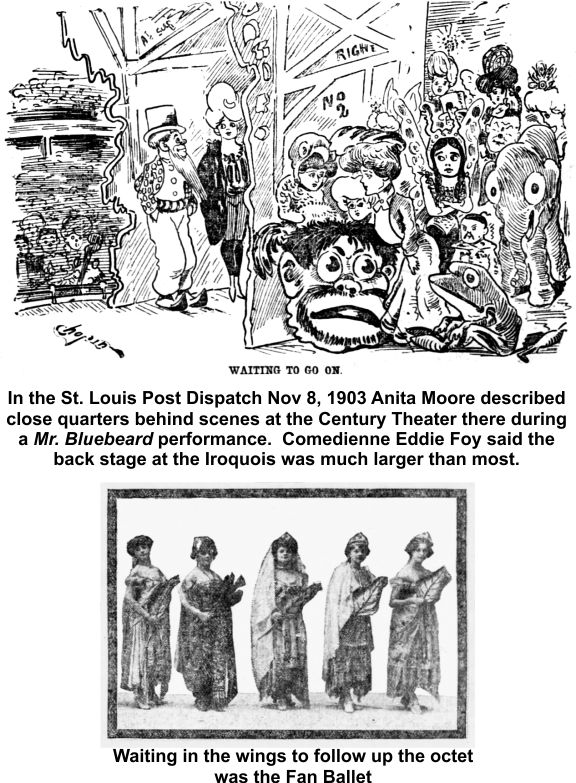 ---
Discrepancies and addendum
* Walhalla Hall, also known as "Walla Walla," was a large beer hall built in 1868 in Manhattan's tenth ward at 48-52 Orchard Street on the lower east side. It was one of several popular gathering sites for theater performances, weddings, concerts, balls, union and political gatherings. The 2002 DiCaprio film Gangs of New York, suggested the scene. Once populated by immigrants, more affluent residents had moved away from the neighborhood, leaving behind pickpockets, thieves, brothels and gambling houses. It was considered a "tough" neighborhood. By the time Elsie visited the hall, it had been renamed "New Prospect Hall." The cheeky, saucy and provocative persona Elsie Romayne brought to the Mr. Bluebeard chorus was not commonly exhibited on Broadway at the close of the Victorian era.
† Amelia was the daughter of Jennie/Jane Wilkisson Newman Phillips Moore and Albert Newman. Phillips was the name of a stepfather.
Story 2935