In the "Odd coincidences" department, this family's story involves a woman named Byrd and one nicknamed Birdie.
On December 30, 1903, a Chicago mother, twenty-nine-year-old Birdie Dryden, hosted an afternoon theater party for her twelve-year-old son, Taylor, and a teenaged visitor from St. Louis, Robert Caldwell. A few hours later, Birdie's husband, John Dryden, identified the body of his wife and son, while an uncle traveled to Chicago from St. Louis to identify Robert Caldwell's body. The Caldwell boy was identified by a custom engraving on a watch that had been a Christmas gift.
Susan Girrard Taylor Dryden (b. 1869), nicknamed Birdie, was one of four children born to Judge William Roley Taylor (1823-1903) and Susan Garrard Peers Taylor (1834-1925).
In 1890 Birdie married John Dryden Jr. (1865-1932) and a year later gave birth to their only child, Taylor Dryden (b.1891). The Dryden family moved to Chicago from Farmington, MO in 1902 or 1903. In Chicago, twelve-year-old Taylor Dryden attended the Ray elementary school on 57th and Monroe (today's Kenwood) in Hyde Park. (See sidebar.)
At the time of Birdie and John's marriage, John (also known as Jack) was in business with Birdie's father, Judge William Taylor. The judge had previously owned a 1,250-acre mine known as the Taylor Mine that he sold to the Doe Run Lead Company. He then purchased 1,295 acres in Flat River near Farmington, MO area, and hired John Dryden to drill a 200-ft shaft. Following the discovery of ore, they formed the Flat River Lead Mining Company, capitalized with $350,000 ($9 million adjusted for inflation). Though Taylor was the majority shareholder, Dryden had a small piece and was an officer in the new company, as well as the general manager. They hired one hundred men, built processing facilities, housing, and two company towns, Leadville and Taylor Place. In 1898, when water in the mine became a costly problem, Judge Taylor sold the property to St. Louis Smelting and Refining (sometimes called "the National"). SLS&R sank a new, deeper shaft. Sometime after that, John Dryden and his family moved to Chicago where he worked as a salesman for Hibbard, Spencer, Bartlett & Co. hardware.
~~~~~~~~~~~~~~~~~~
Four years after losing his wife, child and business partner, John Dryden married eighteen-year-old Marjorie Pitts. The pair had a daughter and he spent his final years in New York City, NY.

Fifteen-year-old Robert Porter Caldwell (b. 1888) lived at 4368 Morgan St. in St. Louis. The son of widow Lucy Byrd Teasdale Caldwell (1859-1927) and the late Thomas Wilkens Caldwell. He had one sibling, an older sister named Anna Lou Caldwell (1885-1974).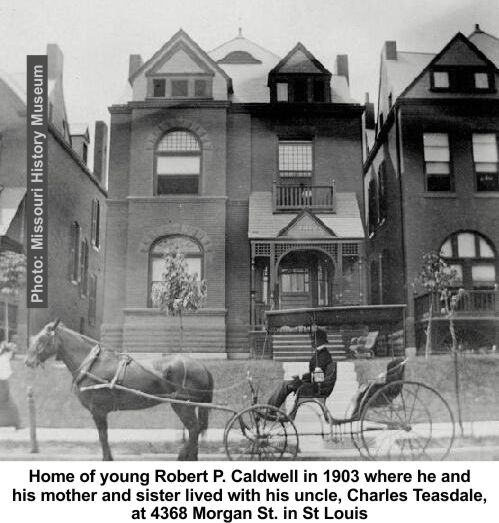 Robert, Lucy and Anna lived with Lucy's prosperous brother, Charles H. Teasdale (1853-1908). (Charles was a second-generation participant in his father's grain trading company, J. H. Teasdale Commission, and an investor in a variety of other produce and mining companies. A month before the fire, Charles acquired another one hundred feet on Morgan St. in St. Louis, adjacent to his house, from his brother, John Edward Teasdale.) Also living in the large home was Lucy's sister and her husband, Louisa and William B. Harrison. William was the uncle who traveled to Chicago to identify Robert's body.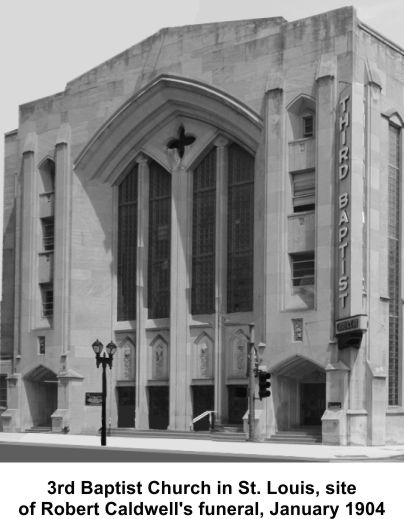 Rev. Dr. W. J. Williamson of the Third Baptist Church in St. Louis conducted Robert Caldwell's funeral services. Burial followed at the Bellefontaine Cemetery. Robert Cotton, Clayton Teasdale, Elmer Neville, Dwight Hurlburt, Harry VanCleave, William Goodloe, Ralph Wind and Archie Summerville were pallbearers.
Other than mutual St. Louis origins, and Charles Teasdale's involvement, like John Dryden, in Missouri zinc and lead mining, the connection between the Taylor-Dryden-Caldwell-Teasdale families is not known. Perhaps a St. Louis historian or genealogist will find this page and be able to offer a suggestion.
Robert's older sister Anna Caldwell later married William B. Moody and spent much of her life in Denver, CO.