Elizabeth
One of the most troubling Iroquois stories.

In the 2003 book Tinderbox, author Anthony Hatch relates a story told to him in 1961 by a retired Chicago fireman who was among first responders at the Iroquois. Eighty-nine-year-old Michael J. Corrigan (1872-1966) described receiving a surprise while working to remove the dead from the theater.
As painting contractors had done earlier, Chicago firemen made a bridge of a ladder stretched from the dental department at Northwestern University to door #37 at the Iroquois. That door led from the back of the third-floor balcony to the eastern-most fire escape. A majority of the audience in the third-floor gallery had converged in the standing room area behind the seats. There were masses of victims on the south side at the doors leading to the lobby (door nos 38 & 39) and on the north side at the doors leading to the fire escapes (door nos 35-37). When the fireball hurled from the stage into the auditorium, most died instantly. Feet and legs held partly upright, rooted in the densely packed crowd, upper bodies fallen sideways haphazardly. Several first responders described the arrangement of bodies as looking like Timothy grass.

Interior stairwells and balcony doorways were piled high with victims, impeding fire fighter's access. To put out the last of the fire and search for survivors, firemen had to clear a path through the bodies. Some were dropped to the ground sixty feet below. Over a hundred were carried across the ladder to Northwestern.
As the firemen worked amidst hundreds of dead, a semi-clad girl, blackened with burns and soot, rose specter-like from between the rows of seats. According to Corrigan, she ran toward the fire escape exit and across the ladder into Northwestern, firemen chasing after her with a blanket.

I have little doubt that girl was thirteen-year-old* Elizabeth "Bessie" Ricketts Clingen (b.1890). While she may have run toward the open door, and whatever dim light and cold air streamed through it, she did not run across a narrow plank. Bessie was sightless, her eyes destroyed by the fire. Elizabeth's eventual obituary, on February 11, 1904, contained discrepancies depending upon the newspaper – one reporting she was found beneath a pile of bodies and another beneath the seats. All reports agreed she was carried across a plank to Northwestern by firemen. Walking across a twenty-foot plank sixty feet off the ground would take great courage. Doing it while carrying a body is the stuff of heroes.
Elizabeth's later obituary reported she attended the theater with two companions, with no mention of their identities or if they survived. I kept delving and learned that one of the companions was Elizabeth's younger sister, twelve-year-old Margaret Edith "Effy" Ricketts Clingen (1891-1918). I suspect the third party member was the girls' mother, for whom Elizabeth was named, Elizabeth Caroline Bowen Clingen, and that she escaped from the theater with the younger child, Margaret.

Then came Grandma Lizzie
At the time of the 1900 census, and until 1901, Elizabeth and and her sister lived with their grandparents in Decatur, IL, 180 miles southwest of Chicago. The grandparents were William L. Newman (1838-1914) and Pennsylvania native, Kate "Lizzie" E. Shank Bowman Newman (1850-1940). By 1903 the sisters lived in Chicago with their mother and stepfather and used their stepfather's name, Clingen, instead of their birth name, Ricketts. It was a common practice of the time for children to assume a stepfather's name, without evidence of a legal adoption procedure. When a man married, his wife and her children became his property.
William Clingen's failure to immediately cable the Newman grandparents with the sorry news of their granddaughter's hospitalization is understandable. The girls were in two different hospitals and he did not locate Elizabeth until the day after the fire. It is not known when Margaret was released from the hospital. If their mother was also at the theater, nothing is known of her condition.
William had an additional reason to do some foot-dragging in contacting his mother in law. He had agreed with a decision of his wife, a devout Christian Scientist, that was sure to incur Lizzie's wrath. They'd removed Elizabeth from the hospital and turned her care over to a faith healer. They believed God would do what was best for Elizabeth. As it happened, Lizzie Newman had also been communing with God and asserted the book she was writing on the subject of Satan's involvement in Christian Science and faith healing was at His direction. Elizabeth became caught in her family's contradictory interpretations of God's will.
Lizzie accepted the inevitability of her granddaughter's death but condemned her daughter for preventing Elizabeth from taking medication that could relieve her pain.
More details about Elizabeth's rescue
Elizabeth and her companions were seated or standing in the third-floor balcony. As the audience fought to reach safety, Elizabeth fell to the floor.
Surrounded by seats and/or, depending upon the obituary, layered beneath other people, she was somewhat protected from the fireball. Enough to survive while many others perished at the scene, but not enough to prevent mortal injuries.
Elizabeth was transported to the Passavant Hospital where she was probably given opioids during the most painful first hours, before her mother could interfere. Reportedly Elizabeth's stepfather, William C. Clingen, heard about the fire and reaching the front doors of the Iroquois Theater about the same time that Elizabeth was being rescued.

Elizabeth tried to conceal her pain from her mother
Passavant physicians did what they could for Elizabeth but advised the parents that their daughter would not survive. One obituary said Elizabeth insisted upon going home the second day. Since newspaper reports also noted she accommodated her mother's belief in faith healing, her interest in leaving the hospital may have been motivated by a wish to please her mother. To physicians, she privately confessed that the pain was awful. Her burns probably varied from second to third degree, the worst injuries at the extremities. Since she was not expected to live, treatment would have been limited to pain management. The least injured areas were probably the most painful.
Skin on ears and toes sloughed away
Elizabeth was initially taken to her home at 291 Ashland Blvd. For the next forty days the teenager received no medication. Her burns were treated with olive oil† and she was told her pain did not exist, that she would recover if she put her faith in God.
Elizabeth's suffering hidden from protesting neighbors and authorities
Pressure came from neighborhood nurses and the health department to re-hospitalize the girl. They may have been alerted by Elizabeth's screams, as were the neighbors of another Iroquois victim, who received pain killers, whose screams could be heard in neighboring homes. Elizabeth's parents transferred her to a so-called hospital that was a former laying-in home for pregnant women, operated without physicians, by a Christian Science midwife without training in burns.
Like moving her from the Passavant Hospital, the decision to be moved away from her home, was attributed to Elizabeth. (Read more about her care below.)
Elizabeth's parents
Stepfather William C. Clingen (1862-) was from Detroit. Mother, also named Elizabeth, (by the end of her life her full name being Elizabeth Caroline Bowen Ricketts Clingen and nicknamed Bessie and Effie (1872-1959), was from Iowa. They had married in 1899 in Milwaukee, WI. William was Bessie's second husband. In 1894 she divorced her first husband, Elizabeth and Margaret's father, butcher Harry J. Ricketts (1869-1913), for adultery and extreme cruelty.
In the years after the fire
By 1908 William and Bessie lived in Lake Bluff, Illinois, where he invented and patented a fireless cooker. They eventually divorced. In 1920 William remarried divorcee Lina Plumer Wamboldt. Bessie left the Christian Science faith and became a Moravian.
Grandmother Lizzie and William Newman lived in Joplin, Missouri at the end of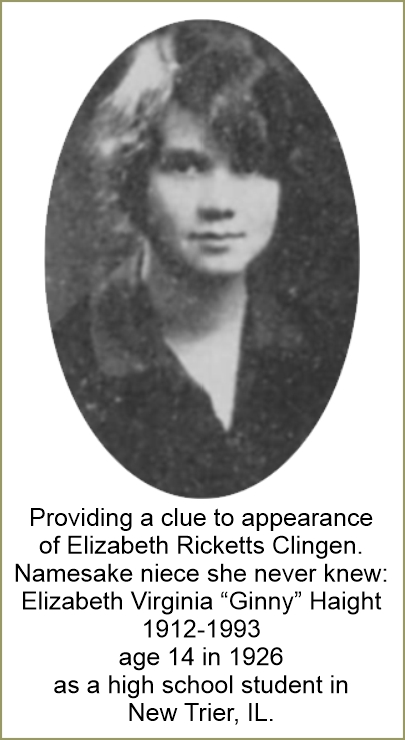 their lives. I found nothing to indicate whether there was a reconciliation between Lizzy and her daughter or whether Margaret Ricketts Clingen joined the Christian Science faith as an adult.
Elizabeth's younger sister, Margaret Edith Ricketts Clingen, attended Parsons college, married Abram Van Voorhis Haight II. They had two children and lived in Evanston, Illinois when she died in 1918 at age twenty-seven. She named her daughter after her mother and late sister: Elizabeth Virginia Haight (1912-1993). Nicknamed Ginny, she participated in basketball and volleyball, in the orchestra and school newspaper, and in the drama club, acting in four plays one year. The accompanying picture might be the only clue as to the appearance of her aunt Elizabeth Rickets Clingen.