Philadelphia-born Emily Josephine Pettit Henning (b. 1862), the wife of James Henning, died on February 8, 1904, forty days after the Iroquois Theater fire. She suffered both burn and inhalation injuries.
Her four sons who died at the Iroquois:
Five-year-old Charles "Charlie" C. Henning (b. 1898)

Eight-year-old James Henning Jr. (b.1895)

Twelve-year-old Edwin L. Henning (b.1891)

Thirteen-year-old William C. Henning (b.1890) who would have turned fourteen in three days
Emily Henning was not told of her son's deaths initially. One newspaper reported that her death was hastened by the knowledge of the loss of her sons, however, so she was told of their deaths before she died. She was laid to rest with her four boys lost at the Iroquois, in the family plot with an older son, Albert, lost in 1899 at age eleven. Husband and father James joined them in 1928.
Mrs. Pettit
Days after the fire, newspapers reported that Emily's injuries were not serious, and that she would survive. In Leavenworth, KS, on January 8, 1904, however, her mother was interviewed by a newspaper and had a much different report on her daughter's condition.
Some statements in the interview are so inaccurate that I suspect they were fabricated by the newspaper reporter so am only relating what has a possibility of being true.
Mrs. Pettit traveled from Kansas to Chicago to visit Emily in the hospital and described what she heard or read during her visit. Emily was bandaged and had most probably been given morphine but recognized her mother's voice and was able to speak.
According to Mrs. Pettit's newspaper interview, Emily was found inside the auditorium by firemen, clutching the hand of her youngest son, Charlie. The fireman thought both were dead and carried them to Thompson's Diner next to the theater, where Emily regained consciousness. She spoke to a priest, asking him to call her husband at Anson Hall.
Emily was badly burned with her hair gone and burns covering her upper body. Physicians thought a deep burn on one arm might prove fatal.
Of James' search for the bodies of his sons, Mrs. Pettit reported that he and his brother, Edwin Henning (1852-1918),* found Charlie's body at Thompson's Diner. William's body was found at a morgue and identified by the chain and clasp from his mother's chatelaine bag, as well as $25. Edward was also found at a morgue but his face was gone. A Sunday School paper in his pocket identified his body.
The search for Jimmy's body as reported elsewhere, based on interviews with James
While James Sr. tended to Emily in the hospital, and made arrangements for the burial of his other three sons, he desperately tried to find Jimmy's body.
He got a list from the coroner's office of other Iroquois victims Jimmy's age. He sent letters to their families, asking if there was any chance they had made a mistake in identifying their boy's bodies.
The mix-up
One of the letter recipients was the attorney for the Palmer family. The entire Palmer family of four had died at the Iroquois – mother, father and two sons. A group of friends and relatives looked for their bodies and identified a boy they thought was Howard Palmer.

Some newspapers reported the body had already been buried and had to be disinterred for examination. Other newspapers said the Palmer family bodies were awaiting shipment to Philadelphia for burial. Given January temperatures, interment was likely. Jimmy's body was stored in a crypt until the ground thawed.
The boy thought to be the Howard Palmer was examined by the child's dentist and declared to be Jimmy Henning. The Palmers attorney hired a detective, involved their family dentist who agreed it was not Howard. The correct Howard Palmer was found at a morgue on January 16, 1904. A piece to that story, probably related to body condition, was not reported and is not known. All but four bodies had been identified over a week earlier, according to newspapers. No mention then of an unidentified boy's body.
By January 28, 1904, James Henning had the bodies of all four of his sons and could concentrate on Emily.
In Kansas, Mrs. Pettit gave another interview, this one about the discovery of her grandson's body. Mrs. Pettit, however, said it was five-year-old Charlie who was missing. Chicago papers, who had the opportunity to speak directly with James, reported multiple times that it was Jimmy's body that was missing.
Mrs. Pettit said her son-in-law had helped authorities identify several bodies. Perhaps James had a hand in straightening out the mix-up with the Corbin and Greenwald boys.
According to Mrs. Pettit, James Henning's late father, David Henning, had bequeathed an allowance and college fund for each of the four boys. David Henning was a prosperous barrel maker, apple grower (nicknamed "Apple King") and owned four municipal gas utility plants in Michigan, Missouri and Kansas.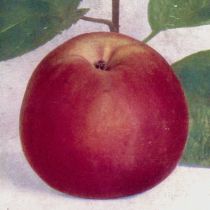 It was said that he'd introduced the idea of shipping fruits in barrels rather than in boxes. One year his cooperage made too many barrels, so he offered apple-filled barrels as a promotion to sell the excess barrels. It was so successful that he was soon in the apple growing business. One of James' nephews, David Henning Frazer, took over his grandfather's business interests.
Life for James Henning after the Iroquois Theater fire
After the fire, James Henning abandoned his business interests and retired. After a period of withdrawal, he finally sent a letter to his brother, Edwin, saying that he was traveling and okay, trying to cope with his grief. For the next three years, Edward received occasional letters from James, sent from around the world.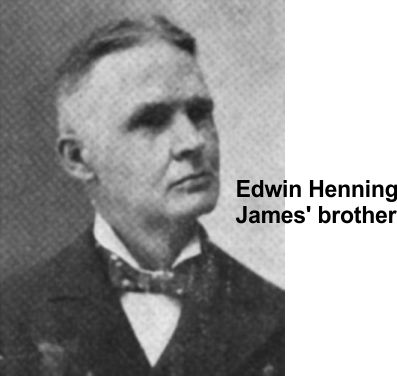 In March 1907, James was aboard the steamship Cedric on route from London to New York when he became loud and emotional about the deaths of his family, and resisted leaving a public area. The ship officials put him in a straitjacket for the remainder of the voyage. On landing in New York, James was taken to Bellevue hospital, and his brother, Edward, was summoned from Chicago. James was transferred to a private sanitarium, Sanford Hall, in Flushing, NY.