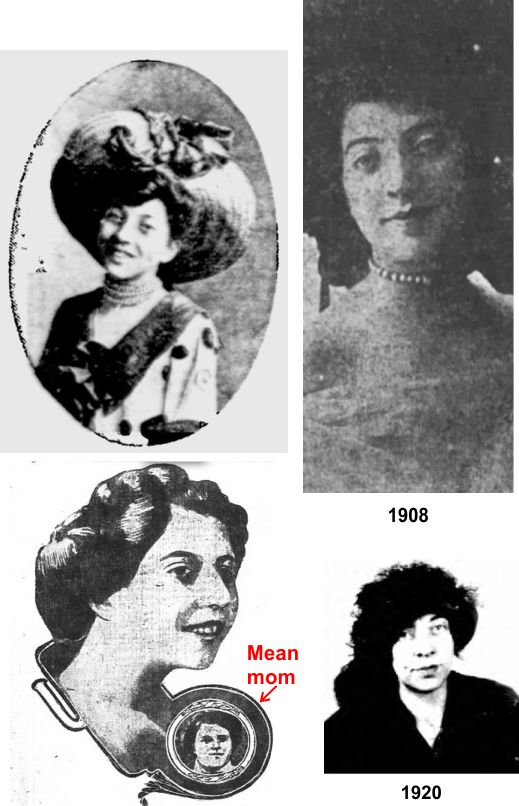 Sixteen-year-old Ethel Lytle was in the chorus of Mr. Bluebeard. Information about her is skimpy and disappears after 1921. Possibly Lytle was a stage name.
Ethel's mother worked in costumes and traveled with the theater company. When the cast was on route from Chicago back to New York and between trains in Pittsburgh, a newspaper reporter interviewed Ethel. She said she was on the fifth floor of the dressing rooms when the fire broke out, her mother on the stage floor. Her mother went up to the fifth floor to alert her and Edith fled with other dancers, all of them barefoot and clad in ballet costumes.
At age nine Ethel Lytle (1888-) sold enough newspaper subscriptions to win a bicycle. The Lytle's lived in Allegheny, Pennsylvania, later moving to New York City to advance Ethel's stage career.

At age thirteen she became a chorus girl.

At age fifteen she performed at the Pan-American Exposition in the "Trip to the Moon" exhibit.
At age sixteen she danced in Mr. Bluebeard and survived the Iroquois Theater fire, along with her mother. The Pittsburgh newspaper reported that Ethel was one of the aerial dancers but that conflicts with other information. Elsewhere the aerialist dancers were said to be from Europe. Ethel's name was not a member of the Pony Ballet dancers so she might have been in the chorus and training to become an aerialist. Her mother, Mrs. L. J. Lytle (maiden name Moore), traveled with the company and helped with Pony Ballet costumes.

At age twenty her mother prevented Ethel from marrying Frank Perley, an accountant for a theater producer, by her mother, who did not want her to marry someone in the theater industry.

At age twenty-five she performed in her fifth, and perhaps last, Broadway play.

At age twenty-six she performed at Churchill's Cabaret in New York City.

At age twenty-nine she performed as a vaudeville comedienne with Gus Shy's Passing Parade Musical Comedy Company.
At age thirty-three she became engaged to Frank Perley, manager of East is West.
There were two men named Frank Perley in the entertainment industry.
Frank L. Perley (using a middle initial, "L") was a well known producer and theater manager. He was a London native who began his career in the circus industry, later switching to acting and talent management, including Alice Nielsen, and theater management, including the Knickerbocker in NYC. His brother, Herman Perlet, directed musical comedies.


Frank Perley (without the middle initial L.) Ethel Lytle's fiancé, entered the industry as a performer and moved into management of traveling theater companies.

Margaret Buehrmann and Annie Jones and Warner Saville

Illinois state senator Albert Clark helped triage Iroquois Theater victims

Eger, Bloom and Reiss families lost 5 to Iroquois