Eugene Field (1850-1895) was a Missouri poet and journalist who came to Chicago in 1883. Reportedly his Chicago Daily News column, "Sharps and Flats," was the first newspaper column in the country; his poems are forever part of American literature. Generally considered to be about children, for enjoyment by adults, some Field poems have nonetheless delighted children for generations, including this writer. Among these: The Duel between the gingham dog and the calico cat, Daniel and the Devil, Wynken, Blynken and Nod, Jest 'Fore Christmas, and The Sugar-Plum Tree.
Eugene Field was a lifelong enthusiast of people who worked in and around the theater. He was a personal friend of Iroquois Theater manager, Will J. Davis, and his wife, celebrity contralto, Jessie Bartlett Davis. In one long poem, Field described Will J. Davis' vest. He inscribed one poem, Hushaby, to Jessie, and wrote another, The Singer Mother, to celebrate the birth of their second child, Willie. (Field had a boy of his own named Willie.) He also named a terrier after Jessie – that was bred by the Davis' at the farm in Crown Point, Indiana.
Field was good friends with English Shakespearean actor, Sir Henry Irving. In December 1901 Will Davis hosted a private dinner at the Illinois Theater to fete Irving and Ellen Terry, who were touring in the U.S. with Bram Stoker, Dracula author. The dinner was attended by a couple of dozen of Chicago's literati (including Theodore Dreiser, George Ade, Meredith Nicholson, Marjorie Benton Cooke, the McCutcheon brothers and Booth Tarkington). Eugene Field had been gone six years then, but his name might have come up with affection at the gathering of authors, playwrights and journalists.
In addition to naming a school after Field, Chicago, in 1922, erected a sculptural memorial in Lincoln Park (right). The sculpture by Edward McCartan, known as Dream Lady, was funded with $25,000 raised by school children.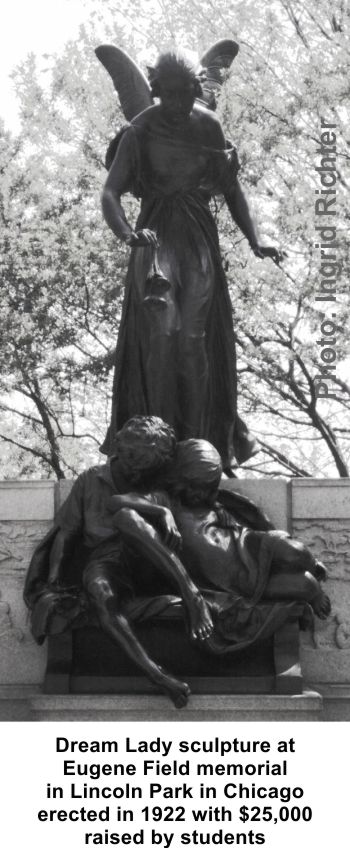 Two Iroquois Theater victims were students at the Eugene Field elementary school on N. Ashland: Rene Mary Taylor and John Vinton Clayton. The Field school was built in 1890 to service students kindergarten through grade eight and in 1903 served over nine hundred students.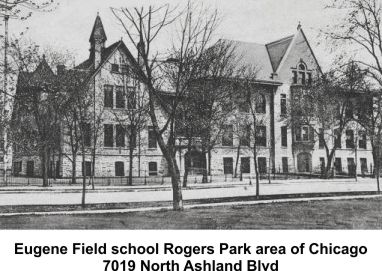 One of Eugene Field's best-remembered poems was a sad piece about a boy that died, Little Boy Blue. Field had five children of his own. If he'd still lived, I wonder if his friendship with Will J. Davis would have survived the Iroquois Theater fire at which so many children died.