On December 30, 1903 Herman Fellman hosted a theater party for his family, perhaps to celebrate his daughter's thirteenth birthday. The party:

Herman (or Hermann) Fellman (or Fellmann) (b.1866) – audience fatality

Sidonie (or Sedonie or Sidonia) Anger Ruhlman (or Ruhleman
or Ruehlman) Fellman (1869-1923) – survivor

Gertrude Fellman (1890-1964) – survivor

Bertha <maiden name> Fellman <possible 2nd marriage name> – audience fatality

Clara <maiden name> Anger Ruhlman (or Ruhleman or Ruehlman) – audience fatality

Herman Fellman was a carpenter. In 1888 at age twenty-one he married Sidonie, a fellow German immigrant. Herman had arrived in America in 1872 and Sidonie in 1884. They had two children – a son that died in infancy and a daughter, Gertrude Fellman (1890-1964).

Sixty-three-year-old Clara <maiden name> Anger Ruhleman had traveled from her home in Detroit to visit her daughter Sidonie for the holidays. Her body was found at Rolston's mortuary and identified by her son, Arthur Anger, who came from Lansing, Michigan.

After the fire

Sidonie testified about their experiences at the Iroquois Theater before the grand jury February 15, 1904. Two years later in Detroit, she married Alois Hastreiter and two years after that married Otto Herman Jarrendt. in Chicago.

Daughter Gertrude grew up, married Fred Michael Stucker and they had a daughter named Doris. Gertrude's family lived with her mother and stepfather in Chicago in 1920 and by 1930 had relocated to California.

Not likely

Several online sites repeat what I believe must be an error: that Herman Fellman changed his name from Sidonic Fellman to Herman Fellman. Inaccurate data entry or a character recognition error seems more probable than that a man named Sidonic married a woman named Sidonie.

Many questions remain about Herman's family.

Bertha who?


The coroner only issued a burial permit for Herman. None was issued for a female Fellman. Either his mother remarried and went by a different last name or she did not die at the Iroquois. A Bertha Herger from Hammond, Indiana (near Chicago) was among the victims and I have failed to learn anything about her. Was Iroquois Theater victim Bertha Herger actually Bertha <unknown maiden name> Fellman Herger? Did Bertha survive the fire but the newspapers were not informed accordingly? (Unlikely as that sounds, a woman in another family survived while her sister died. She was so emotionally conflicted by her survival that she never issued a correction to newspapers. The truth was mentioned by relatives after her death decades later.)

Sidonie living elsewhere?
Though the 1900 census shows Herman, Sidonie and Gertrude living together, Chicago city directories in 1901 and 1902 show Herman living alone at the address cited by in the Marshall Everette book as his residence -- 3113 Vernon. Was Sidonie accidentally omitted from the city directories?

Where was Clara Ruhlman living and what was her maiden name?
Newspapers reported her as living in Detroit but the Everette book said she lived in Chicago. I could not find her in either city in the 1900 census, or in 1900-1903 city directories. Clara's son, who identified her body, was named Arthur Anger. It appears Clara married a man named Ruhleman after her marriage to the father of Arthur, and possibly Sidonia as well. Clara's maiden name is not known, nor is it known if, at the time of her death, she was married or widowed.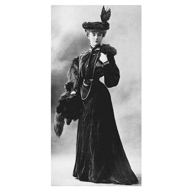 Skirt lengths contributed to
death toll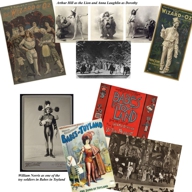 Fairy tales on Broadway 1903 style
Northwestern med students accused of body snatching