Over six hundred members of the Iroquois Theater audience would lose their lives that afternoon but like most who were seated on the first floor, all in the Phillipson party escaped, losing nothing but their coats. Lillian, the youngest, became separated from the family and until found was thought to be a victim.
According to one newspaper Lillian made it to the Union Hotel (probably referring to the Grand Union Hotel in the former Music Hall building on Randolph street) then somehow found her family. Other stories connected the Phillipson family to the more distant Continental Hotel. There were many discrepancies in reports about the family's Iroquois experience but the appearance of Lillian's name on missing lists suggests her name was given to authorities as a missing audience member.
Many errors
Some newspapers reported only three daughters were in the party, some reported Francis's name as Florence, some had Flora at the Continental hotel sobbing for her children as others looked for them in area stores, some reported three of the girls separated from their mother and others that only Lillian was separated from the family. A few newspapers outside Chicago reported that an eight year old in the party, named Adole, sometimes Adele, was trampled to death and taken to a drug store where her mother found her, became hysterical but was prevented by bystanders from touching the child and was persuaded to leave the drugstore, the truth of her daughter's death kept from her for two hours. Flora might have gone to a drugstore looking for Lillian but it is improbable that the mother could have been persuaded to leave the side of child without knowing if she were dead or alive. It is more likely Flora determined the dead child was not Lillian and later learned Lillian was safe. Perhaps Flora and three of her girls went to a hotel, probably the Grand Union, at which were a number of "stringer" journalists who picked up a few dollars for stories based on eavesdropped snippets of Flora's conversation with others in the hotel lobby.
Flora
I've failed to learn much anything about Flora's childhood and would like to know more. She was the daughter of immigrants, Joseph and Theresa Marks, and had at least two siblings, Isaac and David. A story about Joseph stated she was from Philadelphia but in the 1900 U.S. Census it was reported that she was born in New York. (It must be noted, however, that the same census report has Joseph emigrating in 1875 but his naturalization filing reported 1867, which is also the date reported by his father in the 1900 U.S. Census, thus the more likely date. Flora might have had a fuzzy recollection of when Joseph emigrated and Joseph might have been mistaken about the state of Flora's birth but neither would have been responsible for both errors, suggesting that the oldest daughter, Francis, then sixteen, may have supplied the information to the census enumerator.)
Team Flora and Joseph
Married in 1882 to Joseph Phillipson (1861-1906), Flora's family in 1903 lived in a large nine-room apartment at 4325-27 Grand Blvd in the Humboldt Park neighborhood in northwest Chicago. Joseph continued doing business on the near west side, however, where employees who spoke Polish were preferred and his customers were as familiar to him as his own family. The series of Phillipson dry goods stores from 1882 to 1906 were located in this Maxwell street area, called "the ghetto," where his parents, Phillip and Rachel Phillipson, settled after immigrating from Poland c.1867. It was there that Joseph and his brother, Samuel Phillipson (1866-1936), had worked as teenagers, learning the dry goods peddling business from the ground up by helping their father peddle merchandise door to door, carrying packs on their backs. And it was there that Flora, yet a bride, helped Joseph work the peddling wagon and in 1882 urged him to set up his first store, a 14 x 20 structure at 491 S. Jefferson St. that sold notions at retail and wholesaled to other peddlers. Reportedly Joseph credited Flora as critical to his success. In the early years and again during the 1893 depression she served as saleswoman, janitor, bookkeeper and secretary.
The first new construction on a Phillipson store was in 1897 at the southwest corner of Jefferson and Dussold, a $35,000 four-story building designed by Cowles & Ohrenstein. It attached to an existing building, producing an 85'x125' store.
Three years prior to the Iroquois fire Joseph had leased a building on Chicago's Jefferson and O'Brien streets. It had been the city's only Yiddish playhouse and the manager of the theater was angry but Joseph prevailed and annexed the structure to their six-story dry goods store facing Jefferson. The store was described as the first big department store in the "ghetto."†
Both Flora's husbands kept such low profiles in the media that learning about them is difficult - and for a man with as many employees and business associates as Joseph Phillipson, such aversion to publicity is unusual. So much so that I went looking for an explanation and may have found a clue in a description of Flora's second husband. About Samuel Zwetow it was said that he abided by the Talmud and avoided aggrandizement. Perhaps Flora was drawn to that characteristic in Sam as she had been to it in Joe thirty-eight years earlier.
Aggrandizement do thou avoid!
A name made great's a name destroyed.
Aboth I.13 (1894 Isadore Myers translation of the Talmud)
In the years after the fire

A year after the Iroquois fire Joseph took out a ten-year loan to build a new $150,000 store on the northeast corner of Halsted and Twelfth. It was described as a sign that merchants were ready to bring big State street type department stores to distant neighborhoods. He lived to see it in operation for only a few months. In a brief obituary notice it was stated that a fuller obituary would follow but I've failed to find it. He was in Hot Springs at the time, presumably in Arkansas, perhaps trying to treat at ailment.
Three years and three days after the Iroquois Theater fire Flora purchased a box seat at the Coliseum Theater to attend a benefit for the Jewish Old People's Home on Albany and Ogden avenues. She'd been active in Jewish society from the early days of her marriage, serving as vice president of the Hebrew Ladies Aid Society in 1890, but the Jewish Old People's home was special. Joseph had been one of the organizations founders, and an officer. He'd been gone for ten months and Flora, ever the helpmate, was helping him still, donating $5,000 to the home.
Joe Phillipson an exceptional human
An estimated 20,000 people had joined the February, 1906 funeral entourage for Joseph Phillipson. They were the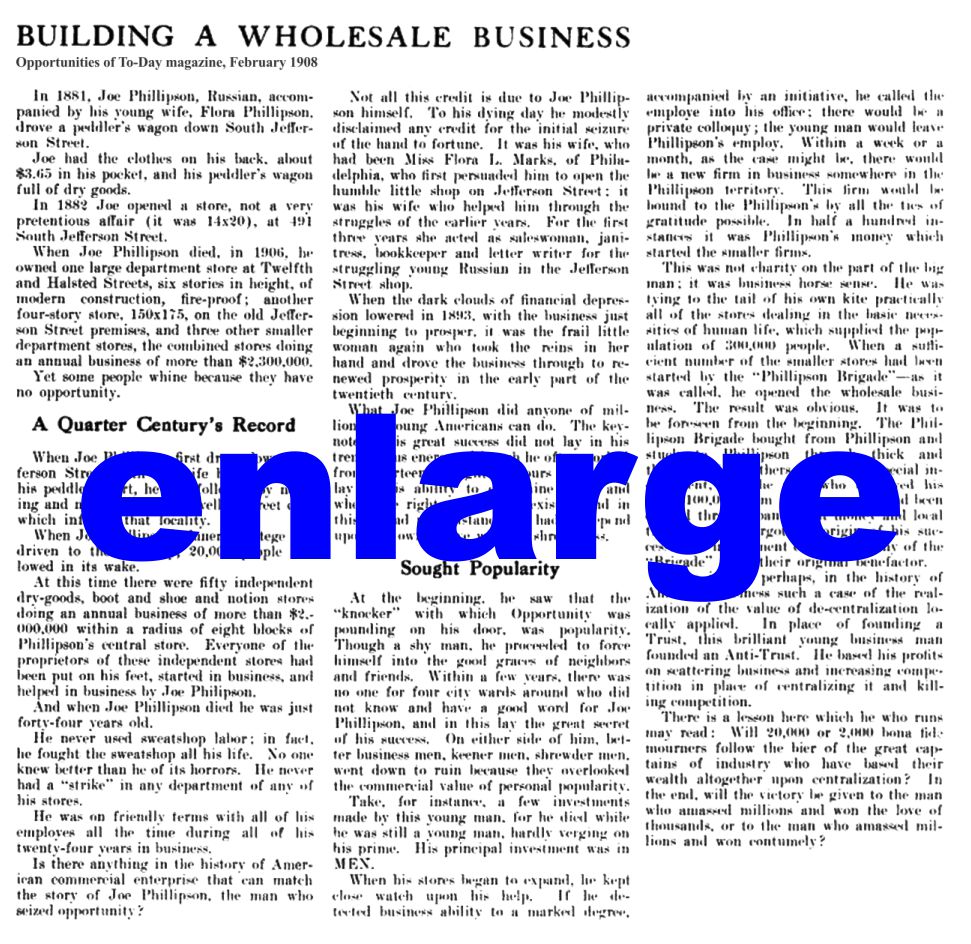 shopkeepers, employees and families he'd helped get started over the prior two decades, resulting in fifty shopkeepers stores within an eight-block radius of the Phillipson store, including five millinery shops and multiple shoe and boot stores, generating an estimated $2 million in annual sales. Many had begun as employees at the Phillipson store, recognized by Joseph as having good business sense. Known as the Phillipson Brigade, they became his loyal customer base when he later opened a wholesale branch.
Flora sells Joseph's baby
At Joseph's death Flora had four daughters to continue raising and marry, aged thirteen to twenty-two. She held out for three years, running the store herself, then in March, 1909 sold the stock and fixtures of the Joseph Phillipson Department store and the warehouse on Jefferson and O'Brien, former site of the Yiddish theater, for $339,757 ($9 million today) plus a twenty-year $19,000 annual lease on the property. It was heralded as the largest deal of its kind in the ghetto district. The buyers: Henry Isaacs, owner of Fairbanks department stores in Alaska and Joseph Weissenbach, son-in-law of Leon Klein, owner of Joseph's primary competitor, the L. Klein department store a block away at Halsted and Fourteenth streets. The new owners changed the name to "The Twelfth Street Store."
The decision to sell the store must have been difficult. Flora surely considered continuing to run the store herself. As a woman living in Illinois, unlike some other states, she could own property and control her earnings, but it would have been hard work regardless of gender. Joseph's store was a much larger entity in 1906 than it had been when she worked there in 1893. Many more employees, much more inventory.
Then there were the brothers, Joseph's brothers, Samuel and Louis Phillipson (1874-1941), and Flora's brothers, Isaac and David. Samuel had been a silent partner in Joseph's company (a silence ended after his brother's death when he seemed to want shared credit for his role in the venture's success) and Louis was in management. Both men may have had ideas about a future role. Isaac L. Marks (1859-1916), had operated a dry goods store in Brooklyn before he and his wife, Minnie Smith Marks, relocated to Chicago in 1908. Did Isaac and David come to Chicago in expectation of having a role in Joseph's store? In September after the sale, Isaac and a third Marks child, David J. Marks, formed the Marquette Motor Vehicle company to manufacture automobiles and engines at 3626 S. Halstead (no connection to the Marquette-Buick), capitalized with $20,000 that may have come from Flora. They exhibited at the 1910 & 1911 Chicago Auto show and one of their delivery wagon trucks ran a reliability race that year. Three years later they were out of business. Samuel Phillipson started over with a wholesale company and and a retail department store, Samuel Phillipson & Bro. He prospered for two decades but the business failed during the 1929 Depression. The name of the retail store suggests Louis was involved but Samuel made a point of identifying himself as the sole owner. Am thinking Samuel may have been a bit less orthodox than Joseph.
It would be interesting to know what factors motivated Flora to sell Joseph's store. Perhaps Joseph had built an empire that could only be run properly by Joseph. Maybe she didn't want to juggle two brothers and two brothers-in-law. Or maybe Flora had just had her fill of dry goods and operating a business. She watched her husband die at an early age, maybe decided to do a bit more living before her time came.
Flora and her girls moved to the Chicago Beach Hotel in the Kenwood neighborhood, a luxury hotel built for the 1893 Columbian Exposition. In 1919, thirteen years after Joseph's death, at age forty-nine, Flora remarried, to widower Samuel R. Zwetow, a wholesale jeweler and insurance broker from Denver - of a similar age and, like Joseph, a Russian immigrant. (Zwetow is sometimes Americanized to Sweet.) In 1921 they left Denver and returned to Chicago. Both died in 1929 and were buried next to their respective first spouses, Flora in Rosehill Cemetery in Chicago next to Joseph and Samuel in Denver's Congregation Emanuel Cemetery next to Annie Rubinsky.
Lillian bore two children with Samuel L. Dinkelspiel (1891-1961), son of a Louisville cloth and hides wholesaling family. Samuel became a producer of antique reproduction furniture and lighting, including his Legacy Lighting line, examples of which turn up today at auctions and flea markets. In 1917 he announced that his Crest Company would no longer manufacture furniture and would concentrate on floor lamps. Table lamps were added later. The company then was located at the corner of Lake and Wabash, having recently moved from 414 South Michigan Avenue.
Adeline married grocer Harry Futchenfeld / Feilchenfeld in 1909 (later shortened to Field) with whom she had two children, including a daughter named after Flora.
Francis married jeweler Maurice A. Barnett two and a half years after the fire. One of their two children was named Joseph, after his grandfather.‡
Theresa, likely named after her grandmother, Theresa Marks, married stockbroker Alexander Kieferstein (later shortened to Kiefer) in 1919, with whom she had two children.
The name Phillipson was sometimes spelled with just one L and the spelling of Flora's maiden name was sometimes given as Marx. Frances' name was sometimes spelled as Francis. Joseph Phillipson employed a manager named Marks that was perhaps a relative of Flora's.
The Phillipson's had lost four children prior to the fire, including Ruth who died in infancy in 1899 and Mark who died at age three in 1889.
Joseph Phillipson's mother, Sarah Rachel, died in 1899 and his father, Philip Feivel Phillipson (c1830-1903), followed in 1903, six months before the Iroquois fire. Philip was from Kalwaria Zebrzydowska in southern Poland. Joseph and Samuel's youngest brother, Louis, also worked in Joseph's store.
† This1891 description of Chicago's ghetto is filled with insensitive generalizations of a type that were once common but helps provide a picture of the scene in the ghetto when Joseph and Flora Phillipson were building their business. For a historical perspective of Chicago's Jewish community, see the American-Israeli Cooperative Enterprise (AICE)'s Virtual Library discussion. It is not known what motivated Philip and Rachel Phillipson's mid 1860s emigration but a Library of Congress site provides an overview of the situation in their native country twenty years later. Just found a copy on Ebay of the 1996 The Jews of Chicago: from shtetl to suburb by Irving Cutler for $9 including shipping. You can read an excerpt here.

‡ Maurice Barnett was in 1930 convicted of insurance fraud after masterminding a 1929 conspiracy with two partners to stage a fake holdup. He was sentenced to the state penitentiary for one to five years. Multiple appeals over thirty-two months kept him out of jail until November, 1933 when the governor denied his petition for parole and he was sent to the prison in Joliet. He was out of jail by Feb, 1936, in time to post bail for his son in a marital dispute. Maurice and Francis later moved to Los Angeles.
What was a dry goods store?
With clothing and textiles as the mainstays, and women as the primary customers, dry goods stores also specialized in what we today call house wares, i.e., dining utensils, cookware, bed linens and sundries (toiletries, newspapers and other low priced items). Think Kohls. Dry goods stores at the turn of the twentieth century also offered "everything else" that was either not offered in such specialty stores as hardware, grocery, furniture, jewelry, millinery shops or bookstores, or that was priced to appeal to shoppers more constrained by time or budget. A diamond engagement ring was apt to come from a jewelry store but a $2 rhinestone brooch could be picked up during a shopping trip for a new mackintosh and a replacement sugar bowl. Hardware stores offered dozens of hammers for all types of carpentry; dry goods stores offered a handful of tools for simple household repairs. In rural areas with few specialty stores, dry goods stores made up for it, offering whatever merchandise the community was willing to buy. To shopkeepers, the emergence of mail-order catalog houses such as Sears, Spiegel and Montgomery Ward must have seemed as cataclysmic as internet sales have been in modern times. This 1899 Wrecking House dry goods catalog is one example. This 1893-94 Carson Pirie Scott catalog is an example of a retailer with a foundation in "bricks and mortar" trying to get in on the shop-from-home market. Some of the inventory clusters seem peculiar – like over two dozen models of accordions and over three dozen smoking pipes.