The Freer family was well known in Galesburg, Illinois, a city in 1903 of around 20,000 people, 165 miles southwest of Chicago. Francis "Frank" A. Freer (1843-1909) was the postmaster there, and his wife of thirty-three years, Elizabeth "Jennie" Christy Freer (b.1849), was involved in the Presbyterian church. Their five children, three boys and two girls, graduated from Galesburg schools.
In 1903, the Freers spent the Christmas holiday in Chicago* with the youngest daughter and her husband. Twenty-six-year-old Alda Mary Freer Henry (b.1878) and Guy A. Henry (1878-1967),† married in mid1902, lived at 1198 Wilton Avenue in Chicago. Guy worked as a clerk for the Chicago branch of American School Furniture.
After Christmas, everyone returned to their homes except Mary's mother, fifty-three-year-old Elizabeth Jennie Christy Freer (b.1850), who extended her visit with her daughter for a few more days.
When word of the fire at the Iroquois Theater spread through the city, Guy Henry cabled the news to his father-in-law, Frank Freer, that the women had not returned from the theater. Frank contacted his son, twenty-three-year-old Morton Freer (1880-1948), who lived in Rock Island, and both men took trains into Chicago. They checked in to the Palmer House and began searching for Jennie's and Mary's bodies. Joining the search effort were five men, Mr. Frohlich, John Platt, Major McClelland, Henry Hill and James Howe. Their relationships to the family are not known. Frohlich was probably liquor wholesaler Solomon Frohlich of Galesburg.
Mary's body was found first, on Thursday, the day after the fire. Jennie's body was not found until two days after the fire, on January 2, 1904, at Rolston's funeral home. Her body was identified by Frank. He had spent hours going through morgues and hospitals, including Rolston's Undertaking on Thursday, but did not recognize Jennie then. Though not severely burned, her face was blackened by soot and blue from suffocation. On the second visit, he recognized her blouse, a gift from him. All her jewelry was recovered, having been retrieved and cataloged by the police department. She was body #31.
Funeral and burial
Jennie's and Mary's bodies were sent back to Galesburg by rail in a private coach donated by Hale D. Judson, superintendent of Chicago, Burlington, and Quincy Railway (many years later absorbed into the Burlington Northern Railway). A group of friends and Odd Fellows club members from the Veritas Lodge met the train upon arrival.
In Galesburg, the Kimber & West funeral home performed embalming and burial services. A double funeral was held on Monday after the fire at the First Presbyterian Church with services conducted by pastor Dr. William Spence, who had officiated at Mary and Guy's wedding. Burial was at the Hope Cemetery in Galesburg.
In attendance at Jennie and Mary's funeral were many members of G.A.R. Post 45, of which Frank was a member. Many flags in Galesburg were flown at half-mast and, as the funeral procession passed down Main St., other churches in the city added their bells to those of the Presbyterian.
Freers in happier times
Mary Freer Henry had graduated from the music conservatory at Knox College in 1900. Her sister, Lizzie Freer Walker, and two of her brothers, Charles Freer and Howard Freer, were also Knox graduates. A third brother, Morton, graduated from another Galesburg university, Lombard College.‡

Born in Stark County, Illinois, Jennie Christy Freer was the daughter of Alexander and Irena Sheets Christy. While fellow students at Hedding College in Abingdon, she and Frank Freer met and became engaged, marrying upon their graduation in 1871. Frank was the class valedictorian.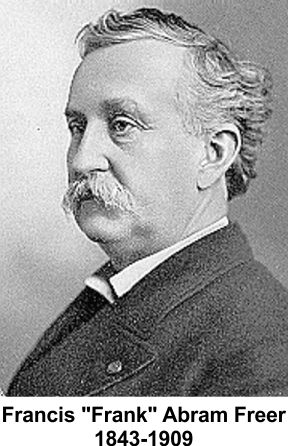 He had served in the Union army in Company D of the 137th Illinois Infantry, fighting with Forest near Memphis in August, 1864. After a stint at teaching, and another studying for the bar, Frank turned to sales, representing an agricultural equipment manufacturer and a publisher of text books. They settled in Galesburg in 1875.
In the years after the fire
Guy Henry remarried six years after Mary's death. He became an optometrist, moved to New York, then settled in Miami, Florida. Mary's siblings all married and most had children. Morton C. Freer moved to Minneapolis and followed in his father's footsteps, becoming a salesman. Howard A. Freer moved to Chicago and became a chef. Charles F. Freer worked in the telegraph and telephone industries.