Gartz Family
Barbara and Mary were the daughters of Katherine Elizabeth "Kate" Crane Gartz (1865-1949) and Adolph F. Gartz (1862-1930). Kate was the sister of Charles S. (1826-1887) and Richard Teller Crane (1832-1912),‡ a pair of wealthy Chicago businessmen. Her husband, Adolph, was treasurer at the Crane Brothers Elevator company. Richard Crane had the means to hire a private expert to investigate the fire – John Ripley Freeman, an engineer for Factory Mutual Insurance.
Barbara and Mary had three siblings who did not attend the matinee – Frederick, Gail and Gloria. In Chicago the Gartz family lived at 4860 Kimbark Ave. in the Kenwood area. They also owned one of four homes at the Crane summer compound in Lake Geneva, Wisconsin named Jerseyhurst. Had Barbara and Mary survived they would have probably been married at Jerseyhurst, as were Gloria and Gail. They might have gone to college and played hockey, as Gloria did.
The Gartz girls are buried in Oak Hill Cemetery at Lake Geneva, Wisconsin in the Crane family plot. Apparently Barbara was nicknamed Bobsie. Kate and Adolph Gartz later moved to California and had a 6th child. Adolph died in 1930 and Kate eventually remarried. She became a an outspoken social activist. When her son, Alfred Jr., took his own life in 1944, the story was omitted from Chicago newspapers. The last belongings found at the Iroquois Theater, a small purse with valueless content, was tracked to the Gartz family and turned over to Adolph Gartz on Wednesday, December 28, 1904, days short of a year after the fire. Nothing more was reported about the contents so it cannot with certainty be said that the purse belonged to Barbara or Mary. It might instead have been the property of one of Gartz's domestic employees.
Guthardt Family
Adelheid and Elise Guthardt were the wife and daughter of John A. Guthardt, mother and sister of William and Henry. The family lived at 159 W.113th St. near the corner of Wentworth. Both John and Adelheid had immigrated to America with their families as young people. They married in 1884.
John He worked as a machinist and supervisor at a cooking utensil manufacturer. In the years after the fire he would remarry and see the birth of a third son and the death of his second wife. He watched Adelheid's and his son's marry and the birth of a granddaughter that probably reminded him of Elise.
Adelheid's body was found at Ralston's and Elisa's at Carroll's funeral home, both identified by John. Burial was at Mount Greenwood Cemetery in Chicago. where Berg family victims were also interred.
Liability lawsuits of $10,000 each were filed on behalf of Adelheid and Elise. In 1909 they were two of thirty-five $750 settlements from Fuller Construction, builders of the theater.
Maud Parcells
Maud was thought missing for a time until it was discovered that she'd survived. She went on to marry in 1909 – to William Edward Boyes – and in 1915 became superintendent of the Legal Aid Society. A blend of two earlier organizations, the Protective Agency for Women and Children (with she was associated in 1903) and Clarence Darrow's Bureau of Justice), Legal Aid Society worked to protect women and children in the courts. In 1912 she was one of the founding members of the National Alliance of Legal Aid Societies.
Maud lived at 31 West Lake St. (or at 79 Dearborn), was born in Iowa and had two brothers, Earl and Paul. Their father's name was Walter, born in Ohio and her mother was Lamire "Myra" D. Parcells, b.1846. Brother Earl was born in Illinois in 1868.
According to the 1910 census, Maud and William E. Boyes, lived then with Maud's brother, Earl, who worked as a grocery wholesaler clerk, while William clerked in a furniture store. Also living with them was Maud's mother, Myra, and a 9 year old nephew, Paul D. Parcells jr.
Mary Fahey
In multiple newspaper reports Mary's address was given as 4860 Kimbark - the address of the Gartz home.
Her occupation was stated to be a waitress and her body was identified by a T. H. Fahey. The Gartz family's domestic staff in 1900 included four live-in female employees, enough to have included a kitchen service worker. Unfortunately, there were seven people in 1903 Chicago who could have been T. H. Fahey.
Clara Thoni §
The evidence to support that seventeen year old Clara Thoni was employed by the Gartz family is not iron clad but seems probable, chiefly because her body was identified by another woman described as a nurse employed by the Gartz family – Maud Parcells (see information about Maud at left).
Clara was described as a nurse who lived at 4644 Evans Avenue - and also that she was from Lake Geneva, Illinois. I'll wade you through what I've learned about Clara so far and will update this if/when more information is learned.
Residence - There is not a city in Illinois named Lake Geneva but the Gartz/Crane family had a summer home in Lake Geneva, Wisconsin so that could explain the connection to a Lake Geneva. Alternatively, the Gartz home was located in the Kenwood area of Chicago on Lake Michigan and the Thoni family was from Switzerland, possibly Lake Geneva there. Much room for communication errors if the Thoni sisters were not fluent in English. The primary language in Switzerland is French.

The 1903 Chicago city directory reported unmarried sisters from Switzerland, dressmakers both, forty-six-year-old Eliza and forty-year-old-Emma Thoni living at the Evans Ave address. If an unemployed minor when the directory was compiled, Clara would not have been listed so her omission in the directory does not indicate whether or not she lived there.

Relationships - The age difference between Clara and the two Thoni sisters on Evans Ave makes it unlikely they were Clara's sisters but I've failed to learn whether Clara was their niece or cousin. They had a third sister, Bertha, who in 1903 was thirty one years old and two brothers, Theo and Charles. At thirty four and married for only seven years, Theo, the first of the family to locate in Iowa, was not the father of a seventeen year old daughter. (Bertha, Eliza and Emma all joined Theo in Iowa by 1910 and by 1930 Bertha's family settled in Eugene, Oregon.) Nothing is known about Charles Thoni. The siblings cited here were possibly the children of Michael and Elizabeth Millen Thoni. Possibly Clara was the daughter of Michael Thoni's brother, name unknown, probably born c.1835 in Switzerland.

Occupation – in 1903 the term "nurse" was used to describe babysitters as well as medical caretakers. Clara wasn't old enough to have attended nursing school so was more probably a babysitter for the Gartz children. At the Gartz home in Chicago in 1900 were four live-in domestic servants in their late twenties and thirties, none from Switzerland, so Clara was not typical of Gartz domestic employees at their Chicago home but was perhaps hired as a more youthful childcare person for the summer at Lake Geneva, then kept on and brought back to Chicago in the fall.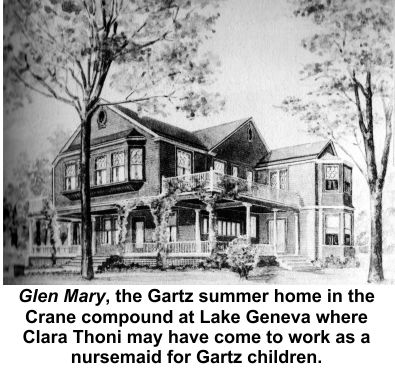 There were four homes at Jerseyhurst. Kate and Adolph Gartz's home there, built in 1887 as their wedding gift from her parents, was named Glen Mary (today named Woodwind). Family patriarch, Charles Crane, is known to have urged his sisters and children to master foreign languages. If Clara spoke French, which seems likely, Kate Crane Gartz may have welcomed the opportunity for early exposure to the language for Barbara and Mary.
Discrepancies and addendum
Notes
Need pictures of all six party members

Did Adelheid teach Elise along with the Gartz children?

Need verification of Clara Thoni's employment, family, etc.
* Newspapers in 1903/4 misspelled the name Guthardt as Hoptfelt, Hudhart, Goodhart and Goodheart, and described Adelheid as an aunt to the Gartz children. It was reported that her body was identified by a husband named James instead of John and miss spelled her surname as Adelaide. Elise's name was reported as Liddy, Libby or Lidya.
† On one report Maud Parcells was listed as a fatality but in most reports she was named as the individual who identified Barbara's body, as well as that of another Iroquois Theater fire victim, Clara Emma Thoni.
‡ Three months prior to the Iroquois fire Richard Crane Sr. became engaged to a young ingénue from Lake Geneva, Emily Hutchinson. Crane had been married twice before.
§ There were many spellings and versions of Clara's name. Emma Clara, Clara Emma, Emma and Clara. Thoin, Thoni, Thoeny, Toyne, Thonie and Thoui. A relative at the address on Evans street was named Emma Thoin.