During the 1903 Christmas vacation, on December 30, three sisters from Geneva, Illinois, age nine to fourteen, attended an afternoon matinee enactment of the Mr. Bluebeard fairytale. It was lavish production by theater syndicate kingpins, Klaw and Erlanger, performed at Chicago's newest luxury playhouse, the Iroquois Theater.
All three perished in a fire that in 15-20 minutes took over 600 lives.
James and Helen Long's daughters, their only children, were Helen, Marian, and Kathryn, age fourteen, eleven, and nine.
Locating the girls' bodies
James Long spent all night looking for the bodies of his daughters. Kathryn was found at Horan's funeral home and identified by Dr. Alfred Wheelock Young.† Helen was found at Rolston's and Marian's at Horan's funeral homes, both identified by Edward P. Luthardt, husband of Helen's cousin Mary.
An F. H. Blackman was also cited as among those searching for the Long children. A doctor from Geneva, IL, he may have been the family physician.

Mother went on an errand
Geneva, Illinois was an hour's train ride from Chicago so the family might have come into the city for the day, or might have planned to be there for several days. Since an office tenant of the Auditorium hotel, Dr. Alfred W. Young, participated in the search for the girl's bodies, the family may have been staying at the Auditorium while visiting relatives in Chicago over the holidays. Both parents had relatives living in Chicago. Helen's sister, Martha T. Welch taught at the Brown School on Warren Avenue and Mary Luthardt, grown daughter of James' brother, Robert, lived with her family in Chicago.
Helen Long saw to her girls seating at the theater then left to do a bit of shopping, with instructions to meet outside the theater in a few hours. As word of the fire swept stores throughout Chicago, Helen rushed to the theater but was unable to enter the structure. Initially, the crowd surging from the theater was impenetrable; soon the entrances were guarded by police who kept frantic relatives from entering.

Funeral and burial
The Long girls funeral was held mid afternoon at Graceland cemetery chapel on Tuesday, January 5, 1904 and burial was in the family plot at the Oak Hill Cemetery in Geneva, IL. In the years that followed they were joined there by their parents, aunts, and uncles.

Long and Welch families roots deep in Kane County
Married in 1889, the Longs lived at 403 S. Fourth St. in Geneva, near the intersection with Fulton St. Geneva is a small town about forty miles west of Chicago. Ancestors of both the Long and Welch families were among the early residents of the community and were prominent in its history.
The James and Helen Long family
Daughter - Helen Long 1889-1903
Daughter - Marian Patra Long 1891-1903
Daughter - Kathryn Long 1894-1903
Father - James Carr Long 1843-1933
Mother - Helen Medora Welch Long 1854-1927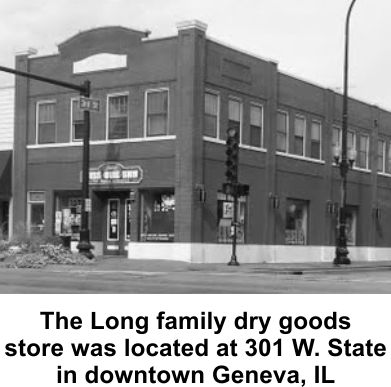 James had served for three months in the 69th Illinois Infantry during the American Civil War, guarding Confederacy prisoners at Camp Douglas in Chicago. He was the second-generation owner of a family grocery and dry goods store in Geneva, his father having relocated to the city from Maine in 1855. James' sister, Elizabeth Long, was also a principal in the business, and for a time, the store was named E. H. Long in an attempt to attract women shoppers. The primary Long store, located at 301 W. State in Geneva, IL, at the northwest corner of State and Third, is presently occupied by Perlman Fine Jewelry but has passed through many owners over the years, including Filbert Drug store and Erday's clothing.
A Kentucky native, the girl's mother, Helen Welch Long, was a Suffragette sympathizer and active in women's clubs in Geneva, speaking and writing about issues she cared about, including road construction, interurban cars, and pure food. Helen was the daughter of an author and university professor, Rodney Welch, and Abby F. Stevens Welch. At her death in 1927, a portion of Helen's estate went to purchase furnishings for the Children's Room at the Geneva, IL library where she had served on the board. As a school board member, Helen promoted kindergarten as a necessary part of a public school education and training for girls that put more emphasis on practical skills to prepare them for earning a living and/or helping their husbands do the same. With her progressive views, it would have been interesting to see what paths chosen by Helen's daughters had they lived.

In the years after the fire
In October, 1905 James was called as a possible juror in the first damage suit for the fire. The exact courtroom dialogue that ensued is unknown. Though many newspapers were quick to cover the story that a father of Iroquois victims had been called for jury duty, nearly every paper gave a different account of the questions and answers. The only certainty is that after it was learned during venire that he lost family members in the disaster, he was excused .
In 1908 James retired and sold his interests in the Geneva dry goods store.
The girl's deaths were noted in James' obituary but not in Helen's.
Fire struck again
Fourteen years after the Iroquois Theater fire, in May, 1917, Susan F. Long, eighty-one-year-old sister to James Long and aunt to his three lost daughters, died from burns suffered during a kitchen fire. Susan's apron caught fire while baking, and she was severely burned from knee to hip, one hand burned to the bone.
Discrepancies and addendum
* In the Everette disaster book, two of the children's names are misreported as Ryan, Helen and Katherine.

† An Osteopath, Young had offices in the Auditorium building but called Geneva, Illinois home, and was familiar with the Long family. His sister, Harriett, was married to Harry Warner of Geneva, and his mother, the former Eliza Woodward, had grown up in Geneva.