With so many vulnerable people, injured and dying, human predators were quick to take advantage of the situation. Street thieves and pickpockets pilfered jewelry from bodies on the sidewalk in front of the theater, at the morgues and in body transport wagons. According to the vernacular of the day such thieves were labeled as ghouls and received a great deal of newspaper coverage with estimates of "hundreds" of loss claims involving thousands of dollars. It seems that ghouls were popular in the news. Six months later when the General Slocum steamboat sank in New York, there were also newspaper reports of ghouls and in 1900 there were ghouls in Galveston after the hurricane.
Pockets full of ears and fingers
Some out-of-town newspapers went so far as to claim that a thief was found with pockets full of dismembered jewelry-clad fingers and ears but that he then died in the fire. The story had a satisfying ghoul-got-his-just-desserts theme but doesn't pass the hooey test. To have been burned to death he would have to have been trapped inside the auditorium to begin with because the fire was mostly extinguished by the time the doorways were cleared of bodies enough to enter the auditorium through either interior or fire escape doors. The idea that a badly burned person trapped inside a still burning building used his last moments of life to snatch jewel-clad ears and fingers is improbable, that his name was not reported in Chicago newspapers even more so. There was no reason to conceal his identity and police had ample motivation to affix blame for missing possessions.
What was repeated multiple times by police and fire workers is that when they realized cutpurses had descended on the scene, they chased them off. Officers were then stationed to keep them away from the bodies on the sidewalks and wagons outside, and out of the theater. When crowds grew at morgues, officers were assigned to crowd control there as well. Every police officer and fireman in the city was on the scene so there was no shortage of available men for the job. Did some slip through? Probably. The scene was chaotic, but I suspect the scene described in some newspapers was more about hype than reality.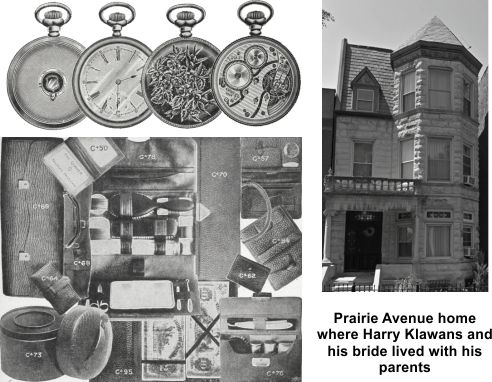 Finders Keepers rule does not apply when hundreds of bodies are being shifted from place to place, or during ghoul season
In the late afternoon of the fire, nineteen-year-old Harry Irving Klawans (1880-1950) was leaning against the front wall outside the Iroquois Theater, near the front entrance, doing some rubber necking. Hundreds of fireman, police and volunteers were carrying bodies, placing them here, then there, loading them onto wagons headed for hospitals and morgues. Harry's account of what happened was more
~~~~~~~~~~~~~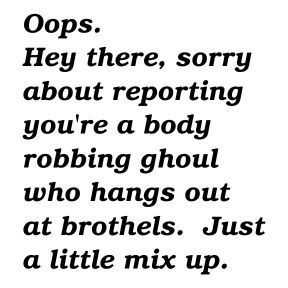 1904 newspapers around the country reported that a nineteen year old
bookbindery employee, Frank Uhler, had been arrested and confessed to stealing a 4-1/2 carat diamond ring valued at

$800 ($2

0k

adjusted for inflation) from the

hand of a deceased elderly male

Iroquois Theater victim

in a wagon outside Jordan's funeral home, then tried to sell it at a brothel and finally gave it to his sister. 'Trouble was, Frank hadn't been anywhere near the body or ring. A newsboy had it all along more
~~~~~~~~~~~~~
Saloon ghouls
When Helen Trask body was picked up for transport to the morgue, saloon owner Louis Witz turned over to police $11 and a gold neck pendant watch that he claimed had been all that was on the woman's body, pocketing $210. He spent nearly half of his haul on hush money. more
After reading several dozen newspaper stories I realized that what few details were included about specific incidents of theft all referred to one or more of the same five cases. Of these, only one involved possessions being removed from a body, none involved street thieves and all were prosecuted or resolved with police involvement.