When Chicago city custodian Dewitt C. Creigier (see right) found a diamond pin on the floor at the Iroquois with a stone as large as a pea, it's value estimated at $500 ($13,000 today), Chicago police chief O'Neill directed Frank Solon (see right), assistant superintendent of street cleaning, to take a crew to the Iroquois to retrieve all personal belongings.*
This would have been a job for rakes and shovels, not brooms. The floors at the Iroquois were thick with ashes and soot, turned to mud by water from fire hoses, then frozen in the unheated structure by winter temperatures that hovered around five degrees. Retrieving objects would have required chopping at the layer of iced soot that covered the Iroquois floors. Solon's crew scraped and gathered three wagons full and hauled it to 56-58 Dearborn street where Creigier oversaw the retrieval process.
They first picked out the clothing then sifted through the muck from the floor, using sluicing screens such as those used in gold panning.
Morgues labeled bodies with numbers (toe tags?), removed and placed valuables in corresponding envelopes. The morgues then turned the envelopes over to police who delivered them to the coroner's office.
The combined tally of belongings removed from bodies at morgues and scraped from the floors at the Iroquois was 4,530 items with an estimated value of $50,000. Of those, owners retrieved 1,617 and 764 items were held at the police station awaiting identification. (The final disposition of those 764 items was not reported.)
Among the belongings was a large array of jewelry, including fifty diamond rings, brooches, earrings, watch robs, hatpins, watches and stick pins. Noted were an 18-stone diamond ring, 12-stone diamond ring, 3-karat diamond brooch, 1-karat diamond, ring set with garnets, amethysts and emeralds, pearl brooch, 4 unset gems (2 diamonds and 2 amethysts) and a Grand Army badge.
Apparel, particularly outerwear, comprised the bulk of the items, including 259 coats for women and girls, 93 for men and boys. The garments reflected a Chicago winter in the Edwardian years, including 33 coats of sealskin and others of astrakhan, otter, mink, lamb and bear, with 240 pairs of rubbers, 63 umbrellas, 38 fur boas, 36 fur muffs and 20 fur collars.
Garments also reflected styles of the era with 429 hats (263 womens, 100 girls, 66 men and boys), 86 side combs and a gold lizard pen. In a time when shoes had ties and buttons, only 30 pairs were left behind. 195 purses contained $884.33 in cash and there were 50 opera glasses.
The public could go to a storefront to examine the items and submit claims. After a month, 2,149 damaged and low-value unclaimed items unclaimed were donated to the Salvation Army.
The last item claimed was a small purse by Adolph Gartz who lost his two young daughters and five domestic employees at the Iroquois.
Unclaimed property of Iroquois victims
Creigier kept $280 in unclaimed burned currency and coins for a year then turned it over to city comptroller Lawrence E. McGann, who gave it to the police pension fund.
In September 1904, nine months after the fire, a large pile of unclaimed garments went into the furnaces at City Hall. As a short news story made note (see above), some of those garments had provided clues for victim identification.
Dewitt C. Creigier Jr (1865-1918)
In modern times the job of a custodian involves structural maintenance but in 1903 Chicago the city custodian took custody of articles and funds retrieved from thieves or confiscated in police raids. The son of a former Chicago mayor, Creigier's annual salary as the city's custodian was $1,400. Earlier in his career, he'd worked as an electrician and inventor, patenting a burglar alarm system for trains.
Inventing was a family thing. His father had invented a combination fire hydrant/water fountain/horse trough and his brother Nathaniel a police communication system. Dewitt and his wife, Carrie Briggs Creigier, were active in Chicago's Columbia Yacht Club and owned a boat named the schooner named Glad Tidings.
As assistant head of street cleaning Frank Solon helped direct roughly 600 workers operating 400 teams of horses in downtown Chicago.
Overseeing the Iroquois clean up was the Frank Solon's second involvement in the Iroquois Theater disaster. In the hours immediately after the fire, subsequent to a directive from acting Chicago mayor Lawrence E. McGann, William Brennan, acting commissioner of public works, sent word to police chief O'Neill and fire marshall Musham that the public works department was at their service. Musham responded quickly: "We need men and lanterns." Brennan sent Frank Solon to Bullard and Gormley department store to purchase lanterns. Doherty assembled 150 men working in the street department in the First ward at the city yard at the foot of Randolph street with seventy wagons.
Cleaning belongings from the floor at Iroquois Theater
Iroquois ushers began collecting belongings from the theater immediately after the fire, to prevent theft by pickpockets and petty criminals who found their way inside the theater. The grisly task was soon assigned to the police department.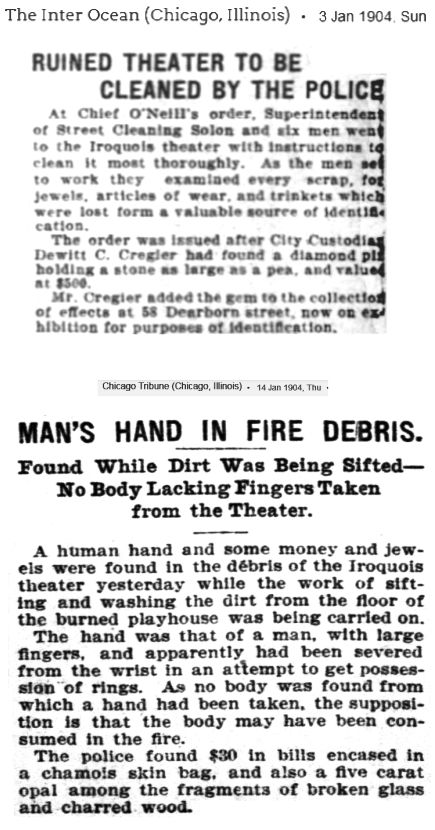 In the years after the fire
A survivor of the fire, Charles W. Allen, was a long-time friend of the Creigier family. Six years after the fire Dewitt Creigier's mother was arrested by New York Customs service for smuggling jewels as she returned from a lengthy European tour with the Allen family. Ella Allen, Charles's wife, was the one found with jewels concealed on her person so paid the fine. Charles Allen and the Creigier family remained friendly and in fact Dewitt met with Charles the afternoon of Charles' accidental death.
Discrepancies and addendum
Creigier's name was miss-spelled as Cregier, Creiger and Creger.
* Lawrence E. McGann (1852-1928)
McGann immigrated to America as a three-year-old with his mother a year after his father's death. They settled in Massachusetts initially and moved westward to Chicago in 1864. He left the cobbler's trade behind to become a city clerk in 1879. By 1885 he was superintendent of streets. He served one term in the U.S. House of Representatives then returned to Chicago to work as superintendent of the Chicago General Railway. Mayor Harrison appointed him commissioner of public works in 1897 and 1899, and City Comptroller in 1901. Harrison's successor, Mayor Dunne, though McGann was a Democrat, reappointed him. On December 30, 1903, in mayor Harrison's absence, he was acting mayor. McGann's directive to subordinates and department heads: "You are instructed to direct the fire marshal, chief of police, and commissioner of public works to proceed in this emergency without any restriction whatever with regard to expense in caring for the people. Do anything needful, spend anything you want, in this cause, and look to the council for support. We will be your authority."
William F. Brennan (1860-1922)
Brennan was appointed deputy commissioner of public works by Chicago mayor Harrison in 1902 after serving as an alderman for three years. He resigned in 1904 to pursue business interests. He was married to Minnie Brennan and they had four daughters.