Setting the record straight about Hattie, Rose and Mary Harbaugh

Bad enough that she died in a horrific fire but for sixty-five years some genealogists have had Harriet "Hattie" Harbaugh dying in the wrong horrific fire. Worse, other folks assert she was having an affair with a boy young enough to qualify her as a pedophile. Harriet wasn't the only child of Isaac and Emma Harbaugh that history has treated poorly. Another of their daughters, Katie Rose, was listed as dead in the first days after the fire, though she lived until 1956. In contemporary accounts of the Harbaugh girls at the Iroquois, Rose is frequently omitted altogether, even though she almost lost her life and spent weeks recovering in a hospital. In some contemporary accounts Mary Harbaugh's death date is stated as Jan 2, 1904 but she was actually dead at least two days earlier, on Dec 31, 1903.

Three Corrections

The 1947 Harbaugh History book was written by Cora Bell Harbaugh Cooprider and Joseph Lew Cooprider. It is a wealth of genealogy information but for the Isaac William Harbaugh and Emeline "Emma" Neiswender Harbaugh family, the book contains an error. The Cooprider Harbaugh History book states Isaac and Emma's oldest daughter, Harriet "Hattie" Harbaugh, died in 1871 at the Great Chicago fire. Trouble is, as the accompanying pictures demonstrate, Hattie was still alive in 1880, in 1895, in 1900, in 1901, in 1903 when she walked in the door of the Iroquois Theater in Chicago and until January 7, 1904 when she died. A Hattie Harbaugh may have died in 1871 but I've found zero reason to believe that Harriet "Hattie" Elizabeth Harbaugh, daughter of Isaac and Emma, died before 1904. (It appears at least one genealogy researcher, Joellen Harbaugh Fone, shares my assessment of an error in the Cooprider book because she added the 1880 census information to the Harbaugh History on Rootsweb.) If you have contrary evidence -- other than the Cooprider book -- please contact me so I can share the information.


A few online sites state that two Harbaugh sisters went to the Iroquois Theater fire. This is incorrect. All three of Emma Harbaugh's girls were there. Two died and one survived, after spending six weeks in the St. Luke's hospital in Chicago recovering from her injuries. So for the record: Kate Roselle Harbaugh Stafford, who went by Rose most of her life, attended the Mr. Bluebeard matinee with her sisters, Mary Emma Harbaugh and Harriet "Hattie" Elizabeth Harbaugh. Rose suffered burns and a fractured skull. It is not known how her skull was fractured but there are many possibilities. She could have hit her head when jumping or falling from a fire escape into Couch Place alley. Someone else who jumped or fell from the fire escape could have fallen upon her. She could have fallen and been trampled in the auditorium. Someone from a higher floor in the auditorium could have jumped and landed on her.


Another error, of a smallish sort but also coming from the Cooprider book, is that Mary Emma Harbaugh died on Jan. 2, 1904. On December 31, 1903, one day after the fire, a Mrs. Warner sent a telegram to Harriet's employer, Frank Greenleaf, stating that Mary was dead. There were numerous newspaper reporting errors about Iroquois victims but Mary's death was also reported on Jan. 1, 1904. The only thing that happened regarding Mary on Jan 2 is that her name was included in a Chicago Tribune list of additional victim identifications made the day before. Mary's body was identified at the Gavin mortuary on Jan. 1 by her brother-in-law, Llewellyn C. Stafford (who also made the official identification of Harriet).

Improbabilities, pedophilia, crush on a teacher, morbid curiosity, molehills

In 1902 Harriet worked at the Hillcrest mansion in Savanna, Illinois for the wealthy Francis S. Greenleaf family. Some contemporary sources describe Harriet's role as that of a nanny but at seventeen and fifteen, the Greenleaf boys, Kenneth (b.1886) and Harold (b.1888), were too old for a nanny. The Greenleaf's daughter, Dorothy, was soon to be three years old, thus the right age for a nanny, but Harriet and her family described Harriet as a teacher as early as 1892. Perhaps she was a teacher for Kenneth and Harold, then stayed on as a nanny and teacher-to-be for Dorothy.

According to some stories, thirty-five-year-old Harriet fell in love with her minor age student, Kenneth, and the pair would have eloped had Harriet lived. Reportedly Harriet's belongings, including a charred Mr. Bluebeard program, were sent to the Greenleafs after the Iroquois fire. Supposedly Kenneth then hid the blackened Bluebeard program in the wall of the mansion. Today a thirty-five year old having an intimate romance with a seventeen year old would be labeled child molesting. I've searched online rather obsessively and failed to find any evidence of the pair having a romantic involvement.

Hmmm...
The business about Harriet's belongings being sent to Hillcrest instead of to her mother and natural heir, Emma Harbaugh Corlett, seemed improbable at first but on further thought, makes sense. Harriet was unconscious when removed from the Iroquois auditorium but recovered enough when at Thompson's restaurant to supply her name. The medical workers at Thompsons would have attached a note to her body with that information before she was transported to Samaritan hospital and the folks at Samaritan would have reported her name to the police, thereby helping Llewellyn to locate and identify her.

Harriet's purse, however, in which she would have been most apt to place the theater program, may have been one of the 169 purses recovered from the Iroquois Theater. If it contained a calling card connecting her with Hillcrest, the Chicago coroner's office may have contacted Frank Greenleaf, publisher of the Savanna Journal newspaper, and he may have instructed them to send it along to him. Ordinarily an employer might not have done so but Greenleaf had received a telegram from Harriet's family and knew that Harriet's mother had one dead daughter and two in the hospital; accepting Harriet's belongings may have been a helpful gesture. He also knew that if Harriet died, he would need to pack up her room at Hillcrest, her clothing, pictures, books, etc., for shipment to Emma. There would be room in the trunk for a purse.

That gets the theater program to Hillcrest. I have less ease accepting the story of son Kenneth choosing a blackened scrap of paper, representative of a horrific event, as a souvenir with which to remember Harriet. I like a lurid story as well as the next person but that one doesn't fit right. He could have walked down the hall and helped himself to a hair ribbon or scarf that still held her scent. Pilfering the program from Harriet's belongings seems more an act born of morbid curiosity. That weakens the titillating story of the nanny and the student. The hiding of the program once pilfered, however, was predictable. In the vernacular of the time, stealing from a dead person made one a ghoul.

There are still puzzles in the Isaac William Harbaugh family records.
Sisters Hattie, Mary and Rose at the Iroquois Theater fire in 1903.

William Sallers Iroquois Theater fireman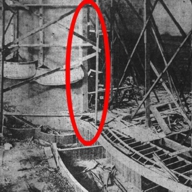 Chicago Cleveland Theater ordinance problems

Coffin supply in Iroquois Theater disaster
Iroquois Theater families faced tombstone decisions