Twenty-eight-year-old Norton W. Barker (1875-1954) of Michigan City, Indiana was at the Iroquois Theater Mr. Bluebeard matinee with unknown others. He escaped from the auditorium with a young girl, an unnamed stranger, who sat next to him. They climbed into the box seating alcove on the north side of the first floor and from there fled out a fire escape exit into Couch Place alley. Presumably the pair took this method because there were crowds in front of exits leading to the front lobby and direct first-floor fire escape exits.
Norton was married to Marjory Clark Barker and they had two toddlers, Wallace and Marjory. Norton worked for the Haskell & Barker Car Company in Michigan city, manufacturer of railway cars. Norton's uncle, the wealthy John H. Barker Jr., was company president and principal owner.† It employed over 3,000 workers. Michigan city, in 1903 a community of around 15,000 residents, was a three-hour train ride east.

In 1878 at age three, Norton's father, Wallace Barker, had drowned in a boating accident on Lake Michigan with a group of his fellow Hyde Park Qui Vive yacht club members. Wallace's hardware company, W. C. Barker, had failed two years earlier.
Norton grew up in Chicago where his mother, Jessie Norton Barker, chose to remain after her husband's death. He attended Phillips Andover Academy prep school near Boston. At her passing in 1899 Norton moved to Michigan City where he met his wife.
In the years after the fire
Norton and Marjory's marriage ended in divorce and in 1925 he remarried, to Florence E. Wilbur. By 1918, age forty, he described himself as retired. For twenty months 1921-1923, newspapers carried dozens of stories of his daughter's failed effort to force Bryn Mawr to reinstate her after expulsion.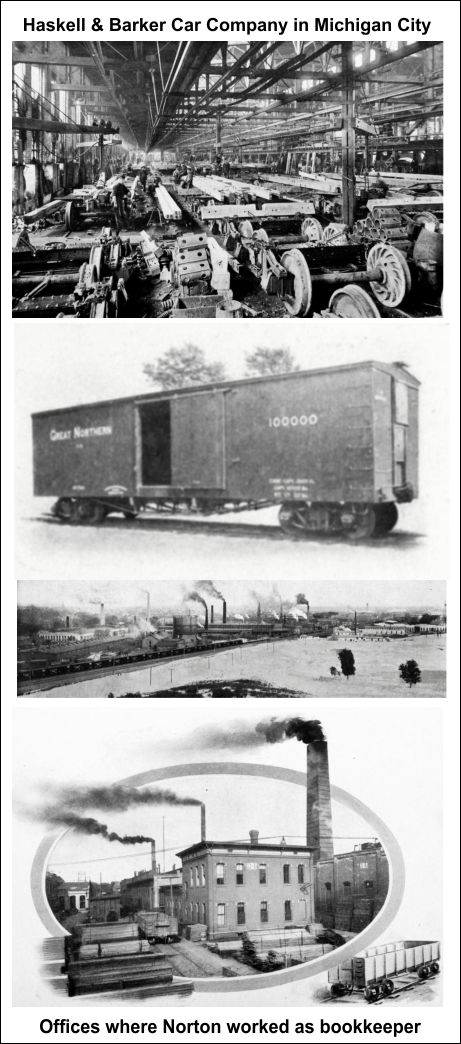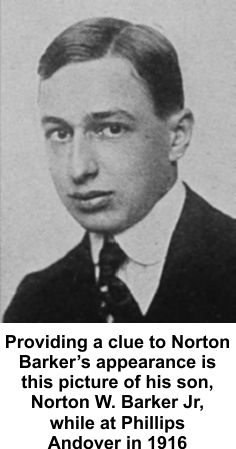 Discrepancies and addendum
* Barker and his girlfriend were not the only ones to take this arduous path from the theater. One young man in the 12-member Sanborn party occupying that box seat would later describe a man climbing into the box, leaving his wife and children in their seats. The group shamed him into returning to his family, saying that he had been looking for an exit.
† At his death in 1910 the bulk of John H. Barker's thirty million dollar estate was left to his fourteen year old daughter. Norton Barker received a "gift" from his uncle's estate (a portion of ten million dollars), adding to his 1896 inheritance of $50,000 from his grandmother, Cordelia Collamer Barker.