Hulda Edith Holm (b. 1879
)

Hulda
l
ived at 176 N. Western Avenue in Chicago, at the corner of Lake St. The structure is now gone but the family probably lived above her father's drapery and upholstery shop.
Her body was found at Carroll's funeral home and identified by her brother-in-law, Percy E. Douglas, husband of her older sister, Eva
, from a pin bearing her name.
Hulda's funeral was held at noon on January 3 and her body was interred next to her father's at Rosehill Cemetery in Chicago.
She was the daughter of Cecilia Pearson Holm (1839-1920) and the late Ludwig A. Holm (1838-1903). Ludwig,
who worked as a cabinet maker as a young man, and went on to become

a drapery upholsterer of several decades in Chicago, had passed away eight months before the Iroquois fire.
Ludwig and Cecelia Holm were Swedish immigrants who had married in 1870, the same year they emigrated. Cecelia gave birth to four children, of which only Hulda and Eva, both born in Illinois, survived as of 1900. Ludwig and Cecelia owned their home, no small feat on
a 1903 tradesman's income.
Anna "Annie" B. Hanson (b. 1882)
In a victim list published the day after the fire, a twenty-three-year-old Miss Nina Hansen was included, her residence given as the same as Hulda Holm's. A death certificate was not issued for a Nina Hansen but one was for a twenty-one-year-old Anna B. Hanson of Gibson City. The relationship between the women is not known but they were probably family members.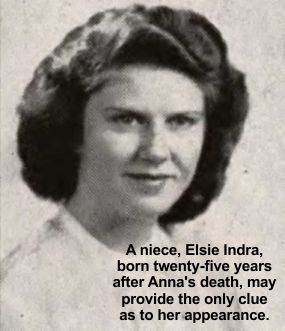 The Hanson family dentist, Dr. William A. Hoover, traveled to Chicago with Anna's father to help identify her badly burned body. Identification was made on the basis of her teeth, recently purchased shoes from the George Bloom store and her rings.
Dr. Hoover was more than Gibson's most prominent dentist. In 1900 he and his wife, Laura Howver Hoover, had also been Anna's employers and she may have still lived with them at the time of her death. The Hansons were a family of modest means and Anna worked for the Hoovers as a servant while attending school. At that time the Hoovers had one child, daughter Sibyl, but later adopted another daughter. It's not hard to imagine that the Hoovers may have played a mentoring role to help Anna become a teacher in the city's fledgling high school.
Anna's parents were immigrants, having emigrated from Sweden in 1881. They were Nels† Hanson (1848-) and Annette Frederickson Hanson (1862-1925). She was one of four children, all living prior to her death. At home were younger siblings Oscar and Esther.
Anna was buried in the Drummer Township‡ Cemetery in Gibson City, Illinois following a service on Tuesday, January 5, 1904 at the Presbyterian Church in Gibson. In her obituary Anna was described as a very beautiful young woman.
Gibson City, Illinois was a small city about two hours southwest of Chicago, with a population in 1903 about the same as it is today - around 3,000. It got its first phone system the year of the fire.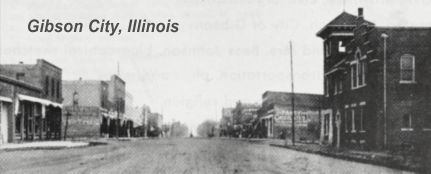 In the years after the fire
Hulda
Holm

's sister Eva

married a dentist named Percy E. Douglas and helped him found and operate a resort motel in Paw Paw, Michigan, Douglas View. After his death she married

p

hotographer

Thomas Blondin

.

Cec

i

lia

Holms

lived with

Eva in her later years.
A newspaper a month after the fire reported that Anna Hanson's mother, Annetta, soldiered on during the immediate time of the fire but then lost her mind with grief and was being treated by a physician. The family may have moved to Michigan for a few years but returned to Gibson. At the end of her life Annetta lived in Kankakee, IL. Brother Oscar worked for the railroad, served in World War I and never married. Esther married a fellow named Indra and had three daughters, including May Elsie pictured at right.