Victoria Dray's name appeared in a newspaper list of Iroquois Theater victims the day after the fire, and also in the Everett Marshall book about the fire. Her name was not included in the coroner's inquest list, however, nor in subsequent newspaper coverage and no death certificate was issued for her.
For other individuals with a conflicting status, the trail has led sometimes to an Iroquois victim and other times not, so I set about looking for signs that Victoria Dray was alive after December 30, 1903.
Fruits of my hunt were so bountiful that it's hard to decide what to pass along. She had no children so there may not be another living person who is interested in Victoria but it would be a shame for such a character to be forgotten.
Victoria may or may not have attended Mr. Bluebeard at the Iroquois but definitely did not die there and was probably not injured. That last conclusion is based in part on a sense that if Victoria Dray had lost so much as an eyelash at the Iroquois, she would have led the fight to prosecute the theater syndicate.
She was thought to be dead, however, for long enough that an Iroquois Theater victim's body was misidentified as Victoria's. Mary Frazier's body was twice misidentified, once by a relative of Victoria Dray's and another time by a relative of Mary Forbes.
Victoria Clara Guillott (1873-1937) was born in Vermont to Canadian natives, Hubert and Sophia Guilott. The family moved west and by 1882 lived in Minneapolis. Victoria remained in the Midwest as an adult while her parents and some of her five siblings resettled in Montana.
In 1899 Victoria married her first husband, commercial realtor and mortgage holder, Homer Ira Dray (1872-1901), of Chicago. Homer may have gotten his start in real estate by working for his uncle, Walter S. Dray a Chicago realtor from the mid 1880s until his death in 1894. Walter's estate, adjusted for inflation, would today amount to nearly $5 million. I was not able to learn how Homer died but am curious so drop me a line if you have information about his death.
No children resulted from Homer and Victoria's marriage, probably because he died before their third anniversary and she did not remarry until she was forty-five. Victoria's inheritance was sufficient to let her travel, do a bit of financial speculation and maintain homes in several cities, or so she claimed, so she may have been too busy. Her 1905 hiring of fifteen-year-old Minnie Pfannenschmidt may have been born of maternal yearnings (see below).
Race horse named Venus

In February, 1903, nine months before the Iroquois Theater opened, Victoria was making her own drama in Chicago newspapers. She maintained she'd purchased a horse named Venus for $150 from Judson G. Sherman (1844-1913) who then refused to produce the horse. A one-time banker, Sherman was treasurer of the National Horse Sale Company in Chicago, specializing in the sale of harness racing horses. Judson maintained that Victoria never paid for the horse, that the receipt she presented was inaccurate because the ownership transfer of Venus depended upon a real estate transaction that was not completed.
Victoria was having none of it.
She first staged a six-hour sit-in at his office, refusing to leave and threatening Sherman with her umbrella. While ensconced, Victoria answered a few of his phone calls, ordered in lunch and made herself an annoyance until he physically ejected her. The manner of the ejection would become one of Victoria's several suits against Sherman. The sit-in came to the attention of the newspaper and the resulting story read like a Lucy Ricardo and Mr. Moony skit. In 1903 it probably made Victoria a subject for derision.
Undeterred, Victoria spent the next year pursuing Sherman. She went looking for the horse at his home in Lake Geneva. When she found no Venus she pled her case to Wisconsin courts and succeeded in seeing Sherman indicted for larceny in March, 1904. Meanwhile, Victoria brought a $10,000 suit against Sherman for throwing her down the stairs when he ejected her from his offices in 1903. Nothing was reported about the conclusion of either case but Sherman's horse-selling career was not interrupted, so he was not imprisoned, indicating there was a settlement.
Parental child abuse in 1905
In 1905, Victoria's name again appeared in the newspaper, this time as an accidental participant in a child abuse case.
Fifty-four year old widower, William Pfannenschmidt (1854-1946), who had immigrated to America from Inbenck, Germany in 1875, earned his living selling oil door to door. His second wife died in 1903, soon after their wedding, leaving him with six children aged four to fourteen.
Four of the Pfannenschmidt children remained at home in 1905 when William Pfannenschmidt went to Nebraska to find a homestead. He left his fifteen year old daughter, Helen, nicknamed "Minnie," in charge of the household, including the garden and her three younger siblings, aged nine to twelve.
Victoria Dray lived near Minnie but not close enough to easily explain how they came to know one another. However they became acquainted, the result was that Victoria hired Minnie to work for her – in an unknown capacity but presumably as a domestic – in exchange for clothing and an unreported amount of money. Such arrangements were common in the early 1900s when children were often viewed as labor.
When William returned from Nebraska and learned Minnie had not done as instructed, he beat her with his fists, whipped her with a belt and kicked her.
Minnie fled and went to the Friends of the Homeless who reported the abuse to the police. William was arrested and his case was heard by judge Healy.
"My father pounded me with his fists and kicked me," she said to Judge Healy. "I worked as hard as I could and tried to keep the house clean for him."
Pfannenschmidt was fined, Minnie Pfannenschmidt remained with Friends of the Homeless, her eleven year old sister Annie Helen Pfannenschmidt went to live with an older married sister, Emma.
The two boys, nine-year-old Charles and twelve-year old-Fritz, remained with their father.
William remarried two years later, to his third wife, forty-eight-year-old widow, Mary Collins, becoming stepfather to
Mary's

fifteen

-

year

-

old daughter, Susie Collins.
The story of the Pfannenschmidts doesn't end just yet. Three weeks after the wedding, Mary died under circumstances that a neighbor, family priest and her daughter Susie found suspicious. They thought William had poisoned Mary for her small nest egg, and had possibly done the same to his prior wife.
Police and the coroner's office investigated and found nothing to suggest Mary did not die of natural causes. The following year William married a fourth time but that wife too would be gone when he died in 1946 at age ninety two.
Nothing was reported about what happened to Susie Collins. Hopefully the courts did not force her to return to the home of a man with a history of violence whom she'd accused of murder.
And what became of Minnie? By 1940 she was widowed and worked as a cook – living with the father who had beaten her thirty-five years before.
Victoria tries on a millinery enterprise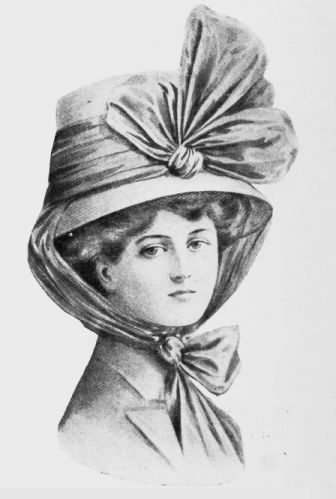 Just a period-appropriate illustration of a woman
wearing a hat, not Minnie or Victoria.
In 1907 Victoria incorporated the Victoire millinery company in New York with V. Mayne Turner, Alexander S. Bacon and herself as directors. A year later it was reorganized with herself as president, Mabel Dickinson as secretary and Alexander S. Bacon as a director. Initial capitalization was $2,000. Other than incorporation filings, I found no evidence of business activity. Alexander Samuel Bacon was an author and V. Mayne Turner owned the copyright on one of Bacon's books. In 1916 the pair formed a partnership in a printing firm.
Victoria back in court, wins suit against Lithuanian tailor

In 1908 Victoria brought suit against a Chicago tailor for refusing to reduce his bill on dresses she maintained fit poorly. Reported as George Gansky, the tailor may have been twenty-nine year old Joe Ghenski who lived on Ellen St. with twelve other Lithuanian and Russian tailors and seamstresses.
Victoria likely cited expert knowledge as her father and brother were tailors. Municipal Civil court judge of the First District, Edwin K. Walker (186-1953), had Victoria don two of the four dresses she purchased and ruled that one was an inch too long and the other an inch too loose at the waist. Walker ordered the tailor to turn over all four dresses and reduce his bill by $12 (another paper reported $22). Victoria gloated to the press.
Stakeouts, wanted posters, burglary and lies bring Victoria a third win in the courts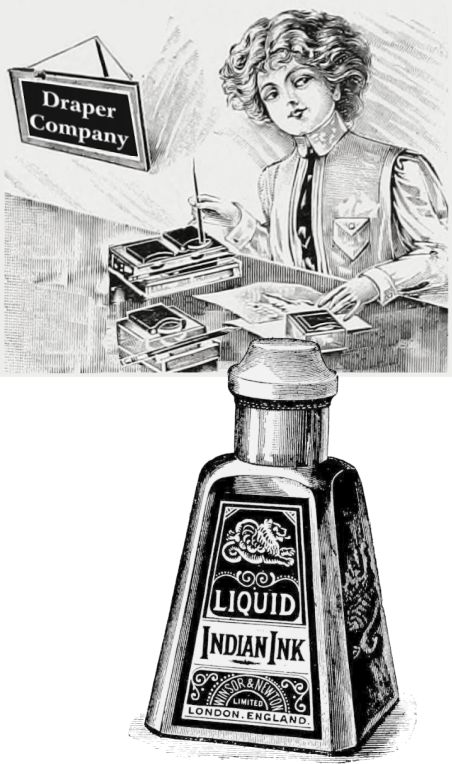 In 1910 Victoria spent much of the year in Detroit courts pursuing officers of the Draper Company Ltd. She wanted compensation for the job she claimed they'd offered, and return of her $1,000 investment.
Victoria went after three of its founders: Arthur Wellington Draper, John D. Kuppenheimer (known as the Prince of Bu) of the Oriental Silk Company of Montreal, and John's brother, Jacob D. Kuppenheimer.
The Draper Company had been incorporated in 1909 to manufacture indelible ink and carbon paper, with a head office in Detroit. Victoria contributed $1,000 to their original $100,000 in capital. She asserted that Kuppenheimer also promised her a job as a traveling sales representative with a $40 weekly salary.
When the company and job failed to materialize, and Kuppenheimer denied having made the job offer, Victoria hired an attorney – and went to work herself on a variety of schemes to bring pressure on the plaintiffs:
In court records she gave as her occupation that she was a corset model for the American Lady Corset Company. I checked decades of ALC advertisements but all incorporated stylized illustrations of young ingénues and I found nothing to corroborate Victoria's involvement with the company. At thirty-seven she probably no longer had the look the company favored but the company did have a line of models for fuller figures.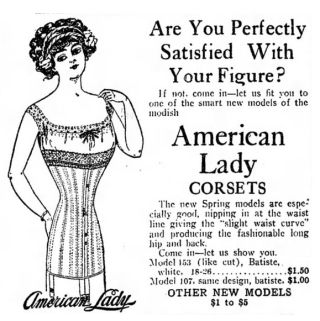 In any case, for Victoria, truth was malleable. When it became important in prosecuting the case against Draper for her to be a Michigan resident, Victoria testified that she had always had a residence in Detroit. She must have meant except for from 1899 to at least 1907 when she lived in Chicago. Had someone checked they would have found what I did, that the only Dray in Detroit City directories 1907-1915 was a single man. Victoria Dray's name did not appear until 1916 (but I could not find her in the 1910 US Census so she may have been in Detroit but the directories missed her – for a decade). At other times she claimed to have residences in Chicago, Manhattan and Paris. I don't know about Paris but in Chicago and Manhattan her residence consisted of a room in a boarding house.
Kuppenheimer hit back with numerous countersuits but in the end there was a settlement returning Victoria's $1,000 investment plus $1,000 for her trouble.
Victoria moves to Michigan, becomes Victoria Clara Guillott Dray Lebert
Victoria lived in Michigan the last two decades of her life, operating the Antler's Stag Hotel and cafe and marrying in 1918 and again in 1925.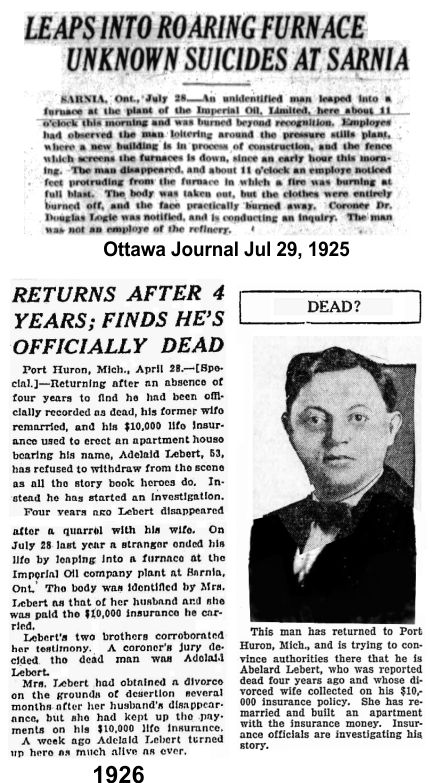 In 1918 she married Canada native, Adelard Lebert (1883-___), age thirty-five, and the pair settled in Port Huron, Michigan. Four years into the marriage, Adelaid disappeared after he and Victoria argued (perhaps about her having claimed she was only thirty five at the time of their marriage instead of her actual forty five), and did not return home. Victoria filed for desertion a few months later but continued making payments for the next three years on his two life insurance policies, for coverage totaling over $8,000. While watching, I suspect, for news of a death that met her purposes, i.e., one involving an unrecognizable and unidentified male corpse within a short distance of Port Huron.
Having been briefly thought an Iroquois theater victim herself, Victoria would have followed Iroquois news closely and known about the various miss identifications of badly burned bodies. Thus a story in July, 1925 of a horrific suicide may have been just what she was looking for. Across the St. Clair river in Sarnia, Ontario, an unidentified man jumped into a flaming furnace at Imperial Oil Limited and was burned beyond recognition with only a portion of the face remaining.
Victoria came forward to identify the body as her missing husband, Adelard Lebert. Corroborating identifications from Adelaid's two brothers convinced the coroner, Dr. Douglas Logie, who issued the death certificate for Adelard Lebert. The Lebert brothers paid for funeral services and Victoria got the death certificate she needed to collect the life insurance payout. She used the $8,000 to build an apartment building, even naming the building Adelard Apartments.
The following year Adelard Lebert turned up, very much alive. He had been traveling in California, Washington and Florida for the past four years. Upon returning to the area, presumably to visit family in Ontario, he learned of his supposed death and thought his brothers should be reimbursed for the funeral expenses of the stranger they'd buried.
The insurance company tried to force Victoria to return the money but she denied that the man who claimed to be Lebert was her husband. Victoria challenged the insurance company and assistant prosecutor in Port Huron, Jesse Wolcott, to prove that the man who claimed to be Adelard was actually her husband – accurately calculating that they would not, or could not, do so. Adelard's parents were deceased. There were siblings who could have identified him but the situation called for people who could connect Adelard to Victoria and it's possible they all lived in Canada. Bringing them across the border to testify may have been problematic.
For his part, Adelard laid no claim to the insurance money (presumably he had not paid the premiums on the policies prior to his disappearance in 1922). Whatever the considerations, the case was dropped. And Victoria kept her apartment house.
Victoria marries eighty year old widower
In 1925 at age fifty two, Victoria married a third time, to a retired contractor in Port Huron, eighty year old widower, William Manley (1845-1927). It was reported that Manley had been a friend of Adelard Lebert. I failed to find online information about William Manley's will.
Victoria buried in unmarked grave
Victoria died at age sixty-two in 1937 of ovarian cancer. She was buried in an unmarked grave at the Lakeside Cemetery in Port Huron, Michigan, along side her third husband, William Manley, and his first wife. (Semper fi, Mr. Lindsay.)