On New Years day, January 1, two days after the Iroquois Theater fire, coroner John Traeger appointed six men to the coroner's jury and they were sworn in at 10:30 am that morning. The appointed jurors (with a curious concentration from the retail furniture industry), in service for twenty-six days, were each compensated $1 per day:
Leopold "Leo" H. Meyer (jury foreman) (1865-1929) – secretary/co-owner at Kennedy Furniture company. Thirty-seven years old, married with three children. 2nd from right in topmost photo.
Afterward Meyer was reported as having said, "I wouldn't take the job again for $100 a minute. It was a terrible strain. I cannot say anything about what took place while we were arriving at the verdict. The result speaks for itself. We all took a pledge not to make any statements. The verdict was unanimous. We were all of the same mind. We did our best to place the load of responsibility for the disaster on the proper shoulders, and I think we succeeded. I cannot talk about the subject of any dissension among the jurors before arriving at a verdict. Every point and question was weighed and argued." Mayor Harrison's brother, Preston Harrison, would later assert Meyer's judgment relative to the major was vengeance for a business loss involving a furniture contract for hotels closed by the mayor's office.

John "Jack" E. Finn (1870-?) – salesman for A. H. Revell & Co. furniture company. Thirty-three years old. 5th from left in topmost photo.

Walter D. Clingman (1852-1930) – salesman for Tobey Furniture. Fifty-one years old, married, father of three. 6th from left in topmost photo.

Joseph A. Cummings (jury secretary)(1866-c1937) – manager at Browning, King & Co. clothing wholesaler/retailer. 4th from left in topmost photo. Midway through trial returned to Boston hometown to manage employer's Boston store.

George W. Atkin (1880-1949) – manager in Marshall Field credit department. 2nd from left in topmost photo. Youngest juror. Married, later had two children.

Dr. Peter Byrnes (1862-1918) – bookkeeper or salesman at Lyon & Healy musical instrument manufacturer/retailer. 3rd from left in topmost photo. Married with two children.
A gruesome job
The jurors' first task was to view the bodies, as required by state law, and the death scene, the Iroquois Theater. Two horse-drawn patrol wagons transported jurors to morgues operated by the city and to funeral homes and hospitals, beginning with Rolstons on Adams St., Jordans, St. Lukes Hospital and Buffums. Additional trips to morgues and hospitals were made as other victims died in the days after the fire. Jurors also went to one home to view the body of a girl who had been carried off from a morgue in the first hours after the fire, circumventing official death certificate procedures.
The inquest (later estimated to have cost less than $1,000, or $27,000 today) began the morning of January 6, 1904 and continued until January 25, 1904. Either 179 or 180 witnesses (both quantities were reported) responded to subpoenas served by representatives of the coroner's office. In addition to hearing witness testimony, jurors made multiple trips to the Iroquois and evidence (e.g. the arc lamp that started it all) was brought into the trial room for exhibit.
Y'all come
The audience was crowded with VIP's and attorneys on opening day. One newspaper described it as the "most formidable array of public officials that has ever appeared at any inquest in Cook county". In addition to the expected players (coroner Traeger, deputy coroners Buckley, Feldstein and Downey, and assistant state attorney Albert Barnes with his boss, Charles S. Deneen, who at six months in to his campaign for governor could recognize a publicity opportunity, fire department attorney Monroe Fulkerson, fire chief Musham and police chief Francis O'Neill and assistant chief Herman Schuettler) at hand were city corporation counsels William Rothmann and Charles S. Wharton,|| and attorney for Cook county, James H. Wilkerson.# Prospective future defendants (Iroquois co-owners Will J. Davis and Harry J. Powers, Mr. Bluebeard company owners, Klaw & Erlanger and building commissioner George Williams) were represented by their attorneys, William J. Hynes. Thomas J. Hogan, and Levy Mayer.
Fast tracking
In a departure from standard procedure, to handle the volume of witnesses, court stenographers immediately converted shorthand transcripts of witness testimony to spoken records so that each witness could read and sign his/her testimony before leaving the trial room.
The plan
Coroner Traeger outlined the objective and order the investigation would take. The first goal was to determine the cause of the fire and responsibility for loss of life to Mary Edna Torney and 564 others. The cause of death for all victims would be entered as "shocks and injury." The proceeding would first hear reports of investigations by police and fire department, then testimony from members of the audience, ushers, stage hands, twenty-five orchestra members, actors, theater owners and the architect.
Deliberations
After sixteen days of testimony, heard in the Chicago city council rooms at city hall, the last witness was heard at 3:21 p.m. Monday, January 25, 1904. As the city council needed the council rooms that night, the coroner's jurors, along with coroner Traeger and Buckley, and the evidence (McMullen's lamp), toted by police officers, were relocated to the county commissioner's rooms in the county building. With police officers posted outside and Traeger and Buckley set up in an adjacent office, available to answer questions but not present during deliberations, the six jurors began their task, starting with a review of 3,000 typewritten pages of testimony. Deliberations lasted roughly eight hours, with an hour dinner break at 6:00 p.m.
Atta boy
At 11:30 p.m., after officially commending Traeger and Buckley for their orderly handling of the inquest, jurors turned over their verdict to Traeger and began signing 576 verdicts. Traeger turned over the coroner's jury findings to the police department by midnight so that arrests could be made the next morning, by which time bonds would be set. Shortly after midnight Chicago police department detectives set out to make arrests.
We're outta here
The inquest resulted in eight individuals being named as culpable enough to be held over for examination by a grand jury. The coroner's jury did not have the authority to specify the exact charges or bond for each of the individuals; that task would fall to the courts the following day.
Arrests
Police arrested six of the eight defendants during the night. By morning, Tuesday, January 26, 1904, all were booked except fireman Sallers who had rushed to the bedside of his dying father-in-law and turned himself in later. All but one, McMullen, were able to post bond that same day.
In deference to his position, the warrant for mayor Harrison's arrest had been served at 9:00 a.m. at his home on Schiller St. by deputy coroner Otto Spankuch (1872-1931), rather than by a police officer, and the mayor was permitted to go to the courthouse soon thereafter, without police escort. His party of four (including two family members as bondsmen and former Chicago mayor and attorney Hempstead Washburne 1851-1918) was met there by coroner's deputies Galligan and William A. Flannagan and escorted into circuit court judge Charles M. Walker's (1859-1920) courtroom on the fourth floor. Walker quickly ordered a recess and led the group to his chambers where assistant states attorney Harry A. Lewis (1869-1935) waived the sureties requirement, documents were signed and Carter walked on to his office as reporters yammered for a comment.
The other seven warrants were served by police officers who escorted each defendant first to the office of police lieutenant Andrew Rohan (1847-1912), then trooped to the courthouse for booking, bond assignment and bail payment.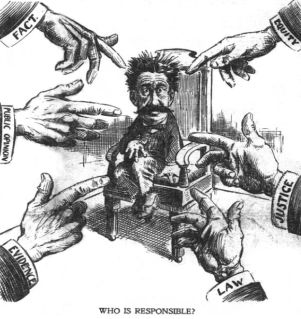 The Chicago Inter Ocean blamed mayor Harrison. The Chicago Inter Ocean was founded as the Chicago Republican; Harrison was a democrat.†
Jury's findings
You can read the 5-page coroner's jury report here. In summary, they:
Found that the fire started when drapery came into contact with an arc lamp.

Found city ordinances were not followed, including required fire alarm boxes, fire apparatus, stage flues and fireproofed scenery.

Found the fire curtain was inadequate.

Found there were not aisles in front of first floor box seats.

Found there were no signs designating exits.

Fount the third floor gallery was too steeply raked.

Found the utility stairwell was too wide, resulting it in being miss identified as a primary path to the front entrance.

Demanded immediate action from city officials to ensure theaters maintained safe standards insofar as egresses, fireproofed scenery, steel fire curtains, and multiple electrical main lines with multiple control locations

Demanded city officials educate and verify competency of city employees and managers

Demanded that two uniformed firemen be on duty during performances.

Recommended that office work and fire fighting be separated in managing fire department.

Recommended that a uniformed police office be in attendance at every performance.

Named eight men to be detained for examination by a grand jury:
Upon hearing the verdict, observers took note that whatever culpability might have been attached to George Dusenberry, manager of the ushers, business manager Thomas Noonan or Harry Powers, Iroquois co-owner, had been passed to Will J. Davis, Iroquois manager and co-owner. The Chicago Inter Ocean speculated that the candidness of Harry Powers' testimony, and his partner Will Davis' failure to refute it, contributed to Powers not being arrested.
There were a few days remaining of the session for the sitting grand jury but its calendar was full, as was that of the upcoming February grand jury, so a special grand jury was called to hear the Iroquois Theater fire case. They would agree with the coroner's jury on five of the eight named defendants, and add one.
Discrepancies and addendum
The Encyclopedia Britannica website gives a summary of the role of coroners in modern times.
* Special grand jury indicted along with Iroquois business manager Thomas Noonan, Feb 20, 1904. Davis, Noonan and Cummings were indicted for manslaughter, Loughlin and Williams for neglect of duty.
† Chicago Republican ceased publishing after the 1871 Chicago fire and was reborn the following year as the Chicago Inter Ocean.
‡ Subsequent special grand jury would later decline to indict.
§ Victor Falkenau is credited with building the Chicago Stock Exchange, the Congress Hotel and many structures for U.S. Steel in Gary, Indiana. He met in closed sessions with Chicago aldermen after the Iroquois fire to discuss the fire risk of Chicago theaters. On Jan 7, 1904, a week after the Iroquois fire, Falkenau called a conference with Chicago police chief O'Neill and coroner Traeger to report that he had received reports that evidence was being tamped with and removed from the theater. Traeger requested O'Neill to prevent anyone from entering the theater without a signed permit. Details of the tampering were not publicized. In 1933 he was killed in a hit-and-run accident while at his second home in Pasadena, California. The driver of the car, identified and arrested, was Ada Mae Brooks, pioneer in kindergarten teaching methods.
|| Later that year Charles Stuart Wharton (1875-1939) was elected to a two-year term as a U.S. congressman. He returned to Chicago to serve as an assistant state attorney and private practice. In 1907, soon after completing his congressional term, he ran into a spot of trouble. He clubbed a stranger in a bar with the butt of a gun because the stranger spoke churlishly in the presence of women. In 1928 he got into substantially worse legal problems when convicted of conspiracy in the robbery of a mail train. After disbarment and a two year imprisonment in Leavenworth, he operated a restaurant and authored several books.
# James Herbert Wilkerson's term as Cook county's counsel came to an end later that year. As a federal judge (1922-1940) for the northern district of Illinois, he sentenced Al Capone to eleven years for tax evasion in 1931.