A special grand jury for the Iroquois Theater fire case was requested on February 6, 1904 by state attorney Charles S. Deneen, it having been concluded that February's regular grand jury would not have time to hear the case. The prosecution was given to assistant state attorney Albert Barnes who had been present throughout the coroners inquest. Barnes was to be assisted by assistant state attorney Frank P Blair. Jury selection began on February 8 (see right).
Judge Chytraus' instructions to jury
"It is for you to investigate and ascertain if life was lost through any act of criminal omission or commission. Ascertain the origin of the fire and inquire if there was any criminal act or neglect. Bear in mind that it occurred in a public place designed to contain great numbers of invited persons, as from that fact certain duties arise, not only upon those in control at the particular time, but also upon those who created the conditions, and public officials who have responsibilities in connection therewith. Be careful, however, in the investigation into such conditions and responsibilities. Indict no one unless you see and are convinced as to his criminal responsibility.
"Approach your investigation in a judicial frame of mind and with the utmost fairness and impartiality. Unless evidence before you unexplained and uncontradicted would warrant a conviction by a petit jury you should not present a true bill. You hear only the evidence on one side and a true bill and an indictment amounts to an accusation which is afterwards to be tried and determined in one of the branches of the criminal court. The accusation is upon your oaths that sufficient cause exists to call on the party to answer the accusation.
"It is possible that no one is criminally to blame, and it is possible that one or more may be. My mind is entirely open on the question, and until you have heard the evidence yours ought to be. It is not for me, or for any public official, to say now, nor at this time for any of you to harbor the belief that in connection with that occurrence there is any guilt or any criminal responsibility on the part of any one. No accused or suspected person has any right to appear before you, nor can you compel any such person to testify. Neither have you any right to hear witnesses on behalf of one accused. Let no animosity and no partisan spirit influence you, nor should any such feeling be permitted to exist in your minds.
"Present no one from envy, hatred or ill will, and leave no man unpresented from fear, favor or affection. In returning of no bills or of true bills you are responsible to no one for your acts but to your God and to your conscience. You will probably have no time for the consideration of any other matter than the Iroquois fire. In general, however, bear in mind that offenders are prosecuted and punished, not only to protect the community against the particular offender, but as an example or warning as well, to deter others from offending in the future."
State attorney Frank P. Blair clarified on March 8, 1904 that mayor Harrison, fire chief Musham, Iroquois fireman Sallers and lamp operator William McMullen, did not remain under bond, nor had the special grand jury erred in not filing a "no bill" on them. The special grand jury's final report would supersede "blue slip" no bill form filings.
The job of grand jurists was to investigate possible criminal behavior related to the fire. It was not bound to indict the individuals held over by the coroner's jury or limit its investigation to those same individuals. There was nothing to prevent them from indicting mayor Harrison, even though a judge and the prosecutor had opined in a public forum that the coroner's jury had overreached its authority and purpose in its findings.
Witness testimony began on February 9 following a tour of the theater. First came police and fire fighters who described the jam on the steps leading from the second floor balcony and told about rescue work.
Newspapers reported that individuals the jury might wish to indict could not be questioned by the grand jury because if they did, they could not then be prosecuted. That included any likely candidates held over by the coroner's jury, such as Davis. (That was apparently inaccurate because the jury both interviewed and indicted Iroquois treasurer Thomas Noonan.) Grand jurors were free to read the extensive transcripts from the coroner's inquest, including transcripts from fire attorney Fulkerson's inquest.
Chicago Police officers testifying
John Becker
Michael J. Brierty
Joseph B. Buetel
Frank Eastman
Henry Grady
Philip Naughten
August Houseman
Charles Johnson
John H. Keeley
Charles P. Kenny
John J. Murphy
James J. Phalin
Edward Rohr
John Ryan
Cornelius Scanlan
Thomas J. Stapleton
Phil J. Sullivan
Robert J. Walsh
Fire fighters testifying
Captain Edward Buckley
Captain Thomas Hacket
Captain Dennis McSweenie
Lieutenant Michael Roche
Chief John Campion
On February 10 surviving theater goers were called and on the 11th, Iroquois Theater employees, including usher supervisor Dusenberry, engineer Murray, electrician John Wiertz, former Iroquois employee, usher Willard Sayles and lamp operator Peter O'Day.
Elvira Pinedo described the number of people standing in the aisles and at the back of ground floor seats and Ernest Stern described breaking open a door in the front lobby. Emil Von Plachecki described his harrowing escape through a bathroom skylight. Of particular importance was testimony from Sam B. Rogers because his late wife, Rose, was one of the few victims who could be connected to a specific seat in the auditorium. She'd placed her ticket stub in her purse. Looking ahead to an eventual criminal trial, prosecutors were desperate for such examples.
"We want more evidence of the manner in which persons escaped and of the difficulties they encountered," said assistant state's attorney Barnes. "Any one who can give us data of where any of the victims were seen last in the theater gladly will be heard."
Coroner Traeger supplied transcripts of testimony given at the coroner's inquest and grand jurors heard testimony from painting contractor John Galvin, baseball players Charles Dexter and Frank Houseman. Fresh from the hospital, Carrie Anderson was brought to testify but sent away to be told, for the first time, that her mother had not survived the fire.
Feb 12 brought conflicting testimony with multiple theater personnel claiming to have opened the same door and the same doors as doors theater goers claimed to have opened. My bet is that it was more about communication problems than prevarication or the hero posturing suggested by jurors. In modern times large flip charts or Power Point in the courtroom would make sure everyone in a discussion is talking about the same door. I've read nothing about visual aids in the Iroquois court rooms but have read reports of courtroom dialogue that demonstrates attorneys and reporters who lacked familiarity with the building.
There were signs the jury wanted to keep its options open regarding supervisor Dusenberry, twice scheduling and canceling his testimony until they'd heard from all the ushers.
An attorney for lamp operator William McMullen and stage carpenter James Cummings floated an offer of putting their constitutional rights on hold so they could again volunteer to testify as they had for the coroner's inquest but the jury didn't bite. They instead called James' brother Roger Cummings to testify, along with his supervisor, operator of the fire curtain, Joseph Dougherty.
On Feb 13 jurors called Arthur Hull to explain and substantiate his claim, as made to the press and in a flier he'd had printed for passing out, that "powerful influences were at work to prevent the punishment of those responsible." Under questioning by assistant state attorney Barnes, Hull admitted he could produce no evidence.
Also testifying on the 13th: Carl Berry who lost his wife, brother and sister-in-law, the Martin parents who had lost both their sons at the Iroquois, and James Strong, whose wife, mother and niece died on the other side of a door he and William McMullen struggled to open until fireman Roche appeared with an axe, succeeding in opening the door moments too late.
On Monday, February 15 building inspector Julius Lenses testified about inspecting Chicago theaters while preparing the report building commissioner Williams had submitted to mayor Harrison that demonstrated every theater in the city violated ordinances sufficiently to merit license revocation. As he spoke, jurors had before them the testimony given by Williams and Harrison at the coroners jury about the report. According to the Chicago Tribune, either man had the power to revoke theater licenses. Instead Harrison had sent it to the city council to review the ordinances, where it was moved to and remained in a committee.
Lenses also testified about his visit to the theater with inspector Loughlin/Laughlin the morning of the Iroquois premier, November 23, 1903, when Loughlin performed his final inspection and reported the building as being "OK.". Lenses repeated his opinion, offered in his coroners jury testimony, that the theater was far from complete enough to have earned that inspection certification.
Testifying that day were survivors John Haney and Sidonie Fellman.
1904 Grand Jury judge
Axel Chytraus (1859-1919)
Judge Willard McEwen was originally expected to hear the trial but was ill on February 6 so the trial was assigned to Chytraus. A native of Wermland, Sweden, Axel came to America as a child, in 1869. Admitted to the bar in 1881, he was in private practice with Charles Deneen prior to becoming a superior court judge 1898-1910. He also served as appellate court judge for three of those years. In 1911 he formed a partnership, Chytraus, Healy & Frost. His wife, Laura Haugon Chytraus, died the following year. His 1892 passport application described him as being 5'8" tall with an ordinary nose, mouth and chin, light colored hair high forehead and round face. It was reported that he died of a nervous breakdown from overwork. He and Laura had no children. His estate, valued at $275,000 (nearly $4 million today) was left to five brothers-in-law and a sister-law.
1904 Grand Jurors
The names of forty-five men were drawn by jury commissioners on Saturday, February 6, 1904. Fearing prospective jurors would disappear if they learned of their selection before receiving warrants, the sheriff's office sent nearly every deputy and writ server on staff out at once to inform the prospects they were to appear on February 8 for venire. On the morning of the 8th, ten ignored the warrant and Chytraus sent out sheriffs to bring in six more. Of the six, five were located, none of which were in the final selection of twenty-three:
John G. Bodenschatz president, Lemont Limestone Co
James W. Curran manager
Harry R. Eagle president, H. R. Eagle & Co. grocers
Joe E. Field jury foreman, appointed by court. "Harvey Agent" for Children's Home & Aid Society
Charles F. Freligh railway conductor
Ernst Heldmaier (1838-1929), Iowa native. Arthur E. Hull objected to his placement on jury, accusing him of having a conflict of interest because he was a subcontractor of the Fuller Construction company and had laid cut stones in front of the Iroquois Theater. Judge Chytraus stated he would not have accepted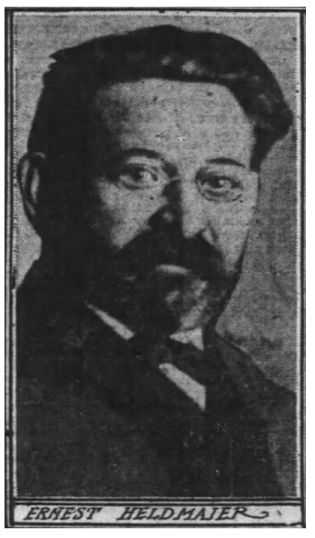 Heldmaier to the jury had he known of his relationship to theater contractors and asserted that questions during venire gave Heldmaier ample opportunity to volunteer that relationship. For his part Heldmaier offered to step down but Chyraus said his connection to the theater was not sufficient to legally require his dismissal. Prosecutor Barnes and the Chicago Tribune accepted the situation; the Inter Ocean and Arthur Hull were apoplectic, Inter Ocean blaming the oversight on state attorney Deneen being more occupied with his campaign for governor than his responsibilities as an elected official. In general OC threw journalistic objectivity out the window on the subject of Harrison.
Henry J. Karstens president , Lafrentz & Karstens Co
James A. Lahey railway roadmaster
Edward S. Martin salesman, secretary
Patrick H. McCarthy
John A. McGarry paving contractor
John S. Monroe foreman at 500 Washtenaw Ave
Alfred Moore carpenter
Jacob Morgenthal clerk
Michael Miniter manager
Charles A. Nichols Palatine
Dennis F. O'Neil president Western Foundry
Richard A. Paddock president Paddock & Baker Attorneys
Philip Sharkey (1861-1945), officer in Sharkey & Peck, a manufacturer and repairer of boilers at pumping stations with customers that included the city of Chicago. Like Heldmaier he was accused by Hull and the Inter Ocean of being too biased to indict city officials (building commissioner Williams and democratic mayor Harrison, a favorite target of the republican-founded Inter Ocean). Sharkey did around $1,000 annually with the city ($27,000 today.)
Henry Toboarg
Trevor Arnett auditor, University of Chicago
Oscar Vallin, car builder
George Zuber cigar manufacturer
Verdict
On Saturday, February 20, 1904 the grand jury voted to bring multiple counts against Iroquois manager Davis, treasurer Noonan and stage carpenter Cummings for involuntary manslaughter, and against building commissioner Williams and inspector Laughlin/Loughlin for "palpable omission of duty" resulting in the deaths of two third-floor theater occupants: Viva R. Jackson who had occupied a seat in the first row of the gallery and Margaret Berry. Williams was charged with not inspecting the theater, not directing a subordinate to inspect it, not having enforced city ordinances and not having had corporate council enforce the ordinances. Iroquois treasurer Thomas Noonan was a grand jury add-on who had not been held over by the coroner's jury. It was reported that he was indicted in part because jurors thought it would be inconsistent to indict Williams and not Noonan. Noonan had been instructed by his superior, Davis, to purchase fire hose for the Iroquois and Noonan purchased only fifty feet of hose. The juror's first vote on Noonan was inconclusive so his indictment was voted upon a second time as the last vote.
The penalty for involuntary manslaughter was a prison sentence of from one year to life and for misfeasance a fine up to $10,000 and possible removal from office.
The jury turned the indictments over to the state's attorney's office for drafting and recessed until Tuesday, February 23, 1904 when the indictments were turned over to judge Chytraus' court and arrest warrants were issued.
A committee of three grand jurors prepared a 12-page report of their findings, released February 24, 1904, including recommendations and an explanation as to why the mayor and fire chief were exonerated.
Exonerations
Exonerated were mayor Harrison, fire chief Musham , lamp operator McMullen and Iroquois fireman Sallers.
Mayor Harrison - the coroner's decision to hold Harrison over for trial had been based on the presumption that Harrison let the Iroquois open after he was informed (by commissioner Williams' report) that Chicago's theaters were unsafe. The coroner's jury, however, had not heard all the testimony heard by the grand jury. Testifying before the grand jury was city clerk Fred C. Bender, mayoral assistant Edward Ehrhorn, city collector Edward Lahiff and deputy collector J. F. McCarthy describing a conference with Lahiff, Bender, Ehrhorn, the mayor and Williams, subsequent to the filing of Williams' report, in which Harrison directed that no theater licenses should be issued without Williams' verification that the theater met ordinance requirements. Since Williams had already permitted licensing of the Iroquois, and the Iroquois was a brand new structure, inspected and given an OK by Loughlin/Laughlin, Williams did not himself know the Iroquois was a fire trap thus had no reason to bring it up in the conference. If it went down as described, one of history's most tragic communication gaps.

Fire chief Musham - his exoneration resulted from the juror's interpretation of Chicago building ordinances that Musham's job description included a responsibility to judge the character of fire apparatus in theaters but did not require safety inspections. Hmmm. Okay, so the Iroquois fire apparatus was woeful. Wasn't the chief responsible for his subordinate's reports or lack thereof on that? Kind of liked gruff Fred Musham while learning about him but the reported explanation for his exoneration seems inadequate.

Lamp operator William McMullen was exonerated because jurors felt the loss of life resulted from the lack of fire fighting equipment. The jury recognize that McMullen had the option of refusing to operate the lamp in such unsafe circumstances but, like fireman Sallers, was given a pass because he lacked authority. No mention in the coroner's inquest or the grand jury report why there was no indictment of the Mr. Bluebeard electrical supervisor Wlliam Dunn who knew the lamp was too close to the drapery and failed to resolve the problem.

Iroquois fireman William Sallers was exonerated because he was never instructed on his duties or asked for a report on the theater's conditions. The others that were exonerated, I get. Not Sallers. He was a fireman who knew better than anyone else at the Iroquois what fire could do to human flesh. And he knew better than anyone else in Chicago how poorly prepared the Iroquois was for a fire. His excuse, that he feared he'd be fired if spoke out, as he had been at a prior job, at first glance engenders sympathy from anyone who's been subjected to an unfair boss, but on further reflection is seriously weak. "Might have to find a new job if I speak out... wife might get upset...might have to ask my folks to help feed my kids for a bit...but if I remain quiet, it risks the lives of two thousand people every time this theater fills up...let's see, what should I do..." Gives cowardice and self interest a whole new meaning.
Punish those at the top, for sure, but folks who make decisions that cost hundreds of lives shouldn't be given a pass just because they're at the bottom of the totem pole. McMullen and Sallers ignored their consciences and six hundred people died.

Jury's recommendations
The mayor and other city officials were censured for tossing off responsibility to others and shirking responsibility, chief Musham for poor management of theater firemen. The grand jury agreed with the criticism and recommendations of the coroners jury insofar as a need for changes in the inspection system and creation of a fire/police board. Fire chief Musham took their recommendations and within thirty days had created a bureau within the fire department to specialize in inspections of structures, elevators and other ordinance-mandated activities required of the fire department.