The 3' x 4' bust of an Iroquois Indian chief (above) that graced the front of the Iroquois Theater was produced by an architectural sculpturing firm in Chicago, Beil and Mauch, who contracted with Chicago sculptor Joseph Dux (pronounced "dukes") for the stone carving. Dux carvings appeared in numerous architectural projects in the Midwest, including the Fort Wayne Allen County Courthouse, Madison Wisconsin Historical Society Library, Chicago Athletic Club, Chicago LaSalle Hotel, University of Illinois Stadium, Ogden Armour and Edith Rockefeller McCormick homes.
A Philadelphia native, Joseph Dux (1856-1931) was married to Mathilda Blanche Best Dux. The pair had four children, one of whom, Arlene, married Dr. Charles Reign Scoville, a prominent Evangelist minister.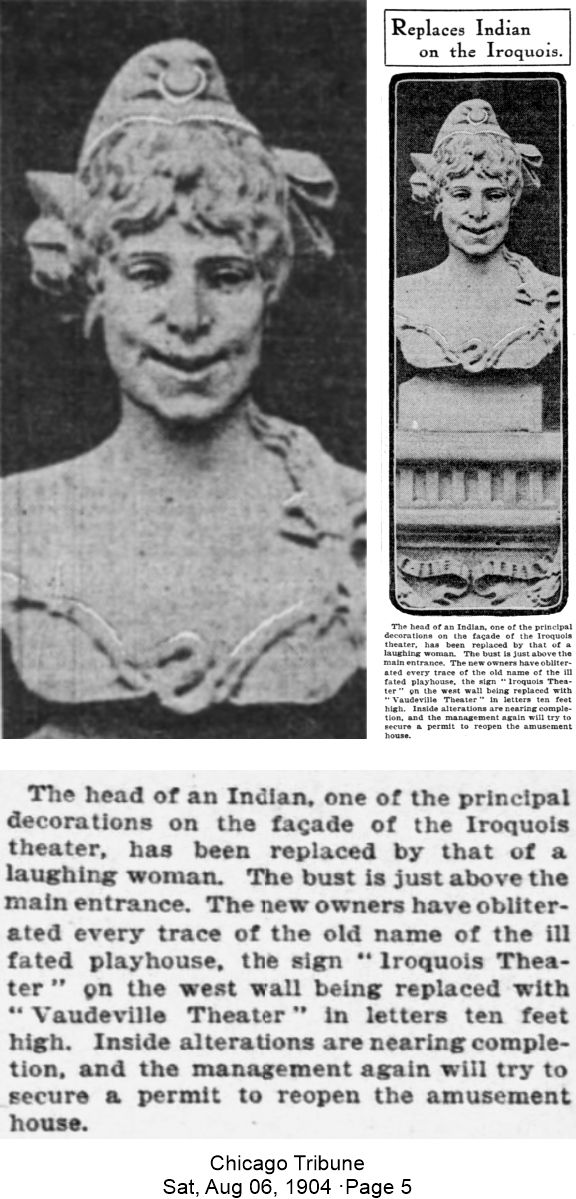 In August, 1904, seven months after the Iroquois fire, the new owners of the theater replaced the bust on the front of the theater with what was called a "laughing woman." The Iroquois name was covered over with a large "Vaudeville Theater" sign. In 1909 a human being promoting George M. Cohan's Yankee Prince was in her place. It isn't known when she was removed from her platform or if she was returned after 1909.