Married around 1879, but childless, Eva M. Wilcox and her husband, Charles H. Wilcox (1854-1909), owned their home at 109 South Leavitt Street in Chicago (near the intersection with W. Monroe). They lived in one of three flats and rented the other two.
Eva's body was located at Buffum's funeral home and identified by her husband. Her funeral was held at Rogerson's funeral chapel at 485 W. Madison in Chicago mid afternoon the Monday after the fire. She was buried in Graceland Cemetery in the Wilcox family plot with her mother- and father-in-law.

Except for the last few years of Eva's life, Charles and Eva shared their home with Charles parents, Horatio N. Wilcox (1804-1893) and Mary Ware Wilcox (1815-1891). The pair lived long enough to see their sons' names smeared in the newspaper as pornographers and business scammers
Charles worked off and on as a druggist and oculist, possibly even as a dentist at the end of his life. I found no evidence of training in any of these fields; it was his commercial photography ventures, however, that got him into trouble.
In 1872 Charles and his older brother, Harry T. Wilcox, went into the crayon photography business in Chicago as the Wilcox Bros. Over the next thirty years the pair operated at least three companies, sometimes simultaneously and occupying multiple offices.
Their known companies: Wilcox Bros., C. H. Burt Company and the Great Western Art Company. The ventures might have gone unremarked had they not captured the attention of an enterprising Chicago Tribune reporter named Nora Marks see below.
In the years after the fire
Nine months after the fire a $10,000 wrongful death suit was brought on behalf of Eva against Will J. Davis and the Iroquois Theater. Presumably it got no further than the many other such suits.
Charles relocated to Peoria, Illinois for a time and, around six months prior to his death, to St. Joseph, Michigan where he married a woman from Canton, Illinois, Josephine Bleekman. At death, he was buried alongside Eva. The death record filed for him in Cook County contains so many details that are inconsistent with information contained in other records in his life that if the date of death did not correspond with the date on he and Eva's grave marker I'd suspect it was for an altogether different person. Perhaps there was much his bride did not know about her husband.
This is the second time a crayon portrait studio has come up in investigating Iroquois people. A few years after the fire Iroquois usher Archie Guerin would be working for his brother Webster Guerin's crayon studio and become the primary witness against his accused killer.
---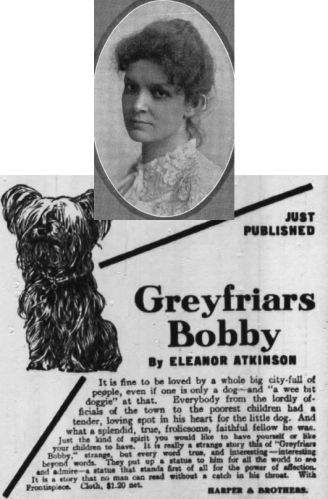 Hoosier-born Chicago Tribune reporter Nora Marks (1863-1942) (a pen name for Mary Eleanor "Nellie" Stackhouse, later Eleanor Stackhouse Atkinson, journalist, children's author, publisher and grandmother of TV comedian Wally Cox), went undercover to pose as a young woman responding to a newspaper advertisement for photographic models. (See below left.) Marks wrote numerous investigative feature stories for the paper 1888-1890. Her most successful book was Greyfriars Bobby in 1912 about a Skye terrier devoted to its master.
In 1888 Nora penned two Chicago Trib stories (described below) featuring the questionable business practices of the Wilcox brothers, one about their soft porn business, the other about their bogus free-crayon-portrait offer. It should be noted that Wilcox Bros was not unique in selling overpriced picture frames via a free-portrait offer. There were several such firms, the others concentrated in NYC. For Wilcox Bros the effort to franchise the concept ran into trouble when a customer sued.
Charles sold photographs of semi-nude models
Imagine you're a young woman struggling to make ends meet, looking through the newspaper for a job...

Charles and his brother offered free crayon portraits – provided you purchased an over-priced frame
Imagine you're looking through your mail...

The many questions
What was Eva M Wilcox's surname?

Where, reportedly in 1879, were Eva and Charles H. Wilcox married?

Was Charles H. Wilcox born in New York as stated in 1880 and 1900 US Census, or in Canada as stated on his death certificate?

What did the H stand for in Charles' middle name?

Was Charles' mother born in New York as stated in the 1800 Census, in Vermont as stated in the 1900 Census or in Ireland as stated on Charles' death certificate?

Why can't Charles be found in US Census 1860 or 1870 living with his parents?

Was Charles working as a dentist at the time of his death, as stated on his death certificate?

When, after 1895, did Henry T. Wilcox die? Was he married? Was his middle initial T., F., or C.? Each appear in various records.

Did Charles and Henry's father, Horatio Wilcox, work in his son's photography studio as reported in 1887 Chicago city directory?

Was Charles' father the Horatio N. Wilcox who lived in Utica, NY in 1860s?