Jessie Bartlett Davis (1859-1905) was born in Morris, Illinois, a small town not far from Chicago, in 1866. She came from New England stock, her parents having moved to Illinois from Keene, New Hampshire, where her father was a school-teacher, leader of the church choir, and instructor in music to the few persons in the town who cared to employ him in that capacity. One day he fell in love with a seventeen year old who applied to him for a position as school-teacher. They soon married and started a family.
The Bartlett family was large — four girls and four boys, with Jessie in the middle.
There was no spare money in this household to spend on a musical education for Jessie, who began to sing almost before she could talk. When still a toddler she climbed onto the melodeon stool to hit keys and sing.
Her father taught her all that he knew about music, and by age twelve she was the leading performer in every musical event in the town. Her voice, by her own admission, was "loud enough to drive everyone out of the schoolhouse." She sang in the church choir, and wherever else there was any one to listen.
At fifteen she joined Mrs. Caroline Richings Bernard's "Old Folks" Concert Company at a salary of seven dollars a week, and though her voice was uncultivated, she attracted attention. She was next given an engagement to sing in the Church of the Messiah in Chicago, and the whole family moved with her to Chicago. While there, she studied with Fred Root, son of George F. Root, a composer of popular ballads.
The popularity of HMS Pinafore provided her entry onto a larger stage. Will J. Davis, one of Jack Haverly's managers, heard her sing and persuaded Haverly to sign her for the role of Buttercup for fifty dollars per week -- an extraordinary amount for an unseasoned performer. At the end of the season, in 1880, she and Davis married.
Will Davis believed in Jessie's future, and advised her to decline all further offers until she had learned how to best use her voice. He took her to New York where she became a pupil of Italian pianist, conductor and composer, Signor Luciano / Lucien Albite (1824-1885) and Signor De Rialp, a trainer for Colonel Mapleson of Her Majesty's Theater.
Colonel Mapleson, at that time managing Adelina Patti, heard Jessie sing and advised her to study for grand opera.
When the contralto scheduled to appear as Siebel in Faust with Patti was taken ill, Mapleson persuaded Jessie to take on the role.
"What frightened me more than anything else," said Jessie in later years, "was the romanza that Siebel sings to Marguerita. I was so afraid of Patti, whom I considered a vocal divinity, that I finished the romanza without having dared to look her in the face. You can imagine my surprise when she took my face in her hands and kissed me on both cheeks. 'You're going to sing in grand opera, and I'm going to help you,' she said.
"Adelina Patti's favor and influence did more for me than two years of hard study. There were only two weeks left of the opera season. During that time I appeared twice as Siebel in Faust, and once as the shepherd boy in Dinorah."
Colonel Mapleson offered to send Jessie to Italy for three years of study with celebrated teachers to help her become a world-famous singer. In return Jessie was to sing under Colonel Mapleson's direction for three years.
Unstated personal reasons [possibly her second pregnancy and birth of Willie Davis Jr.] made it impossible for her to accept this offer but she did not give up the idea of singing in grand opera. After the birth of her son, Jessie studied a year with Madame LaGrange in Paris. On her return she sang for a season in W. T. Carleton's company.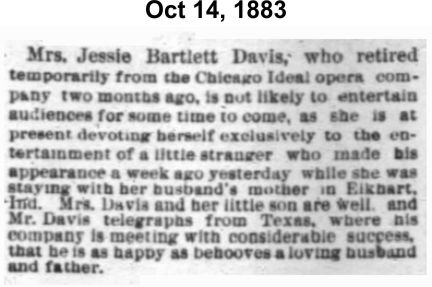 Her principal parts were the drummer boy in The Drum Major and the German girl in The Merry War. The next season she appeared in the American Opera Company, which included Fursch-Nadi, Emma Juch, and Pauline L'Allemand, with Theodore Thomas as musical conductor, then with the reorganized National Opera Company.
"That was hard work," remarked Mrs. Davis, "all for no money, and so I got home to Chicago, tired, sick, and discouraged, and vowing that I would never sing in public as long as I lived.
"While resting in Chicago the manager of The Bostonians came to see me to talk about an engagement. Agnes Huntington was their contralto and they wanted to replace her. I declined at first, but changed my mind when he asked a second time."
During her first seasons with The Bostonians, Jessie's repertory was extensive, including the Marchioness in Suzette, Dorothea in Don Quixote, Cynisca in Pygmalion and Galatea, Vladimir Samoiloff in Fatinitza, Siebel in Faust, Nancy in Martha, Azucena in The Troubadour, Carmen in Carmen, and the Queen of the Gypsies in The Bohemian Girl.
Her success as Alan-a-Dale in Robin Hood, premiering at the Grand Opera House in Chicago June 9, 1890, kept her busy for several seasons. She then appeared in The Maid of Plymouth, In Mexico, or, A War-time Wedding, The Knickerbockers, Prince Ananias, and The Serenade."
"In 1896 Jessie estimated she had sung Oh, Promise Me, from Robin Hood, around five thousand times. Robin Hood had been performed 2041times, and she had appeared in it all but twenty-five of those. Oh, Promise Me always got an encore, and often a double encore, which brought the number up to Jessie's Davis's estimate.
"I don't tire so much of the acting of a role as I do singing the same words and music night after night," she continued. I sang Oh, Promise Me until I thought they ought to blow paper wads at me. One day in Denver I said to our conductor, Sam Studley, 'Sam, I'm so sick of Oh, Promise Me that I've made up mind to sing something else.' 'Jessie,' he said, 'I don't blame you!' So it was agreed that on the following night I would substitute another of DeKoven's sentimental songs. But they wouldn't have it. I had no sooner started singing than there were shouts from all over the house of Oh, Promise Me! 'We want Oh, Promise Me!' I managed to struggle through one verse, and then ran off the stage laughing. Then Mr. Studley struck up the introductory to Oh, Promise Me, and I went back and satisfied the audience by singing their favorite ballad. It's an awful fate to become identified with a single song.
"Being a singer is not like being an actress. If you are a singer, your voice must be your first care. An actress, if she gets over-tired, can go on and spare herself. A singer cannot. An actress can use less voice at one time than at another. A singer cannot. Over-fatigue, excitement, anxiety, all affect the voice by which the singer lives.
"I had my grand opera experience. I wasn't very happy in it, although I had good roles to sing — once in a while. I did not know how to protect myself. I was young then and too good-natured. I confess that while the work in grand opera was more to my taste, I was happier in light opera, and, after all, that is a great thing in the world. Sometimes I used to sigh for more serious work, for a heavier role, and in that way In Mexico came to pass. I used to say sometimes 'Oh, I wish I could have a hard part; I am tired of rigging up to show my legs. I want something to do that is hard to do.' So in 1895 when In Mexico was read they said, 'Well, here's Jessie Bartlett's serious part.'"
"That opera was, indeed, very serious, so serious, in fact, that the public would have nothing to do with it."
Jessie and Will J. Davis had one child, Willie J. Davis Jr. In addition to their home in Chicago, they owned a farm in Crown Point, Indiana, south of Chicago.
Jessie died unexpectedly at age forty-six of chronic kidney disease. Celebrated catholic priest of Chicago, Father Dorney, conducted her funeral and she was buried at Oak Woods cemetery in Chicago. She bequeathed an estate to her son Willie that with inflation would amount to around a million dollars today.