Sixty-three-year-old Joseph H. Bruce (1840-1908) of 990 North Oakley Avenue in Chicago survived the Iroquois Theater fire in 1903 and was one of the first to testify at the coroner's inquest in January, 1904. (See clipping at right.)
Based on reports of his testimony in two newspapers, it seems likely he attended the Mr. Bluebeard matinee alone. He was not quoted in testimony at the coroner's inquest as using the pronoun "we" that would have indicated a companion, such as his wife, Lizzie.
In the early years
A native of Massachusetts, Joseph was the oldest of six children born to Maine natives, Joseph Atherton Bruce Sr and Rozina Young Bruce. He grew up in Charlestown and Somerville, Massachusetts.
He followed in his father's footsteps and worked in the jewelry trade as a young man, employed in the "jewelry capital of the world," Attleboro, Massachusetts. At age twenty-two he married Elizabeth Barron Graves Bruce and their daughter, Iola Bruce (1867-1940), was born in Virginia five years later.*
The pull of the west was strong for the Bruce family. Joseph, Lizzie and toddler Iola followed his father, uncle, and brother – Joseph sr, Miner and Orin Bruce – from Massachusetts to Chicago in 1862, on to Omaha in 1870 and to Knox county Nebraska in 1871. There they joined with a handful of other pioneers to found the Bruce Colony about 200 miles northwest of Omaha, today a one and a half to two hour drive from larger cities. The colony would be named after John Creighton, founder of Omaha's Creighton University.
Snow, grasshoppers and hunger
Creighton, Nebraska families endured substantial adversity in the early years. The first winter, spent in sod houses, included a snowstorm that lasted fifty days and left them isolated from food-merchant traders. Some families were forced to survive on flour - driven to $5 per sack ($110 with inflation) by opportunistic fellow citizens. (Remember the prairie mercenary of TV, Mrs. Oleson on Little House on the Prairie?) In 1874 came a plague of locusts that decimated crops, depleted food supplies and brought starvation the following winter. (Read a sobering account of the Year of the Locust.)
A period biographical sketch made note that Lizzie was the second white woman to settle in Creighton, reminding me of Willa Cather's classic, My Antonia, set in a fictional Nebraska prairie town during the same period. I don't know if today's Creighton, Nebraska history buffs would concur with that characterization, though; has been forty years since I read Cather's triology. Time to revisit.
Town emerges
Though the community's founder, Joseph Bruce Sr., did not live to see it happen, passing during the summer of 1875, things got progressively better for Creighton, Nebraska after that. Joseph and Lizzie built a home in 1877 and Joseph operated a furniture store. He served as postmaster and in 1881 helped persuade the Sioux City & Pacific Railroad to build a depot there in Creighton. By 1883 land sold for $5-10/acre and farms were said to have doubled in value over the prior year.
Left behind a thriving city
Creighton then could boast of having a restaurant and a hotel, a dry goods store and a feed store, a newspaper edited by the town barber and a drugstore operated by the town doctor. Stage lines ran between Creighton and Yankton and O'Neill City.
I failed to find an explanation for Joseph and his family leaving Creighton. He was ambitious, I suspect, maybe needed a bigger pond, or may have inherited his father's restless streak. Daughter Iola was twenty-one and husband prospects in Creighton may have been limited. (She married in Chicago eight years after their relocation.) Whatever the reason, he had cause to feel proud of his family's contribution to the Nebraska prairie. When he left for Chicago around 1888, seventeen years after the Bruce Colony was founded, Creighton's population had grown to over 900. Read more about the founding of Creighton.
Joseph in the big city
In Chicago Joseph sold real estate and operated a publishing company for a time. In May 1903 he founded a new company, incorporated in South Dakota, The Combined Liquid Tank and Freight Car Company. He aspired to become the next Pullman by building railroad cars using a patented system he invented to transport cattle.† A corporate office was set up at 80 Dearborn St. in Chicago, stock was offered for $.15 per share and fifty acres were purchased in nearby Gary, Indiana on which to build a plant expected to employ 500 to 2,000 workers.
Death brought an end to Joseph's dreams of railroad wealth the summer of 1908. He was buried in the Forest Home Cemetery in Forest Park, Illinois near Chicago. You can read his obituary online. Back in Nebraska, his mother died two months later.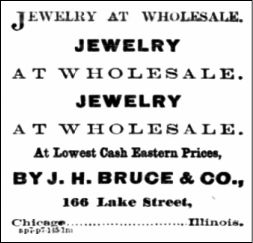 In April, 1862 Joseph sold jewelry in Chicago before heading west to Omaha.
Discrepancies and addendum
* A second daughter, Cora, was born in Chicago in 1864 before Joseph and Lizzie moved to Nebraska. She died two years later, in Massachusetts.
† Joseph held several patents, for a variety of railway car enhancements, including one that was a kind of passenger car air conditioning system, and others for baking equipment.