Julia Berger and Ada B. Lake graduated from the Chicago Art Institute. On December 30, 1903 they attended an afternoon matinee of Klaw & Erlanger's Mr. Bluebeard fairytale extravaganza at Chicago's newest luxury playhouse, the Iroquois Theater. Both would escape the conflagration that took over 600 lives that day but for Julia the escape was temporary.

Shock and horror attributed to Julia's death eighteen months after the fire.
Twenty-five-year-old Julia Mathlida Berger (b.1880) escaped from the Iroquois Theater without serious burns but died eighteen months later. Her family cited a throat infection* and said that she became an invalid with insomnia who lost her passion for painting miniatures. She died in her sleep in July 1905 and was buried at Chicago's Rosehill cemetery following a funeral service led by reverend Rudolph John of St. Paul's Lutheran Church.

Respiratory complications are a primary cause of death for burn victims, with a long list of complications, including bacterial pneumonia, pulmonary edema, arterial obstructions, carbon monoxide poisoning or direct injury from inhaling heat and smoke. Breathing problems could also have contributed to Julia's insomnia and reduced her enthusiasm for painting. Sitting hunched over a table to paint would have restricted her diaphragm and made breathing more difficult. Just sitting erect might have taxed her strength. That said, since hundreds of Iroquois Theater goers inhaled the same smoke but survived, it is likely Julia suffered from other health conditions that were aggravated by smoke inhalation.

Julia's doctor and parents attributed her death to nervous shock and horror at her experiences at the Iroquois. The limited remarks included in death notices said only that she and her friend, fellow Chicago Art Institute graduate Ada B. Lake, encountered an uncooperative usher and had to struggle to escape from "the back" of the auditorium (so they were seated or standing in the second or third floor balcony) and crediting Julia for having dragged Ada to safety. (Based on the woman Ada became later in life it is more likely Julia pulled her free from the crowd than that Ada was immobilized by fear.) It seems possible many Iroquois survivors suffered from PTSD, but it probably did not kill Julia.

I failed to learn more about Julia's experience at the Iroquois fire but turned up information about her life that explains why her anxiety level may have been already at a high level when she walked in the door at the Iroquois. Raised in privilege and wealth, her life had been turned upside down by the actions of people she cared about and depended upon to protect her. Julia was rebuilding her life to accommodate changed circumstances but lost someone important to her a few months before the fire. (See sidebar below.) Respiratory problems may have been the final straw, destroying her resolve and resulting in a hopeless outlook noted by her family.

Ada B. Lake (1880-)

Much less is known of Julia's theater companion, Ada Lake. If she ever spoke publicly about her Iroquois Theater experiences it was not reported in newspapers.

Ada was one of four children born to Edward and Ada J. Butler Lake, natives of England and Canada. Her father was an accountant for a Chicago tannery, Bowles & Rogers. Three years after the fire Ada became the third wife of a Boston physician nearly twice her age, John Angus Bruce, and spent most of her adult life in north Boston. She and John had one child, a daughter (1907-1980) named after her mother and grandmother, who went by her middle name, Josephine.

In November, 1918 Ada wrote a poem and was interviewed by the Boston Post newspaper about her proposal that Christmas wreaths should incorporate red poppies as a tribute to World War I veterans.

The New Signal

Go to the forests,
Cut the laurel bough,
Wreath it in your window
To greet our heroes now.

Entwine a scarlet poppy
Within that laurel wreath,
A signal true of sacrifice
We must forever keep –
For those in 'Flanders Fields' who sleep.

Heroes awake! Heroes asleep!
Are greeted by your hallowed wreath;
So hang it high, let all know then
Of 'Peace on Earth, Good Will to Men.'

Ada B. Bruce

In the seven years leading up to the fire, the scandal and financial ruin of her grandfather and father dramatically impacted Julia's world. It began in 1896 with the forced closure of her grandfather George Schneider's bank, the largest bank failure in the nation's history at that time, amidst dramatic headlines, bank runs and the suicides of two other implicated bankers. Disheartened by the experience, her grandfather withdrew from society. That represented a major change for an influential man who had been a publisher, political organizer, foreign diplomat and valued campaigner for Abraham Lincoln.**

Schneider was an important figure in Julia's life. At her death, she was described as one of George's favorite granddaughters. With his background in printing and her love of illustration, they likely shared an appreciation for graphic arts. After her graduation from Kirkland High School and enrolling at the Art Institute, he may have felt a personal connection to her education. George was on the printing committee for the 1893 Columbian Exposition, for which the Art Institute structure was built, and he served as a trustee for the Art Institute during Julia's years there.

It is possible George paid for Julia's classes at the art center, given her father's financial and legal troubles. Robert Berger was also caught up in the 1896 banking collapse and scandals.*** He was convicted of embezzling and served a one year prison sentence. Upon his release, he filed for bankruptcy with $2 million in liabilities. The family was forced to give up their home at 439 N State St. and move to a Roslyn Place apartment.

Seeing George Schneider's humiliation over the bank failure must have been difficult for his entire family and his death just months before the Iroquois fire might have been especially painful for his favorite grandchild.

Schneider had first settled in St. Louis but came to Chicago in 1851 to publish the Illinois Staats-Zeitung German newspaper. In 1853, he married Matilda Schloetzer with whom he had seven daughters, including Julia's mother.
Schneider was a delegate to the first Republican National Convention in 1856. As a reward for his efforts on behalf of the party and the Union cause, Abraham Lincoln appointed him to Denmark as a diplomat and Schneider carried the Union's message to Europe. He sold his newspaper interests in 1862 to become president of the State Savings bank, and in 1871 became president of the National Bank of Illinois, 115 Dearborn St., Chicago. For the next twenty-five years, the bank would be the foundation of his power and reputation in Chicago, becoming the second strongest bank in the city.

An 1896 action of the Clearing House Association (commercial banking organization) set off a chain reaction of bank closings that included bank runs with depositors lined up on the streets to demand return of their deposits. The action that triggered the panic was the Clearing House suspending National's membership, thereby forcing it to close. The story that eventually emerged was that though National held sufficient assets to satisfy legal requirements, it was guilty of risky loan practices and deliberately misleading bank examiners. National had granted a $2.4 million loan to a newish south Chicago transportation company, Calumet Electric Street Railway (CESR). CESR was involved in a bitter competition with an older streetcar company, Chicago City Railway (CCR). CCR privately notified the comptroller of the currency that CESR had overstated its assets to National. The comptroller did some investigation and notified National's directors that the bank's exposure and procedures were troublesome. National's directors trusted Schneider and did not take action so the comptroller called the situation to the attention of the Clearing House. Upon investigation, the Clearing House discovered the $2.4 million loan was uncollateralized. When an additional $900,000 loan to CESR was found hiding in an account labeled as foreign currency, and other improprieties were found in the books at E. S. Dreyer & Co, the bank where George's son in law was a partner, the Clearing House forced National's closure. The abrupt closure denied the bank the opportunity to liquidate more quietly and, happily for competitor CCR, called CESR's fiscal stability into question. George Schneider liquidated his personal assets to raise $200,000 to bring National's assets to a level that covered 75% of depositor's funds. In so doing he avoided criminal prosecution but was broken spirited and withdrew from activity in Chicago, spending the last few years of his life in Kansas and Colorado.

---

Discrepancies and addendum

* One Chicago newspaper reported that Julia's throat infection set in immediately after the fire but another newspaper reported the throat infection occurred just prior to her death eighteen months later.

** George Schneider (1823-1903) was born to a middle class family in the Rhineland-Palatinate area of Germany. He became a journalist and a revolutionary, fighting Prussian repression. To escape capture he immigrated to the United States in 1849 and was soon active in the Forty-Eighters, a group of immigrants from failed 1848 European rebellions. In America, they reorganized to oppose slavery and strengthen the Republican party.

*** Julie was the oldest of four children born to Robert Berger (1850-1829) and Clara Berger (b. 1857-1927). Clara was the oldest of George Schneider's seven daughters. Berger was a partner in E. S. Dreyer & Co, a bank founded by Edward S. Dreyer, located at Dearborn and Washington. Berger and Dreyer defied accounting and banking ethics and protocols to move deposits around in a convoluted snarl of transactions geared to cover shortages. When the music stopped and their procedures were examined, both men went to jail in Joliet, IL. Berger went quietly and quickly; Dreyer delayed and appealed. Also in Joliet were two other bankers caught in the 1896 Chicago banking scandals. Dreyer reported the bank's assets were $1.5 million and liabilities $1.35. Dreyer was represented by Levy Mayer who in another few years would be busy representing Iroquois Theater defendants.

Jessie Bartlett Davis, wife of Iroquois Theater manager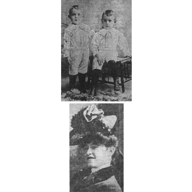 Corbin and Bogg family Iroquois Theater victims

Chicago fire department became body detail at Iroquois Theater

Edward M. Teall insurance meddler

6 year old Nancy Hansen and her two Ellis aunts died at the Iroquois