Edith M. Brown
Edith was the only child of Charles C. Brown jr (1852-1932 and Minnie Doan Brown (1855-1923). In 1903 she worked as a cashier at Kenosha's oldest bank, the First National Bank in Kenosha on 6th Avenue, where her father also worked.
Charles had come to Wisconsin with his parents as a small boy when Kenosha was named Southport. The family soon settled in Milwaukee but Charles returned to Kenosha as a young man in 1868 and went into the mercantile business. One of his partners was Seth Doan. In 1877 Charles married Seth's daughter, Minnie Doan, in the first marriage ceremony performed at Kenosha's new Episcopal church.
In the years after the fire
Three years after the fire, in 1906, Edith Brown married Walter J. Cavanaugh (1879-1919), son of a prominent Kenosha attorney and a former University of Chicago football celebrity. After his early death in an auto accident she lived with her parents and after the death of her mother, with her aged father.
By 1909 Charles C. Brown had risen to become president of the First National Bank. He went on to also head the Northwestern Loan & Trust Co. and the Brown National Bank. Charles was active in his community, helping to establish a hospital and a library. It was a legacy his daughter would emulate.
"Mother of Pottawatomie Hills"
Edith Brown Cavenaugh committed herself to the Girl Scout program in Kenosha after her husband's death. Over a period of thirty years she served in various local and national offices of the organization. In May, 1929 she was the girl scout commissioner who took receipt of a gift of 80 acres of land and a cash donation with which to start a girl scout camp on Lake Pleasant north of Elkhorn, Wisconsin, today's Pottawatomie Hills. The donation came from Jessie Halleck Nash, wife of Charles W. Nash, president of Nash Motors, best known for the Rambler. (The 4th largest U.S. auto manufacturer in 1929, Nash had been founded in Kenosha.) Edith's involvement in the project earned her the nickname, "Mother of Pottawatomie Hills."
Sadly, Edith died after a lengthy illness, never remarrying or having children. I suspect that she was not alone, though. In addition to Girl Scouts she was involved in the St. Matthew's church woman's auxiliary.
Frank Slosson
Frank was secretary at the Bain Wagon Company in Kenosha. He was the son of Martin Slosson (1803-1888) and Sabra Avery Slosson (1802-1894). He had lost his wife, Elizabeth Lyman (1856-1891) in 1891. Nothing was reported to suggest whether Edith Brown and Frank's relationship was romantic. If it was, he had a daughter the same age as Edith so tongues may have been wagging in Kenosha, then a community of just over 10,000 where such goings on would have been noted. I came across the snippet below at the bottom of a newspaper page. Note that Frank's daughter's name was Agnes Narramore Slosson, not Edith. Given that the Frank Slosson of billiards fame was actually named George Franklin Slosson and was still alive in 1916, whereas the Frank Slosson of Kenosha, who survived the Iroquois Theater fire, died in 1911, the entire snippet might have been based on supposition. Still, it is curious that the woman named in the hotel registry as the daughter of Frank of Kenosha, was an Edith instead of an Agnes.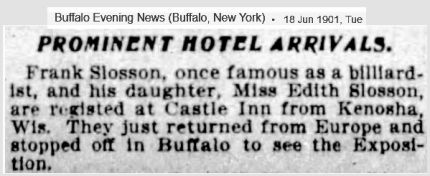 According to a passport application Frank Slosson was 5' 6" with a dark complexion, medium build, gray eyes, a long nose and a mustache. As a young man he had graduated from Lenox Academy in Lenox, Massachusetts then became a telegrapher. When the Civil War started he enlisted at age sixteen in Co. B in the 49th Massachusetts infantry. He was detached from the company and became part of the telegraph corps under General Thomas Thompson Eckert. Slosson moved to Wisconsin in 1870.
In the years after the fire
Frank Slosson went to Tokyo in April, 1910 for a six month stay. Back in the states in February, 1911 he died of complications following surgery for a perforated stomach. His brother, Judge Russell Slosson in Kenosha, followed four months later. Frank's daughter Agnes inherited $100,000 worth of stock in Bain Wagon Company. In accompanying stories it was reported he had been a general manager at Chicago-Kenosha Hosiery. He was replaced by Henry S. Cooper of the Cooper Underwear company in Kenosha – the same company that lost two at the Iroquois.