Thirty-eight-year-old German immigrant, Augusta Lettermann Kochems (b. 1865), and her seventeen-year-old son, Jacob A. Kochems (b.1886), lost their lives at the Iroquois Theater on December 30, 1903. They were the wife and son of saloon keeper Frank Kochems (1857-1943). The family lived at 262 Warren Avenue in Chicago.*
It is not known where the Kochems were sitting in the theater.
Augusta was the daughter of George and Caroline Letterman; Frank's parents and siblings had settled in Buffalo, NY. Augusta and Frank married in 1883 and relocated in Chicago by at least 1887. Frank first worked at a meat market but by 1888 worked as a bartender. His saloon in 1903 was located at 233 Vanburen in Chicago. A daughter, Clara, was born in 1884, Jacob two years later.
Augusta's body was discovered at the Cook County morgue and Jacob's at Rolston's Funeral Home. Frank C. Kochems, identified his son's body and Mark O. Jucknies, a printing press operator of unknown relationship to the Kochems, identified Augusta's. Jucknies also lived in the 11th ward so may have been a neighbor or a patron at Frank's bar.†

The Kochems funeral was held on Sunday afternoon after the fire but the coffins were stored in a vault and interment at Forest Home Cemetery in Chicago wasn't for six months, perhaps waiting until Frank could afford it. His grief was shared with his daughter, Clare Kochems Altman, who lived in Chicago with her husband of six months, Harrie P. Altman.
In the years after the fire
Frank had a $20,000 Aetna life insurance policy on Jacob but none on Augusta. Frank remarried two years after the Iroquois Theater fire, to a woman named Ida R. Van Sciver Smith. They purchased a home on Warren Avenue in Chicago and had several lodgers but in 1930 Frank was once again a widow. In the 1940 U.S. Census he described himself as a restaurant owner.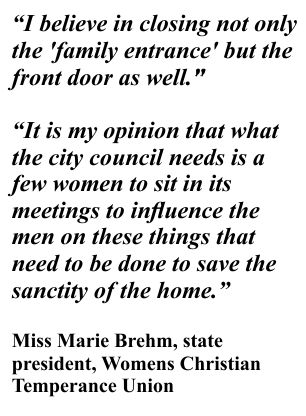 In the news in the weeks before the fire saloon keeper Frank Kochems was probably reading newspaper reports of an ordinance proposed by the Women's Christian Temperance Union (W.C.T.U.). Aimed at protecting women from the evil effects of alcohol, the ordinance sought to discourage patrons, specifically women and families, from frequenting back rooms, also called "wine rooms," in saloons, by forcing the elimination of side entrances. The idea was that if forced to incur the shame of walking into a saloon through the front entrance, women and families would stay out of saloons altogether.
"To nail up the side door of the dram shop will mean the saving of thousands of girls who each year go to their ruin through its portals," said another W.C.T.U. officer. The 1903 campaign was the second waged against side doors by the group.
Chicago police chief O'Neall had a different idea of the problem, as well as the solution.
A week before the Iroquois Theater fire, the city council referred a proposed ordinance to the judiciary committee for consideration. It would have prohibited even a window in the back of a saloon and dictated that liquor could be sold in only one room. It was killed five months later as being too drastic. Instead a prohibition of "Family Entrance" signage on the side door was under consideration.
Discrepancies and addendum
*In some victim lists and official records the name was spelled Kerems, Ketchem, Kochems or Kochenis.
† A Davenport, Iowa newspaper, however, reported that Augusta's son-in-law, Harrie P. Altman, a Chicago resident, identified the bodies. Harrie's father, James S. Altman, was a judge in Davenport and may have been made assumptions based on telegrams. Another source reported that both were identified by Frank. Possibly Jucknies and Altman joined Frank in the search.