Leon Gerald Reeves (1882-1927) was a self-promoting fellow who used the Iroquois Theater tragedy as an opportunity to portray himself as a hero and, presumably, to make a quick buck selling a story to a newspaper. The Sun put the story, with all its inaccuracies, on the AP wire and it was picked up by a half dozen newspapers where it can be found today, muddying history.
Alone or with assistance from an actual reporter, Reeves sold a story to The Sun, an NYC newspaper, in which he claimed to be an employee in the advertising department at the Iroquois and described his actions at the fire as if he were a super hero who ran from one area of the theater to another, saving people left and right.
Because I did find him working as a bill poster / flyposter in later years, it seems plausible that he did bill posting for the Iroquois Chicago, providing the gram of truth behind his claim to be an employee. That said, his name was not included in a list of Iroquois employees provided to authorities by Iroquois business manager Thomas Noonan.
Significant by its absence is Leon's name in Chicago newspapers relative to the fire or later legal proceedings. Were his perception of his heroics at the Iroquois Theater accurate, could they have gone unnoticed by dozens of reporters at the scene? When Chicago newspapers saw The Sun's story on the AP wire, wouldn't they have sought out such an extraordinary man for an interview? Wouldn't he have been called as a witness at one of the inquests?
Five years after the fire, a seventeen-year-old girl ran into the Harrison St. police department and reported she'd been attacked. Nothing was reported as to the nature of the attack, presumably because words like sex and rape would have shocked 1908 readers. She said Reeves had lured her into the balcony at the Trocodero Theater with promises of an acting career then stuffed her mouth with a handkerchief to suppress her screams. He was arrested and refused to give police a statement. Nothing more was reported about the incident.
Leon's next gambit was claiming to have been "Harris Houdini's" manager while promoting Handcuff King Miller. That was followed by a stint of bill posting for Barnum and Bailey circus.
While working as a lifeguard at the Wilson Avenue beach on Lake Michigan 1914-1917 he rescued a half dozen female swimmers and boaters.
In 1925 he sold 189 $3 seats to a stag show featuring a five strippers and a pianist (Vera Long) at the National Theatrical Club (4th floor in K.P. Building at 180 W. Washington) when the police busted in and arrested all. Was the first and only mention in Chicago papers of such a club. Also the only story about the raid.
He was the youngest of thirteen children born to Indiana natives, Margaret Bennett Reeves and George W. Reeves. He lived with his mother until her death seven years before his own. On his WWI draft card he was described as stout of build and of average height, with brown hair.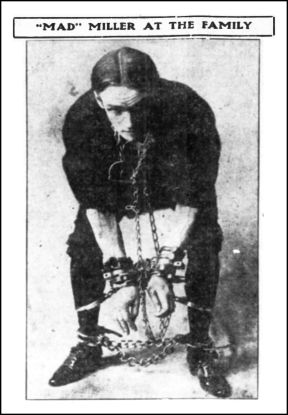 Mad Miller first turned up on vaudeville stages in 1908, in Illinois. Like Houdini, he was dubbed the handcuff King. His association with Leon Reeves seems to have begun and ended the following year.
Leonard J. Miller (1875-1941) performed as Mad Miller until 1919, then retired to operate a grocery store and serve as postmaster in Wolf Lake, a small town on the western edge of Michigan. In the last year of his stage career he ventured outside the Midwest to California and Oregon.
The only evidence of the association between Miller and Reeves were advertisements that heavily promoted Reeves, too. I found zero evidence to support con man Reeve's claim of having been Houdini's manager.
Miller was one of many Houdini copycats.
Discrepancies and addendum
* Read an entertaining story about young men learning the trade of advance men, bill posters, lithographers and the like. A news blurb about the advance railway car for one circus in 1924 reported the car served twenty-five bill posters and advertising men. Early in his career, Iroquois Theater manager Will J. Davis worked as an advance agent for theater legend, Jack Haverly and, in that capacity, met and married his wife, Jessie Bartlett.